Here is a case of pathetic service experience with Nissan. Nissan has been basking in the success of Magnite lately. It is the only successful product in its lineup keeping its India operation alive and kicking. However, a disappointed customer has reported his pathetic service experience with Nissan. Now, service experience can be a major factor in deciding which car brand a customer in India opts for. Hence, keeping the service process transparent and efficient becomes paramount. But Nissan was found doing the opposite of all that. Here are the details of this fraud shared by our avid reader.
Also read: Here is an Off-Road Ready Concept of The Nissan Magnite!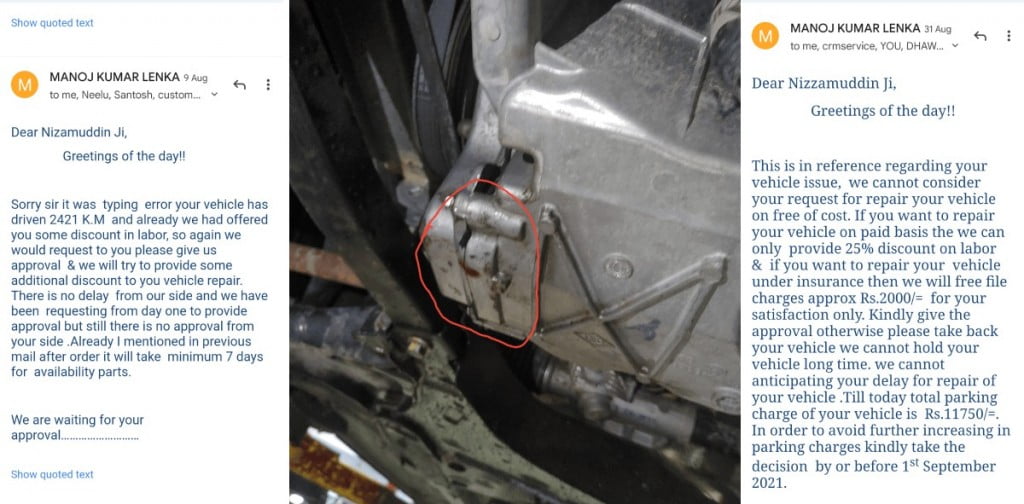 Pathetic Service Experience With Nissan
As is clear from the images, the Nissan Magnite owner sent his car to the service workshop to get the health check-up done after 2000 km. To his surprise, the staff at the service centre informed him that there is some sort of oil leakage from the car. They said that the owner might have scrapped it while driving over a speed breaker. However, the owner claims that nothing like that happened and it is the fault of the service centre personnel. They were not able to show any marks of scrapping at the underbody of the car, which shows that it was their fault. But they didn't accept it and asked the owner to claim insurance. The owner was not thrilled to hear this and asked them to fix the car free of cost as it was not his fault in the first place. This is nothing but harassment of the customer.
Also read: Nissan Magnite NCAP Rating Highlighted Through This Accident!
The service centre staff didn't do anything and kept offering discounts on labour charges if the owner decides to agree to repair his SUV. On top of that, the brand new car remained in the workshop for 3 months. The service centre is not accepting its fault and is charging a parking fee of Rs 11000 plus for the SUV. The owner is left with no other option but to take the legal course and share this careless attitude of Nissan dealers towards the customers. Because the number of Nissan outlets in the country is already not too high, it is not taking any strict action against the dealers. As a result of this, the customers have to suffer. It is high time that Nissan starts taking such complaints seriously before it starts affecting their already not-so-great sales.
Also read: After Nissan Magnite, Now Renault Kiger to be Exported From India
Join our official telegram channel for free latest updates and follow us on Google News here.