Updated on November 10, 2021 – Responding to the below allegation of a Nissan Magnite buyer that he had to pay 4 EMIs even before he could get the delivery of his vehicle, the concerned Nissan dealer has approached us with his side of the story. From what we have been told, it does look like the dealer has acted in the best interests of the buyer but it looks like the frustration to wait for the new car has led his relative to post against the dealership. Here's what one Manikandan A, Sales Manager, Jeevan Nissan, Tirunelveli – 627 151, Tamilnadu, has to say about the incident –
"I was recently informed by one of my colleague about the Magnite Customer paid 4 EMI's but still not got his vehicle delivered issue which was also published in your website , then immediately we check the case and came to know that the customer has paid the  amount on his own wish only not by anyones compulsion , and after knowing about the vehicle delay which was priorly informed by Nissan due to glopal Chip supply issue , immediately we approached the customer and asked him to get full refund before his EMI starts, but he was adament that he only needs vehicle not refund , so we are trying max to get his vehicle delivered at any time , but in the mean time one of his cousin brother who doesnt know about all the above said communications shared a negative comment on us in facebook negligibly , when we contacted the customer and said about this false allegation shared in FB on us by his brother , then he immediately instructed his brother and removed the comment in Facebook magnite club , but now we came to know that you have taken a screen shot and published it in your website , so we request you to unpublish the false allegation on us which was shared in your website without knowing the actual happenings , even the customer itself was shocked about this false allegation publishment in the website and he told he will support and stood with us to any extent to prove that the allegation was wrong and false , as this false allegation will create a bad image on the Global Leading Brand as well as an Esteemed Most Trustable Dealer."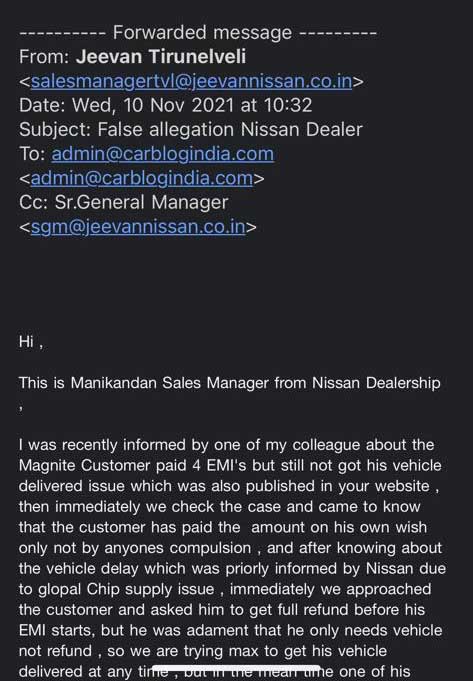 Originally Reported on November 8, 2021 – Here is a weird incident of a Nissan Magnite buyer being frustrated after paying 4 EMIs without getting the delivery of the car. That is a hard pill to swallow and it is shocking how this could happen in the real world. But this has been reported by the potential Magnite owner who has shared this information himself in the Nissan Magnite Club India on Facebook. Now, the Magnite commands a fairly long waiting period and the deliveries are not easy to come by. However, why would anyone then start paying the EMIs of the car that isn't even there? Well, the reasons for that are beyond us but we can take a deep dive into this matter to try and understand.
Also read: Nissan Magnite Owner Reports 'Endless Issues' In His Brand New Car!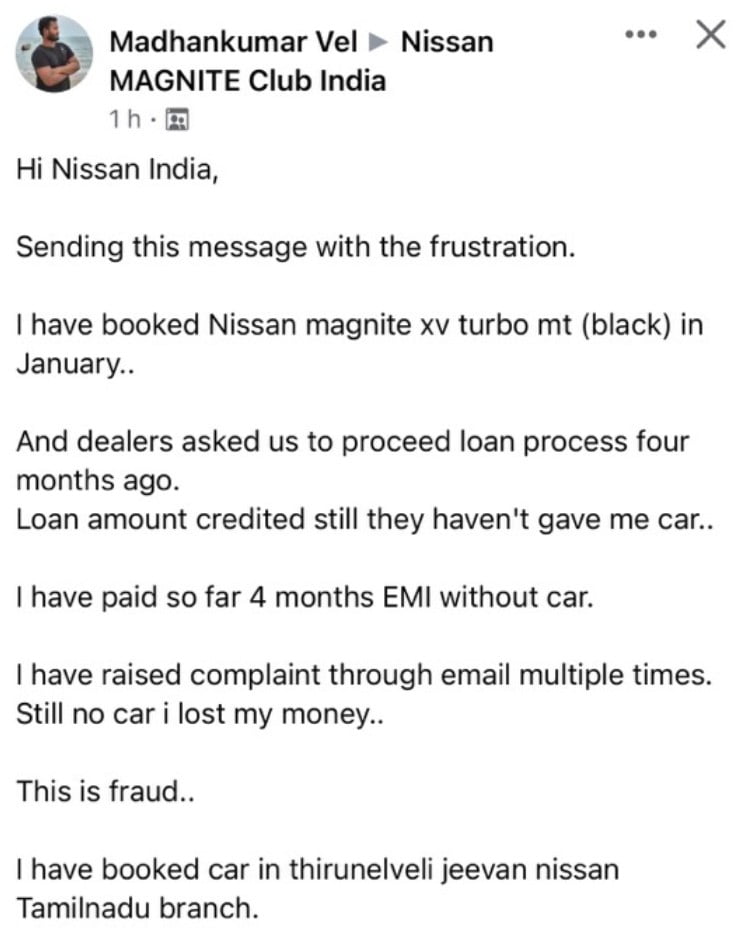 Nissan Magnite Buyer Frustrated Before Delivery
The news is coming from Tamil Nadu where the dealership has not delivered the compact SUV to the owner. The loan amount has been credited 4 months ago and the EMIs have started as per the instructions of the dealer. The buyer had opted for the XV Turbo MT variant in black colour back in January. However, the car was not delivered to him in spite of money being credited. This looks like every shade of fraud. The potential owner tried to raise complaints through emails and phone calls but didn't receive any tangible feedback. That is when he decided to take to social media to make everyone aware of fraud and scams being committed by the dealers with no one questioning them. A brand like Nissan that stays in business because of a single product can't afford to have its potential customers such kind of experiences. Hence, they must intervene to get to the root of this and ensure a desirable solution to the poor buyer.
Also read: Nissan Magnite Owner Shares Harrowing Experience at Service Centre
Specs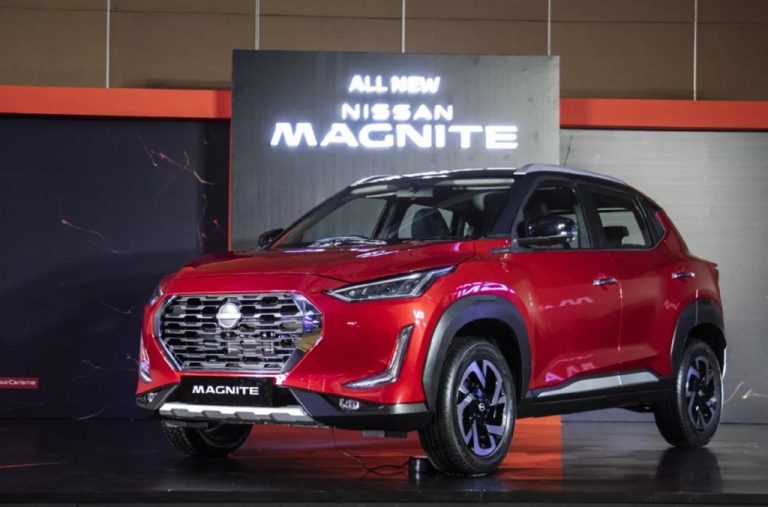 The Nissan Magnite comes with two petrol engine options. There is a 1.0-litre naturally aspirated unit which makes 72 PS and 96 Nm of peak power and torque. The other option includes a 1.0-litre turbo petrol engine making 100 PS and 160 Nm of peak power and torque. There are options of either a 5-speed manual with the regular petrol or a CVT automatic with the turbo petrol. The prices of the Magnite range between Rs 5.71 lakh and Rs 10.15 lakh, ex-showroom. Many potential buyers are already frustrated with the long waiting list to get the delivery of the Nissan Magnite. One can only hope that this doesn't discourage others to go for other products.
Also read: Here is an Off-Road Ready Concept of The Nissan Magnite!
Join our official telegram channel for free latest updates and follow us on Google News here.