The Nissan Magnite and Kia Sonet are the latest additions to the fastest growing sub-compact SUV segment in India. Kia has already sold over 21000 units of the Sonet in a mere 2 months and commands a waiting period of up to 10 weeks on selected variants. That says a lot about the success that Kia continues to enjoy with the Sonet. The prices of the Kia Sonet start at Rs 6.71 lacs and go up to Rs 12.89 lacs. However, that is exactly what Nissan can benefit from with a special introductory price of Rs 4.99 lacs and the top variant costing around Rs 9.45 lacs. Can such a huge difference in price make a dent in the sales of Kia or will the people be willing to spend big for those added features, only time will tell?
Meanwhile, we can try to answer the all-important question: Which one should you go for?
Also read: Nissan Magnite vs Tata Nexon
Nissan Magnite vs Kia Sonet – Specifications
Nissan Magnite
Kia Sonet
Engine
1L Petrol;
1L Turbo-Petrol
1.2L Petrol;
1L GDi Turbo-petrol;
1.5L Turbo-diesel
Transmission
5-speed Manual;
CVT Automatic
5-speed manual (1.2L);
iMT / DCT (1L)
6-speed manual / 6-speed Torque Converter(1.5L)
Power
71 bhp / 99 bhp
82 bhp (1.2L);
120 bhp (1L);
100 bhp (1.5 Manual) / 115 bhp (1.5L Auto)
Torque
96 Nm / 160Nm (152 Nm-CVT
115 Nm (1.2L);
172 Nm (1L);
240 Nm (1.5 Manual) / 250 Nm (1.5L Auto)
Kerb Weight (kg)
939 – 1039
1081 – 1233
Nissan Magnite is powered by 3-Cylinder 1L Petrol and a bit more powerful Turbo-Petrol Engines making 71 bhp/96 Nm and 99 bhp/160 Nm respectively. Now, Magnite having a Kerb weight of a mere 1039 kg is able to draw a lot of performance from these engines. Although the steering is a bit inert, the turbo-powered engine is decent enough to put you back in your seat once the turbo kicks in. Magnite offers a decent ride and handling experience, especially around the corners. The stiff suspension translates to high-speed stability.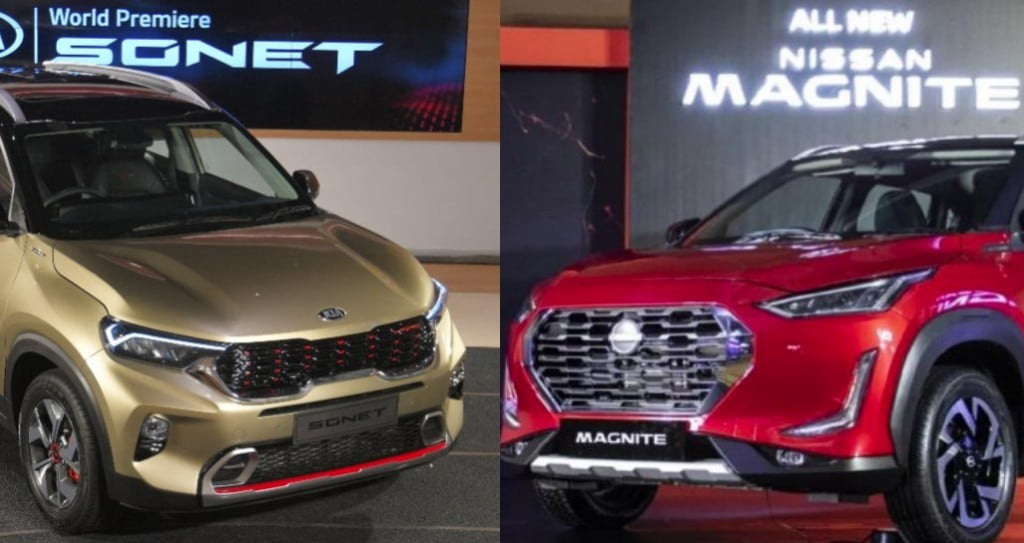 The Kia Sonet comes with a wide variety of engine and gearbox combinations to choose from. Let's go through all the options one by one. The 1.2L Petrol makes 82 bhp and 115 Nm and comes with a 5-speed manual transmission. The more powerful 1L Turbo GDi petrol produces a 120 bhp and 172 Nm and comes with two gearbox options: iMT (Intelligent Manual Transmission) and a 7-speed DCT (Dual Clutch Transmission). The 1.5L Diesel (100bhp and 240 Nm) comes with a 6-speed manual and a segment-first, 6-speed Torque Converter which makes a bit more power and torque than the manual at 115 bhp and 250 Nm because it uses a Variable Geometry Turbine Turbocharger.
If you want a Diesel option, then the Kia Sonet 1.5L Diesel with Torque Converter is the one to go for here, because Nissan Magnite comes with a sole petrol option at the moment. However, if you want a petrol manual, then you can opt for the Nissan Magnite Turbo because of the overall good driving experience. If you are looking for turbo petrol automatic, then look no further than the Kia Sonet 1L Turbo GDi Petrol with DCT. It offers quick gearshifts and is especially useful in city traffic.
Nissan Magnite vs Kia Sonet – Fuel Economy
| | | |
| --- | --- | --- |
| | Manual | Automatic |
| Nissan Magnite (Turbo) | 18.75 (20) | 17.70 |
| Kia Sonet (Petrol) | 18.40 | 18.2 (iMT) / 18.3 (DCT) (1L Turbo) |
| Kia Sonet (Diesel) | 24.1 | 19 |
All values are in kmpl
Magnite gives a rather impressive 20 kmpl mileage with its 1L Turbo-Petrol and a healthy 18.75 kmpl mileage with the naturally aspirated engine. The figure falls slightly at 17.70 kmpl mileage with CVT Automatic. Kia Sonet delivers a healthy mileage of 18.4 kmpl with the petrol manual, almost identical to the Magnite. But the turbo automatic and iMT squeeze out higher fuel figures than the CVT of the Magnite.
If you want to maximize the fuel economy benefits from a manual, then the Nissan Magnite Turbo-petrol Manual is the one for you. But if you are looking for decent mileage from an automatic, then the Kia Sonet Turbo-petrol DCT is the one you should go for.
Nissan Magnite vs Kia Sonet – Dimensions
| | | |
| --- | --- | --- |
| Parameter | Nissan Magnite | Kia Sonet |
| Length (mm) | 3994 | 3995 |
| Width (mm) | 1758 | 1790 |
| Height (mm) | 1572 | 1642 |
| Wheelbase (mm) | 2500 | 2500 |
| Boot Space (l) | 336 | 392 |
Both Nissan Magnite and Kia Sonet are identical in length and wheelbase. However, the boot of the Sonet is considerably larger than that of the Magnite. But that has compromised the rear seat comfort and space inside the Sonet. The Magnite has, therefore, a better rear seating experience. Kia Sonet's height and width advantage give it a more muscular and bigger look, which is only a positive in the world of SUVs.
Overall, it is the Nissan Magnite which has able to optimize the interiors better, according to the dimensions of the car.
Nissan Magnite vs Kia Sonet – Exteriors
Nissan officially calls Magnite: Bold and beautiful and that is precisely what Magnite's exteriors are. You just can't miss the large chrome grille at the front, along with the sleek and stylish First-in-segment Bi-Projector LED Headlamps with LED turn indicators. The L-shaped LED DRLs with LED fog lamps also accentuate the edges of the bumper. The aggressive wheel arches and a 205 mm ground clearance gives it a rather sporty stance. The side profile really stands out, thanks to a chrome beltline running around the windows as well as a quarter-glass at the rear to provide a sense of roominess in the cabin. The wide-split tail lamps make it look wider than it actually is. All-in-all, bold design choice is what Nissan has gone for here and we are not complaining. It certainly looks sporty and bold, especially with those silver skid plates.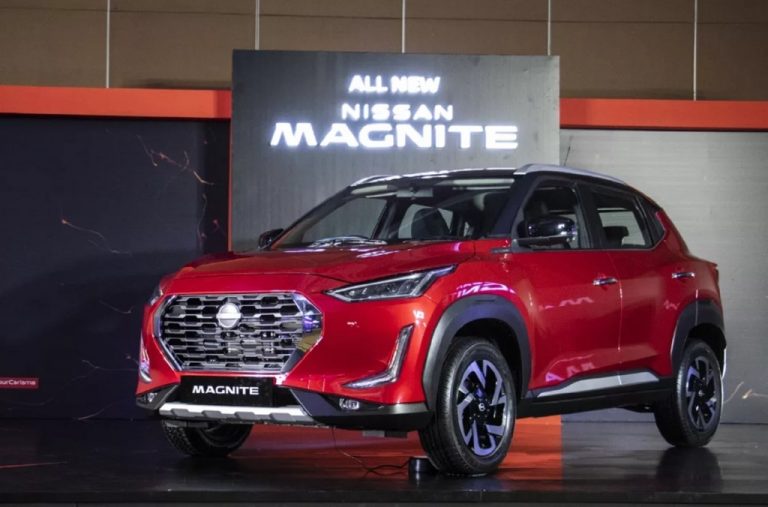 The front of the Kia Sonet is bold, with the signature Tiger-nose grille surround by a chrome rim, Crown Jewel LED Headlamps with Heartbeat LED DRLs. The roof rails, chrome door handles and chrome around the window-line accentuate the side-profile appeal of the Sonet. The rear headlamps are connected together by a reflector strip which makes the rear design look modern and broad. In the GT-variant, the front grille has nice red inserts to give it a sporty look. There are skid plates at the front as well as at the rear to make it look tough and muscular. Overall, it is a beautiful and sporty looking sub-compact SUV.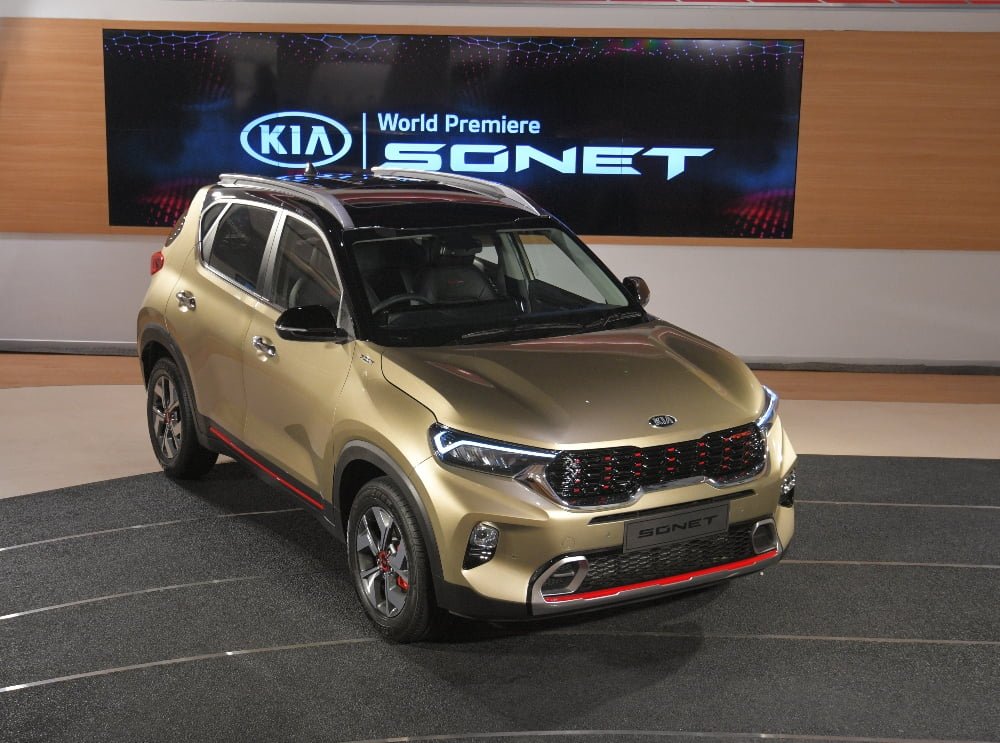 In terms of the appearance, we pick the Kia Sonet because of its bold and premium looks all-around.
Nissan Magnite vs Kia Sonet – Interiors, Features and Safety
Being the latest launch, Magnite is filled to the brim with all the techs and features. The interiors of the Magnite are certainly driver-oriented, with the centre console tilted 5 degrees towards the driver. There are 7-inch digital cluster and 8-inch digital instrument display with Wireless connectivity with Apple CarPlay and Android Auto. Steering mounted controls and cruise control helps in enhancing accessibility and convenience. As optional features, one can upgrade to Wireless charging, JBL Audio System and Nissan Connected Car Tech. On the safety front, there is a 360-degree surround-view camera, Hill-start Assist, Traction Control, Vehicle Dynamic Control, ISOFIX child seat mounts, Tyre Pressure Monitoring System, ABS and Dual-Airbags.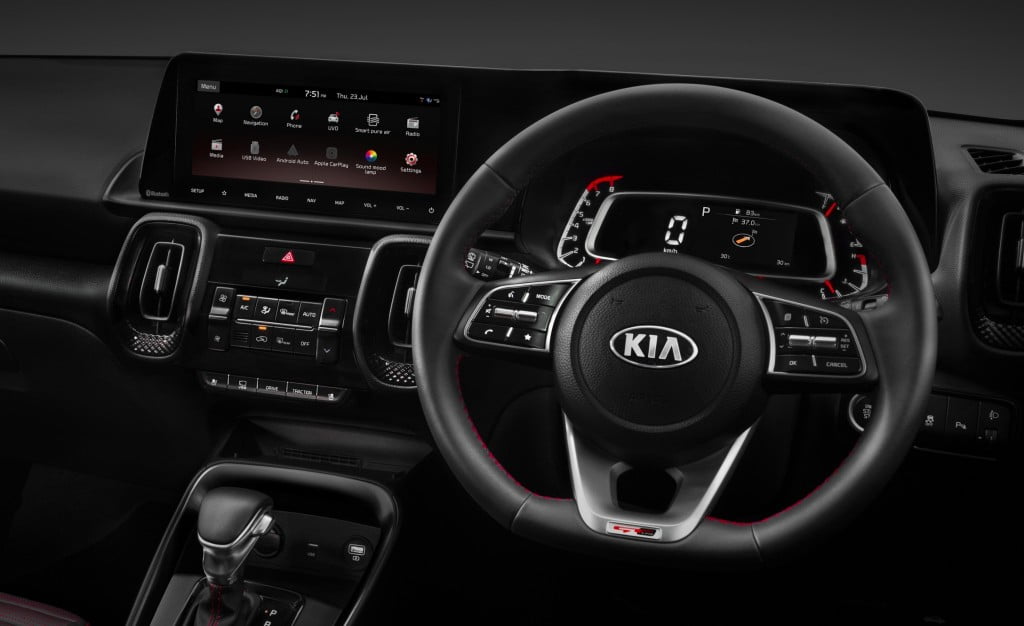 The Kia Sonet, just like its sibling, the Seltos, comes equipped to the brim with all the latest tech, comfort, safety and feel-good features to keep you pampered inside the cabin. As soon as you enter the car, you are greeted with a 10.25-inch floating Touchscreen Infotainment System with Apple CarPlay and Android Auto, a Digital Instrument Cluster, Textured High-quality Dashboard, Ventilated Front Seats, UVO Connected Car Tech, Air Purifier, Drive Modes, Sunroof, Wireless Charging, Voice Command, 7-Speaker Bose Sound System, Cruise Control, LED Ambient Mood Lights and Cruise Control. On the safety front, the Sonet offers, 6 Airbags, ABS with EBD, ESC with Hill Ascent Control, Vehicle Stability Management, ISOFIX child anchor, Front and rear parking sensors with a rear camera and tyre pressure monitoring system.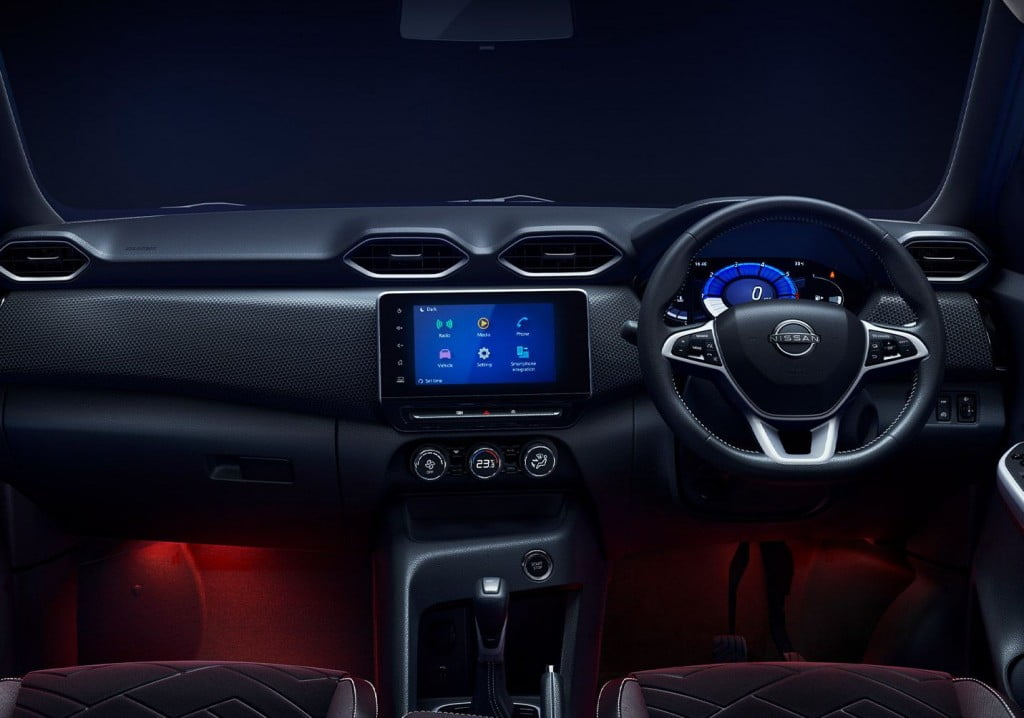 As expected with a steep price point, the Kia Sonet offers a ton of more goodies for interior comfort as compared to the Nissan Magnite. But if you want a decent value for your money, the top-spec Nissan Magnite has you covered with all the latest tech and convenience features.
Which one to pick?
If you want a wide variety of engine and transmission options to choose from, then Kia Sonet will offer you a plethora of engine-gearbox combos. When it comes to automatic transmissions, the Kia Sonet Turbo-petrol DCT as well as the Torque Converter Diesel are surprisingly quick and responsive and offer great driveability. The 1L Turbo-petrol manual of the Magnite can be a decent option for someone who is looking for a great value for money manual option.
Join our official telegram channel for free latest updates and follow us on Google News here.