Essentially, the Nissan Magnite and Maruti Suzuki Vitara Brezza belong to the same sub-compact SUV segment. Whereas the Nissan Magnite is the newest addition to this segment, Maruti Suzuki Vitara Brezza is a veteran. At the moment, Brezza sits comfortably at the top on the list of highest selling sub-compact SUVs (>12000 in Oct'20) in India. Having seen this, Nissan has tried to outdo its competition by keeping extremely aggressive pricing of the Magnite. The Nissan Magnite starts at Rs 4.99 lacs and tops at Rs 9.35 lacs, making the most affordable sub-4m SUV in the country. The Vitara Brezza on the other hand starts at Rs 7.34 lacs and goes all the way up to Rs 11.15 lacs. But will the mere price difference be enough to overthrow the legendary Brezza off the summit? Let's try to find out!
Also read: Clash of Segments: Nissan Magnite vs Hyundai i20 – Features and Price comparison!
Nissan Magnite vs Maruti Suzuki Vitara Brezza – Specifications
Nissan Magnite

Maruti Suzuki Vitara Brezza
Engine
1L Petrol;
1L Turbo-Petrol
1.5L K15B Petrol
Transmission
5-speed Manual;
CVT Automatic
5-speed Manual;
4-speed Torque converter Automatic
Power
71 bhp / 99 bhp
105 bhp
Torque
96 Nm / 160Nm (152 Nm-CVT)
138 Nm
Kerb Weight (kg)
939 – 1039
1110 -1130

Nissan Magnite is powered by 3-Cylinder 1L Petrol and a bit more powerful Turbo-Petrol Engines making 71 bhp/96 Nm and 99 bhp/160 Nm respectively. Now, Magnite having a Kerb weight of a mere 1039 kg is able to draw a lot of performance from these engines. Although the steering is a bit inert, the turbo-powered engine is decent enough to put you back in your seat once the turbo kicks in. Magnite offers a decent ride and handling experience, especially around the corners. The stiff suspension translates to high-speed stability.
Maruti Suzuki has recently received this K15 B Petrol engine in the Brezza, which produces a healthy 103 bhp and 138 Nm. This new engine ensures low levels of Noise, Vibration and Harshness and provides a much smoother ride than before. The steering feels very light, which makes it easy to drive around in the city but doesn't inspire a whole lot of confidence at high speeds. The 4-speed torque-converter helps in the city traffic but when you are out on a highway, it does feel a bit insufficient. However, the overall performance and suspension set up make it quite engaging to drive.
If you are an enthusiastic driver, you will enjoy the punch that Nissan Magnite gives you in its Turbo-guise.
Nissan Magnite vs Maruti Suzuki Vitara Brezza – Fuel Economy
| | | |
| --- | --- | --- |
| | Manual | Automatic |
| Nissan Magnite (Turbo) | 18.75 (20) | 17.70 |
| Maruti Suzuki Vitara Brezza | 17.30 | 18.76 |
All values are in kmpl
Magnite gives a rather impressive 20 kmpl mileage with its 1L Turbo-Petrol and a healthy 18.75 kmpl with the naturally aspirated engine. The figure falls slightly at 17.70 kmpl with CVT Automatic. This is a decent mileage considering the size of the sub-4m SUV. Maruti Suzuki Vitara Brezza returns 17.30 kmpl with manual and 18.76 kmpl mileage in the automatic variant. The manuals of both the cars have a significant difference in the mileage figures, with Nissan Magnite clearly the better of the two. In terms of automatics, however, it is the Brezza who has the edge.
Depending on the requirement, one can opt for the more fuel-efficient car.
Nissan Magnite vs Maruti Suzuki Vitara Brezza – Dimensions
| | | |
| --- | --- | --- |
| Parameter | Nissan Magnite | Maruti Suzuki Vitara Brezza |
| Length (mm) | 3994 | 3995 |
| Width (mm) | 1758 | 1790 |
| Height (mm) | 1572 | 1640 |
| Wheelbase (mm) | 2500 | 2500 |
| Boot Space (l) | 336 | 328 |
The Nissan Magnite and Maruti Suzuki Vitara Brezza are similar in length. The Brezza is clearly higher and wider than Magnite. This gives a more SUVish stance as compared to the Magnite. One does feel that Brezza is more of an SUV than Magnite. But that is not to say that the Magnite doesn't look SUV enough. The identical wheelbase and almost similar-capacity boot space is something that is at par in both the cars. If tall and wide is what you are looking for, then the Brezza is the one for you.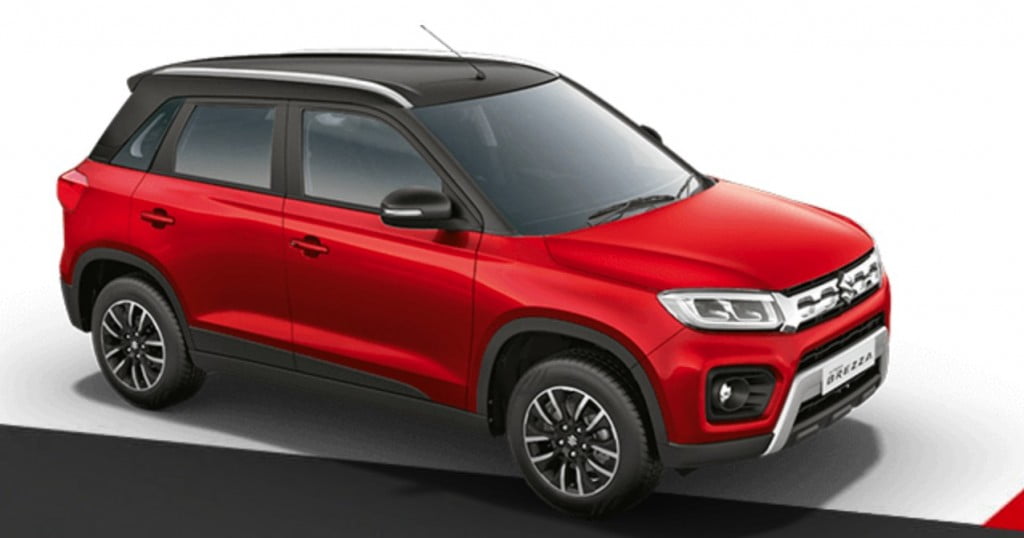 Nissan Magnite vs Maruti Suzuki Vitara Brezza – Exteriors
Nissan officially calls Magnite: Bold and beautiful and that is precisely what Magnite's exteriors are. You just can't miss the large chrome grille at the front, along with the sleek and stylish First-in-segment Bi-Projector LED Headlamps with LED turn indicators. The L-shaped LED DRLs with LED fog lamps also accentuate the edges of the bumper. The aggressive wheel arches and a 205 mm ground clearance gives it a rather sporty stance. The side profile really stands out, thanks to a chrome beltline running around the windows as well as a quarter-glass at the rear to provide a sense of roominess in the cabin. The wide-split tail lamps make it look wider than it actually is. All-in-all, bold design choice is what Nissan has gone for here and we are not complaining. It certainly looks sporty and bold, especially with those silver skid plates.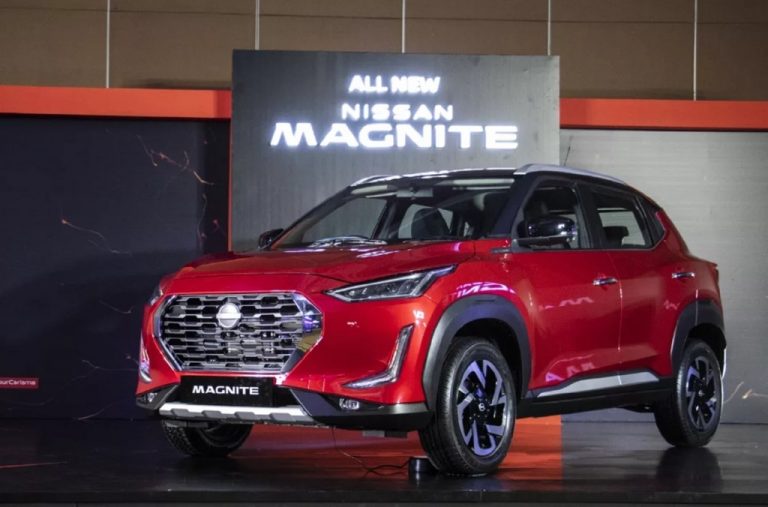 The Brezza has this boxy tall stance, that makes it rather appealing. The front grille is kept busy with a thick chrome slab, connecting the front LED projector headlamp units. There is a bit of chrome treating inside the headlamp cluster as well. The LED fog lamps are housed separately on the lower end of the bumper. The LED wrap-around tail lamps along with a chrome bar at the rear make it look modern. The rear also comes equipped with a spoiler and roof rails which makes it look really sporty.
Having been around for a long time now, the Brezza looks familiar but the fresh and modern Magnite shakes things a little bit, which is why we lean towards the Magnite in terms of exteriors.
Nissan Magnite vs Maruti Suzuki Vitara Brezza – Interiors, Features and Safety
Being the latest launch, Magnite is filled to the brim with all the techs and features. The interiors of the Magnite are certainly driver-oriented, with the centre console tilted 5 degrees towards the driver. There are 7-inch digital cluster and 8-inch digital instrument display with Wireless connectivity with Apple CarPlay and Android Auto. Steering mounted controls and cruise control helps in enhancing accessibility and convenience. As optional features, one can upgrade to Wireless charging, JBL Audio System and Nissan Connected Car Tech. On the safety front, there is a 360-degree surround-view camera, Hill-start Assist, Traction Control, Vehicle Dynamic Control, ISOFIX child seat mounts, Tyre Pressure Monitoring System, ABS and Dual-Airbags.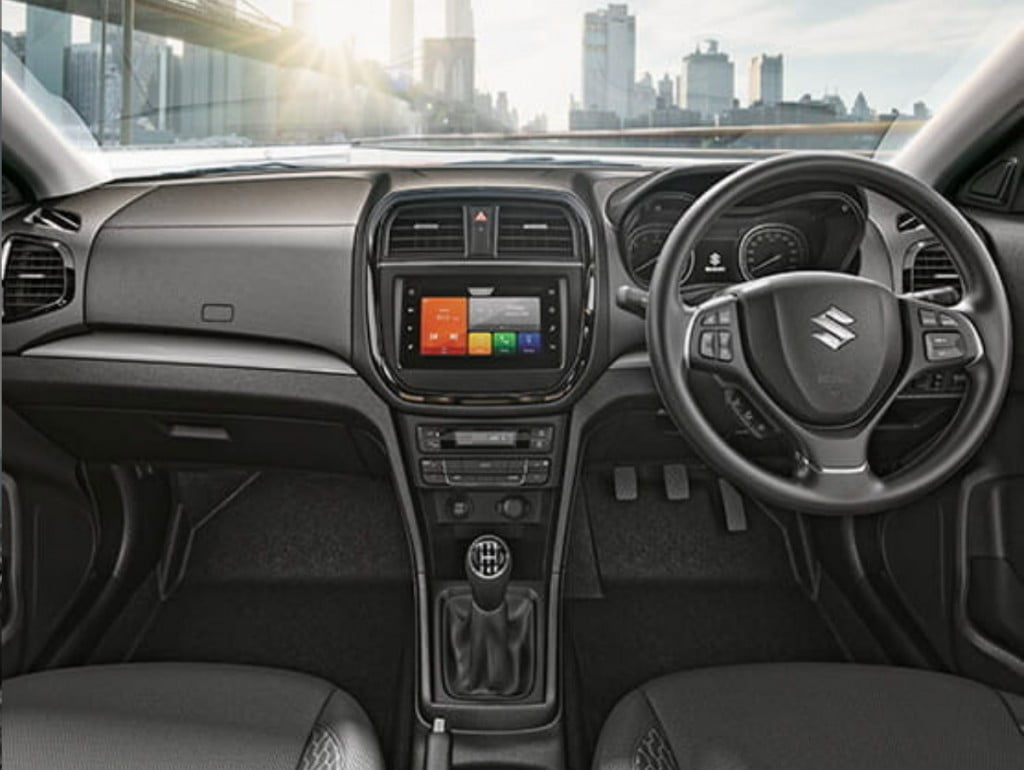 Maruti Suzuki Vitara Brezza may have been around for a while now, but it does come packed with a host of features including a 7-inch Touchscreen Infotainment System with Apple CarPlay and Android Auto with Navigation, Steering mounted controls, Cruise Control, Voice Command, Bluetooth Connectivity, Leather-wrapped Steering Wheel, Auto AC, Smart Key Entry, Push Button Start and Rain-sensing Auto wipers. On the safety front, there are Dual Airbags, ABS with EBD, Reverse Parking Camera with Infographic Display and Hill-Hold function.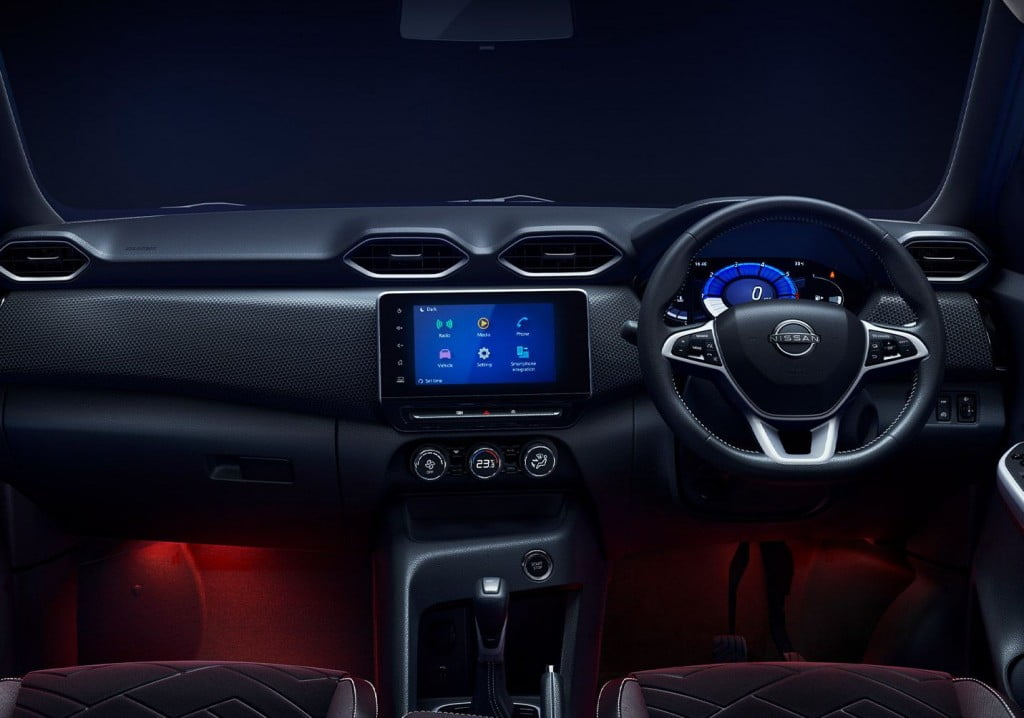 Both of these cars miss out on Sunroof, which is a crowd favorite. In our opinion, it is the newer Nissan Magnite that has a slight edge in terms of features and conveniences.
Which one to pick?
This is the fastest-growing segment in India right now and therefore, every automaker wants a part of it. But it is also one of the toughest segments. We think that the factors in favour of Magnite include its aggressive pricing, modern looks, features, performance and mileage. The Brezza is the tried and tested product from Maruti Suzuki with means, reliability, low and easy maintenance.
If it is the automatic you're looking for, then we would suggest going with the Magnite simply because it offers better driveability, performance and torque as compared to the 4-speed Torque converter unit in Brezza. But if you want a manual, then Brezza is the one for you because of its refinement and practicality.