Here's another delivery went wrong. This guy damaged his new Honda Africa Twin while taking it out of the showroom.
There's nothing more auspicious and exciting to take delivery of your brand new vehicle. Be it a car or a bike, the feeling at that time in the showroom is something different. Then there's the first drive to home in your new car. This owner of a new Honda Africa Twin also had the same feeling but things did not turn out his way.
We are not sure if its a ritual or the owner's choice, he decided to take out his Africa Twin through the stairs. He just took the delivery and was stepping out of the showroom. He decided to try out the off-roading capability by taking it from the stairs instead of the allotted slope. Everything went fine but just seconds later, he damaged his new bike.
Also Read: 2020 Honda Africa Twin Arrives in India With Tons of Updates – Price and Details
Looks like the suspension of the ADV was too soft or the ground clearance of the bike is actually low. While ending the last set of stairs, the belly plate of the bike eroded some tiles. You can see that the plate brushed against the stairs and damaged both the bike and the stairs. The damage on the bike was very minor but yes, the bash plate received major scratches.
The front suspension of the ADV compressed too much and that's why, the ground clearance got lower. Later, it turned out that the suspension setup of the bike was too soft itself. It was not the dealership's fault and not even the owner's fault. However, the owner should have once checked the setup on the bike.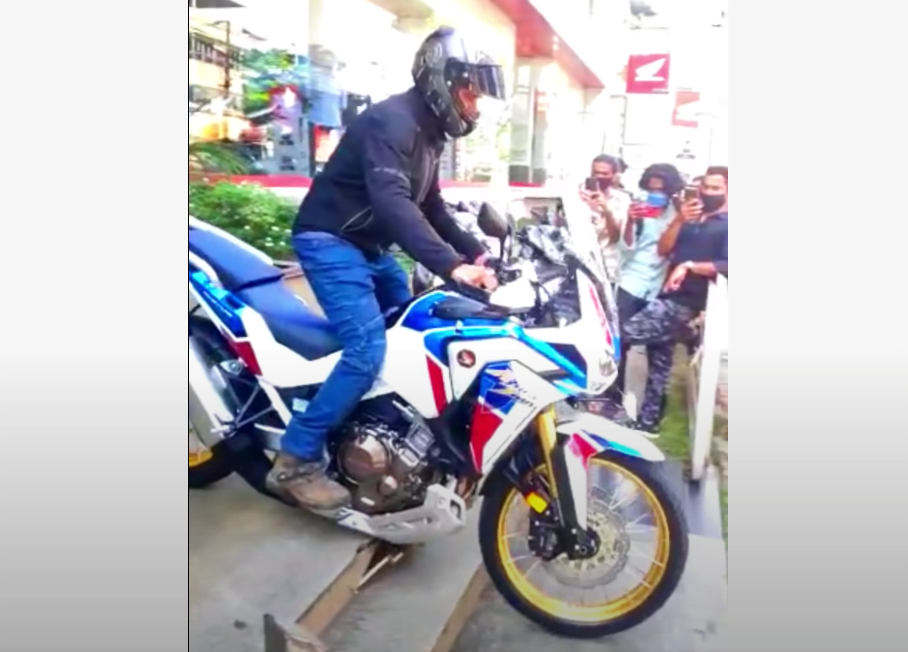 Honda Africa Twin comes with adjustable suspension which can be changed to soft or hard, very easily. However, many riders do not have the knowledge of this and after buying such ADVs, end up damaging it further. The bike gets Showa 45mm adjustable inverted telescopic forks at the front and a prolink swingarm suspension at the back.
Also Read: Honda is Selling Registered BS4 Bikes and Scooters at Huge Discounts on their Website!
Powering the Africa Twin is a 1048cc twin-cylinder liquid cooled engine that produces 101 PS and 105 Nm of peak torque, mated to a 7-speed DCT and a 6-speed manual gearbox. The manual variant is priced at Rs 15.35 Lakhs and the DCT variant goes for Rs 16.10 Lakhs (Ex-showroom).