Sarcasm and laughing at an adversity seems to be the right thing when worrying and being sad does not help. Hit by one-after-another petrol price hike in last 3 years, the increase in Petrol Prices in India is like a boring news now which we have learned to accept ! Recently, there was a pleasant surprise when there was a minute relief because of a small cut in petrol price, but it does not seem to be a long staying happiness as the trend is otherwise. Because of the depreciating Rupee value against the US Dollar, the cost of petrol has risen again for the Indian Oil companies and they are planning to increase the retail price of Petrol by up to Rs. 1 per litre.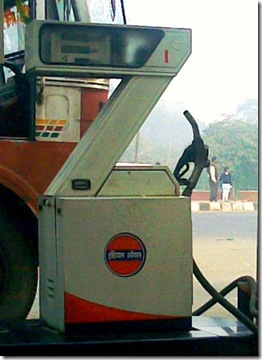 The meeting of oil companies to take decision is scheduled for 31 Jan 2011 and the price increase (if decided) may come in effect from 1st January, 2012. In case there is some improvement in the exchange rate of Rupee against the US Dollars, there may be less or no increase as of now. The under-recoveries of the petrol companies is the major concern which is being considered as the major reason for this expected hike, however, considering that elections are approaching in India, there maybe some political pressure on the oil companies to not increase the prices for a couple of months.
Whatever happens, whenever the price of International Crude oil increases or Rupee depreciates, there will be such troubles and such price changes will take place. One way to control the price rise is to reduce taxes and duties on Petrol, which seems unlikely as it is an extreme measure which the Govt. would not like to take as it affect the tax revenues in a huge way ! Lets wait and watch how things shape up with time. We will keep you updated on the same, you can get the latest information by liking our official Facebook Page and by signing up for our free email newsletter.
via – TOI
check out more-
More Related News