Ever wondered the price you will need to pay to make your Mahindra Scorpio bulletproof? Well, it isn't cheap by any means, as you must've guessed already. Here is a video of a YouTuber who is also the owner of this unique Scorpio. Scorpio has always been a veteran in India in terms of the wide variety of applications it offers. A large chunk of people use it to transport people from one place to another. In rural and semi-urban areas, it is the best utilitarian vehicle for multi-purpose applications. Its rugged build and SUV stance also means that it can reach the far-flung areas of the country with relative ease. The Mahindra Scorpio isn't too expensive either, compared to the other bulky SUVs. But this is an even more unique way to use your Scorpio. Let us check out the details.
Also read: Next Generation Mahindra Scorpio LEAKED? Here's The Truth
Price Bulletproof Mahindra Scorpio
This YouTuber has turned his Scorpio completely bulletproof. This installation has cost him a whopping Rs 50 lakh. This might seem like a lot of money at the first glance and it is. But what you get in return might be priceless. Once you open the doors on this SUV, you will understand what has been done to make it bulletproof. The doors have become extremely heavy due to the bulletproof glass on the windows. The bulletproof windows are everywhere including the front, sides and the rear. The rear also houses a gate inside the boot made of steel. The owner mentions the problem of rusting at various places in the vehicle. The weight of the car has increased tremendously which is a bit of a problem for the engine. But the car still runs fine which is a testament to the engines of Mahindra.
Also read: Latest Sighting Reveals 'Useless' Third Row of Next-Gen Mahindra Scorpio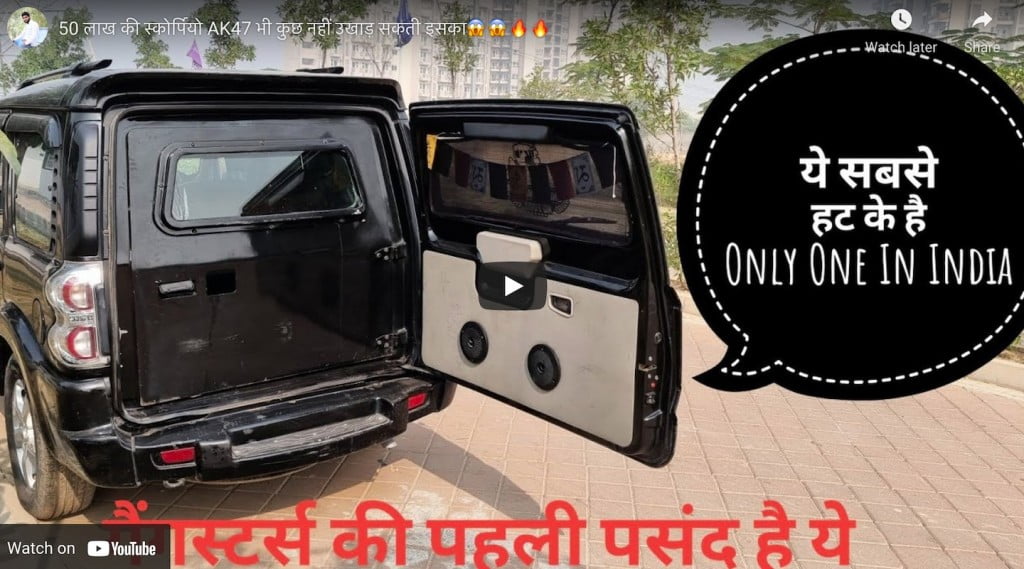 Specs
Speaking of the engines, the Scorpio comes with a 2.2-litre diesel engine that makes 140 hp and 320 Nm of peak power and torque respectively. This engine comes mated to a sole 6-speed manual transmission. The higher trims also get a 4×4 drive system. The next-gen Scorpio is also about to make its debut very soon. It will feature Mahindra's 1.2-litre direct injection turbo petrol engine that will make 150 hp. There might also be the convenience of an automatic transmission with the upcoming SUV. But tell us how did you like this bulletproof Mahindra Scorpio with the price of around Rs 50 lakh.
Also read: Mahindra Scorpio Tests Build Quality of Maruti Swift – Regrets!