It is only a matter of time before Renault India, the Indian subsidiary of the popular French car company, launches the much awaited Captur SUV. The new 2017 Renault Captur India launch date will likely fall in October this year, just in time for Diwali! Of course, the new Renault SUV in India will cost more than the Duster. It will rival two really well-established models in its price bracket- the Hyundai Creta and the Mahindra XUV500. Of the two, the Creta will become a more direct rival to the new European SUV. However, there will be a definite price overlap between the mid- and high-end models of the Kaptur, and the low- and mid-level trims of the XUV500. Hence, we have decided to compare the two SUVs in this post here to give all of you a good idea of how these two hugely capable models stack up against each other. So check out our Renault Captur Vs Mahindra XUV500 price, specs, mileage, features and dimensions comparison.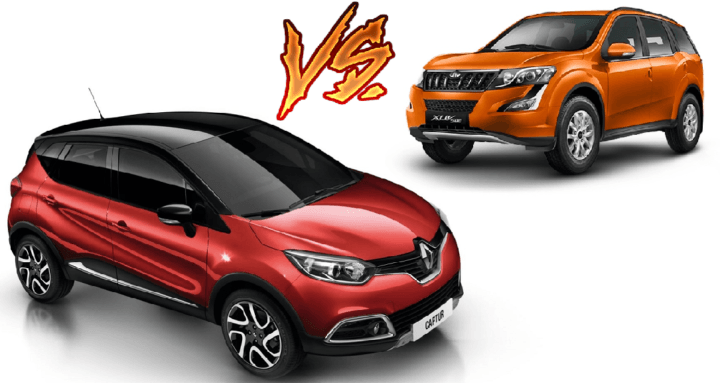 Like we just said, these two won't become direct rivals. While the new Renault SUV is a five-seater, the XUV is a seven-seater and has larger dimensions. Also, it has a bigger Diesel engine. However, the entire point of our comparison here is to check out if the new Kaptur SUV will eat into the sales of low- and mid-level trims of the XUV500.
Also See- Renault Captur vs Kaptur |Renault Captur vs Hyundai Creta | Renault Captur vs Duster
Renault Captur Vs Mahindra XUV500 Price
| | | |
| --- | --- | --- |
| Models | Minimum Price (ex-showroom) | Maximum Price (ex-showroom) |
| Renault Captur | 12 Lakh | 15 Lakh |
| Mahindra XUV500 | 12.12 Lakh | 18.05 Lakh |
Like you can see in the comparison table above, the Captur will be slightly cheaper than the Mahindra SUV here. We are expecting a starting price of roughly Rs 12 lakh. The fully-loaded model could have a sticker price of somewhere around Rs 15 lakh. The Mahindra model here has a starting price of Rs 12.12 lakh and its top-end model costs Rs 18.05 lakh. Hence, these two won't directly rival each other. But there is a definite price overlap between the mid- and high-level trims of the Captur and the low- and mid-level trims of the XUV 500.
We are pretty sure that there will be many prospective buyers of the XUV500 that will want to check out the new Renault SUV as well. In this case, the Kaptur might end up impressing these buyers with its European looks, decent driving dynamics, and higher fuel mileage.
Also See- New Mahindra XUV500 Facelift 2018
Renault Captur Vs Mahindra XUV500 Specifications
| | | |
| --- | --- | --- |
| Specs | Renault Captur | Mahindra XUV500 |
| Engine | 1.5-litre H4K Petrol; 1.5-litre K9K Diesel | 2.2-litre Diesel |
| Power | 105 BHP; 108 BHP | 140 BHP |
| Torque | 142 Nm; 240 Nm | 320 Nm |
| Transmission | 5-speed MT, 6-spee MT | 6 Speed Manual; 6 Speed Automatic |
In terms of specifications, there is no clear winner. While the Diesel engine on the XUV 500 is much more powerful than that of the Captur, let's not forget that the former is a much heavier offering than the latter. Hence, all the advantage in the specifications is mostly on paper. If you compare the real world performance, there is a very good chance that the two models will offer similar performance levels. Another thing working in favour of the Captur is the petrol engine option. The flagship SUV from Mahindra is available only with a Diesel engine. Hence, those looking for a Petrol SUV might want to choose the Captur instead.
Also See- Upcoming New Renault Cars in India 
Transmission options for the Renault model here include a 5-speed MT for the petrol, and a 6-speed MT for the Diesel. On the other hand, the XUV500 offers a 6-speed Manual and a 6 cog Automatic Transmission.
Renault Captur Vs Mahindra XUV500 Mileage
| | | |
| --- | --- | --- |
| Model | Renault Captur | Hyundai Creta |
| Petrol Mileage | 15 KMPL | NA |
| Diesel Mileage | 20 KMPL | 16 KMPL |
As the motors for the new Renault SUV here come from the Duster, we have a fair idea of its mileage. We expect the maximum average mileage from the petrol model to be roughly 15 KMPL and from the Diesel, model to be around 20 KMPL. In comparison, there is no petrol engine option for the XUV 500. Also, it has a much bigger Diesel engine and a higher kerb weight. No surprise then, that, the Diesel engine of this M&M SUV just about manages to return an average mileage of 16 KMPL. The new Renault Captur is the clear winner of this fuel economy comparison.
Renault Captur Vs Mahindra XUV500 Dimensions
| | | |
| --- | --- | --- |
| Dimensions | Renault Captur | Mahindra XUV500 |
| Length | 4,333 mm | 4,585 mm |
| Width | 1,813 mm | 1,890 mm |
| Height | 1,613 mm | 1,785 mm |
| Wheelbase | 2,674 mm | 2,700 mm |
| Seating Capacity | 5 | 7 |
| Boot Space | 387-litres | 720-litres |
As is clearly evident from the comparison table above, the XUV500 is a much larger vehicle than the new Renault SUV here. It not only offers more seating capacity, but also offers a larger boot. Also, thanks to much larger dimensions, the XUV also enjoys much better road presence.
Renault Captur Vs Mahindra XUV500 Features
| | | |
| --- | --- | --- |
| Features | Renault Captur | Hyundai Creta |
| Auto Projector Headlamps | Yes | Yes |
| Touchscreen Infotainment | Yes | Yes |
| Multi-function Steering Wheel | Yes | Yes |
| Electric Folding ORVMs | Yes | Yes |
| Sunroof | No | Yes |
| Apple CarPlay | No | No |
| Android Auto | No | Yes |
| Satellite Navigation | Yes | Yes |
| Rear Wash/Wipe | Yes | Yes |
| Rear AC Vents | Yes | Yes |
| Leather Upholstery | Yes | Yes |
| Keyless Entry | Yes | Yes |
| Push Button Start | Yes | Yes |
| Foldable Rear Seat | Yes | Yes |
Both the models here offer a long list of features, at least on their top-end variants. The Captur gets some premium features such as a 7.0-inch touchscreen infotainment system that offers Satellite Navigation and Bluetooth. The Captur also offers smartphone connectivity thru Bluetooth but misses out on Android Auto and Apple CarPlay. There are other premium features as well, such as a multi-function steering wheel and leather upholstery. Other highlights of the features list include keyless entry with start/stop button, automatic climate control, auto headlamps, rear wash/wipe, and electric folding rear view mirrors.
Most of these features are also present on the XUV500. Even the XUV misses out on Apple CarPlay, but it does offer Android Auto. Also, the XUV500 even offers a sunroof, which is something that the Captur misses out on. While not a deal breaker, Indian car buyers seem to have warmed up to the idea of having this feature. While of questionable practicality in a hot country like others, sunroofs do enhance the aesthetics a fair bit.
Renault Captur Vs Mahindra XUV500 Safety Features
| | | |
| --- | --- | --- |
| Safety Features | Renault Duster | Hyundai Creta |
| Dual Front Airbags | Yes | Yes |
| ABS with EBD | Yes | Yes |
| Disc Brakes on All 4 Wheels | No | Yes |
| ISOFIX Child Seat Anchors | Yes | Yes |
| Central Locking | Yes | Yes |
| Reverse Parking Camera | Yes | Yes |
| Day/Night IRVM | Yes | Yes |
| Rear Defogger | Yes | Yes |
| Reverse Parking Sensors | Yes | Yes |
If you compare the safety features of both the SUVs here, it can be easily seen that both the models offer essentials like ABS with EBD and dual front airbags. Both these SUVs also offer seat belts with pre-tensioners. However, it's only the XUV500 that offers disc brakes on all four wheels. Also, none of these SUVs offer a full quota of at least six airbags.
Renault Captur Vs Mahindra XUV500 Exterior & Interior Comparison
Well, in terms of design, the two SUVs here are poles apart from each other. While the French model here is a small SUV that offers only five-seats, the Indian SUV in this comparison offers seven seats and a is mid-size SUV that is smaller only than the likes of Toyota Fortuner. The XUV500 has a really bold design, with features like flared wheel arches and well-pronounced creases making an instant visual impact. On the other hand, the Captur is all about sleekness and European flair. While both these models have an aggressive stance, it is the XUV500, with its sheer size, that offers a much stronger road presence. Both the SUVs here offer some extra styling features like stylish alloys, DRLs, and roof-rails. However, the Captur takes the game even further by offering dual-tone paint options. Like we said, both the SUV models here look really different from each other.
The same can be said for the interior. While the Captur offers cleaner surfaces and clean look, the XUV's cabin looks more flamboyant. While both the models here offer similar levels of features, the XUV500 offers seven seats in comparison to only 5 seats in the Captur. It also enjoys a much larger boot space (720-litres vs 387-litres).
Overall, it's a matter of personal choice, really. Both the SUVs look handsome and have a high street presence. You can go for the Captur if you're looking for something sleek and easy on the eye. The Mahindra XUV 500 is all about flamboyance. And then, it also offers larger dimensions, more seats, and a higher road presence. So, what do you think of our Renault Captur Vs Mahindra XUV500 comparison? Do you want us to compare any other parameter? Let us know by penning your thoughts in the comments section below. Stay tuned for more posts like the Renault Captur vs Mahindra XUV500 comparison we have here.
Join our official telegram channel for free latest updates and follow us on Google News here.