The MPV segment in India witnessed a mild shake-up last year with new entrants like the Renault Lodgy and the Maruti Ertiga facelift. Renault was hoping the Lodgy would follow the footsteps of the Duster and would become the second success story from the Indian subsidiary of famed European carmaker, but that hasn't been the case. The decade-old Toyota Innova still led the pack. Private car buyers and fleet operators alike gave preference to the tried and tested MPV Japanese MPV. However, there's an all-new Innova in town, which claims to be bigger, better and more premium than its competitors. Check out our Renault Lodgy vs Toyota Innova vs Maruti Ertiga vs Honda Mobilio spec-sheet comparison to check out how these MPVs fare against each other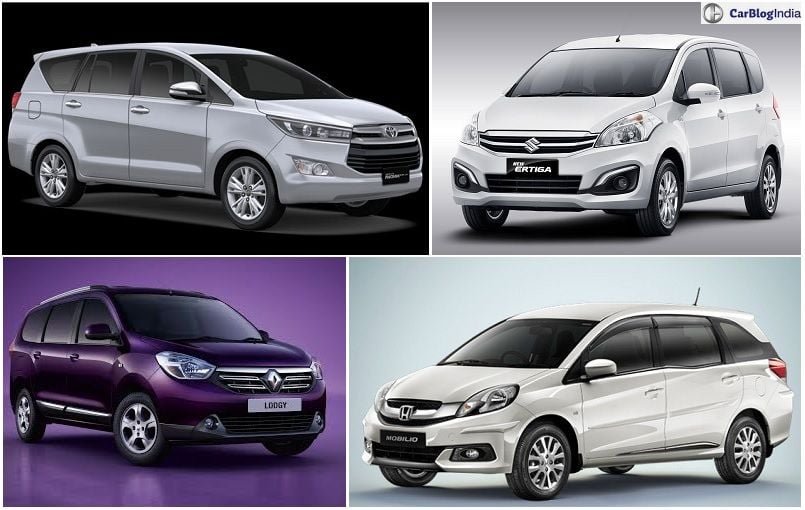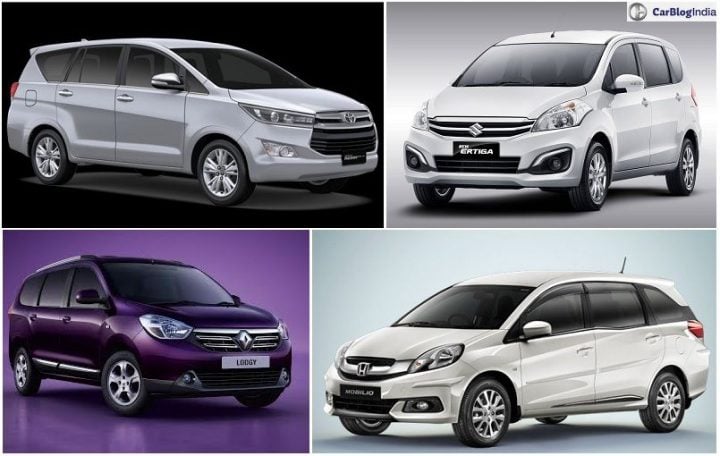 Also See- Toyota Innova Crysta vs Tata Hexa | Toyota Innova Crysta vs Fortuner | Innova Crysta vs Mahindra XUV500
Renault Lodgy vs Toyota Innova vs Maruti Ertiga vs Honda Mobilio Price Comparison
Toyota hasn't been very aggressive with the pricing of the Innova Crysta. Its starting price is around 5 lacs more than the Lodgy's, 6 lacs more than the Ertiga's and 5 lacs more than the Mobilio's. However, one should bear in mind that that the Crysta is a more premium offering than the rest and boasts more interior space, better features, and a bigger size overall. And going by the initial sales numbers, the Innova seems to be a big hit among MPV buyers as it now sits at the top of the MPV pile in terms units sold per month.
Renault Lodgy
Maruti Ertiga

 

Toyota Innova
Honda Mobilio
STD 85 PS
INR 8.55 lacs
 LDi
INR 7.59 lacs
G
INR 13.90 lacs
E
INR 8.60 lacs
RxE 85 PS
INR 9.37
 LDi (O)
INR 7.66 lacs
GX
INR 14.70 lacs
S
INR 9.36 lacs
RxL 85 PS
INR 9.99
 VDi
INR 8.29 lacs
GX AT
INR 16.00 lacs
V
INR 10.55 lacs
RxZ 85 PS
INR 10.99
 ZDi
INR 8.86 lacs
VX
INR 17.53 lacs
V(O)
INR 11.12 lacs
RxL 110 PS
INR 10.41 lacs
 ZDi+
INR 9.28 lacs
 ZX
 INR 19.48 lacs
RS
INR 11.69 lacs
RxZ 110 PS
INR 11.95 lacs
 ZX AT
 INR 20.78 lacs
RS(O)
INR 12.25 lacs
RxZ Stepway 100 PS
INR 12.68 lacs
Maruti's Ertiga is the cheapest option out of the four. Even the top-spec ZDi+ trim doesn't breach the 10 lacs mark.
All prices: Ex-Showroom Price in Delhi
Also See- Renault Lodgy World Edition
Renault Lodgy vs Toyota Innova vs Maruti Ertiga vs Honda Mobilio Features Comparison
In terms of features, the Toyota Innova Crysta has no match, but then, you do shell out a hefty amount for all that kit. The Maruti Ertiga and the Renault Lodgy are equally matched when its comes to equipment levels. But the Mobilio lags behind slightly. It misses out on certain features like distance to empty, leather seats and audio streaming through phone via Bluetooth. Innova Crysta boasts of unique features like – 7 airbags, ambient mood lighting, LED DRLs, auto shut tailgate, auto fold function for the middle row and more. However, all these features come at a price as the top-end variants of the Innova cost more than 20 lacs on-road.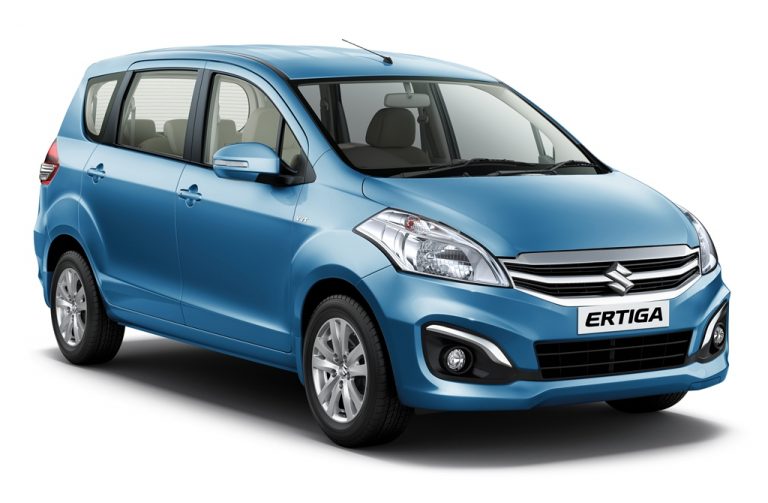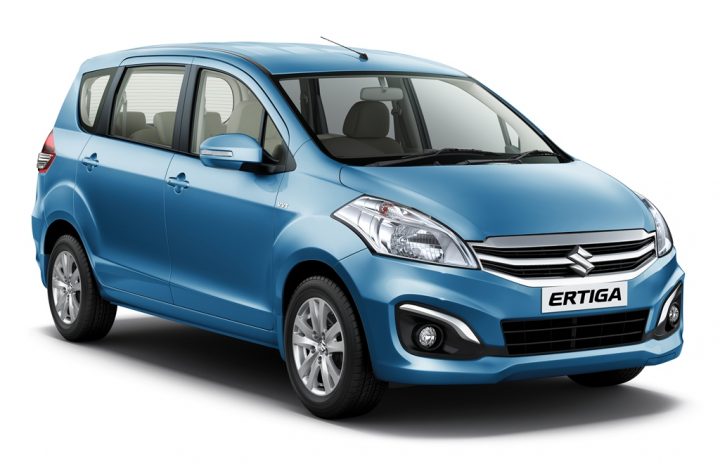 Renault Lodgy vs Toyota Innova vs Maruti Ertiga vs Honda Mobilio Specifications Comparison
Lodgy is offered with a 1.5-litre diesel engine in two states of tune – 85 PS and 110 PS. In comparison, the facelifted Ertiga is powered by the Fiat-sourced 1.3-litre Multijet diesel engine. It has a maximum power output of 90 PS and also benefits from SHVS diesel hybrid tech. The Mobilio's 1.5-litre iDTEC turbo-diesel engine produces 100 PS, but it feels very unrefined compared to its rivals. The new Toyota Innova comes with a 2.4 L and 2.8 L diesel engine options mated to a 5-speed manual and a 6-speed automatic respectively. These engines are way ahead of the competition in terms of power and torque outputs, but also significantly more expensive. For now, the Innova Crysta does not come with a petrol engine option.
Diesel 
Toyota Innova Crysta
Renault Lodgy
Maruti Ertiga
Honda Mobilio
Type
2.4 L Diesel
2.8 L Diesel
1.5 L Diesel
1.3 L SHVS Diesel
1.5 L Diesel
Displacement
2,393 cc
2755 cc
1461 cc
1248 cc
1498 cc
Power
150 PS
174 bhp
84/108 bhp
89 bhp
100 bhp
Torque
343 Nm
360 Nm
200/245 Nm
200 Nm
200 Nm
Transmission
5-speed MT
6-speed AT
5-speed MT/6-speed MT
5-speed MT
5-speed MT
Mileage
15.10 kpl
14.29 kpl
21.04 kpl/19.98 kpl
24.52 kpl
24.2 kpl
The Ertiga Diesel benefits from Maruti's mild hybrid tech, which means it is exempted from Delhi's odd-even rule. The current ban on diesel cars with engine capacity more than 2000 cc means that the new Toyota Innova Crysta cannot be registered in Delhi-NCR.
Also See – Maruti Ertiga Facelift
Renault Lodgy vs Toyota Innova vs Maruti Ertiga vs Honda Mobilio Mileage Comparison
| | | | | |
| --- | --- | --- | --- | --- |
|   | Toyota Innova Crysta | Renualt Lodgy | Maruti Ertiga | Honda Mobilio |
| ARAI Mileage | 15.10/14.29 kpl | 21.04/19.98 kpl | 24.52 kpl | 24.2 kpl |
Thanks to a comparatively smaller engine and use of mild hybrid tech, the Maruti Ertiga is the most fuel efficient of the lot. Followed by the Honda Mobilio, Renault Lodgy and finally the Toyota Innova Crysta. However, these figures are ARAI certified claimed mileage figures. Real world fuel efficiency will definitely be lower than what is mentioned in the table above.
Renault Lodgy vs Toyota Innova vs Maruti Ertiga vs Honda Mobilio – Dimensions
The Renault Lodgy is a proper full-size MPV and has a wheelbase of 2810 mm, which even puts the Innova to shame! Measuring 4498 mm in length, the Lodgy is considerably longer than the Ertiga (4265 mm) and the Mobilio (4386 mm). It is 1751 mm wide, which is again significantly more than the Ertiga's and Mobilio's 1695mm and 1683mm respectively. When compared to the new Innova, the Lodgy is shorter and narrower. However, as we mentioned earlier, it has a longer wheelbase of 2810mm.
| | | | | |
| --- | --- | --- | --- | --- |
|   | Toyota Innova Crysta | Renualt Lodgy | Maruti Ertiga | Honda Mobilio |
| Length | 4735 mm | 4498 mm | 4265 mm | 4386 mm |
| Width | 1830 mm | 1751 mm | 1695 mm | 1683 mm |
| Height | 1795 mm | 1697 mm | 1685 mm | 1603 mm |
| Wheelbase | 2750 mm | 2810 mm | 2740 mm | 2652 mm |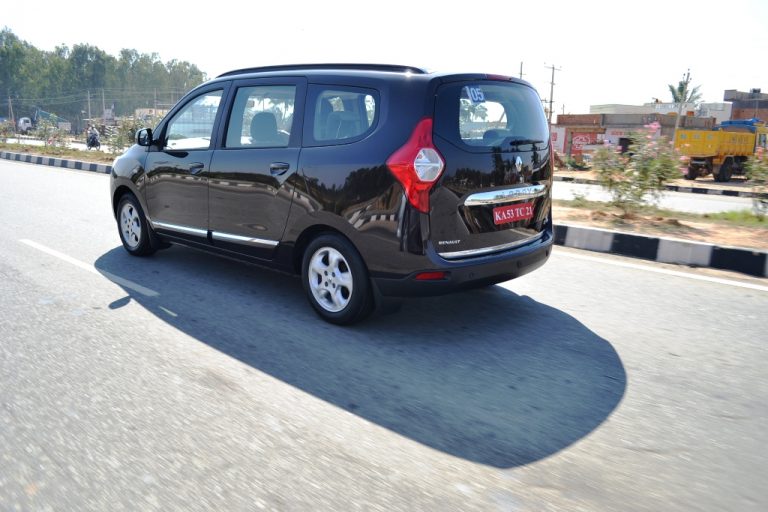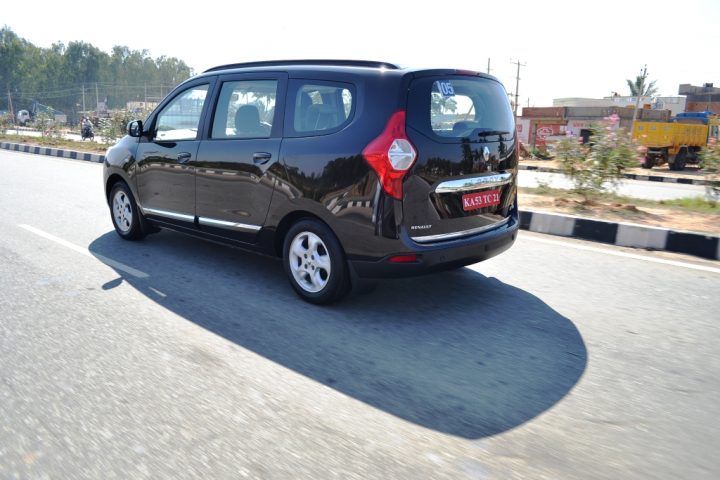 Colours
Toyota Innova Crysta – Garnet Red, Avant Grade Bronze, White Pearl Crystal Shine, Grey, Silver, Super White
Renault Lodgy – Royal Orchid, Planet Grey, Absolute Steel, Pearl White, Moonlight Silver, Indigo Breeze
Maruti Ertiga – Radiant Beige, Serene Blue, Silky Silver, Pearl Blue Blaze, Granite Grey, Superior White
Honda Mobilio – Crystal Black Pearl, Majestic Blue, Alabaster Silver Metallic, Brilliant Gold, Carnelian Red, Tafetta White, Urban Titanium
Renault Lodgy vs Toyota Innova vs Maruti Ertiga vs Honda Mobilio – Verdict
With the current pricing, the Lodgy, which is a full-sized MPV, has a definite edge over all the other MPVs we've just talked about. It offers more space and better engine performance, for only a little more than what one needs to shell out for an Ertiga or a Mobilio. The Lodgy makes for an interesting 'middle of the road' alternative to most of its immediate rivals. However, none of the MPVs here can match the level of trust the Toyota Innova has been able to establish over the years. The Maruti Ertiga and Honda Mobilio might not be as spacious as the Innova or Lodgy, but they do possess a significant price advantage and a very strong brand image making them a very good buy.
Design – Looks are subjective so we will let you decide which of these MPVs is the prettiest of the lot. The Mobilio looks like a bloated Brio and features a very oddball dashboard design. Innova Crysta's cabin is the most luxurious.
Features – Feature-rich Toyota Innova a bit too expensive. The rest are equally matched in terms of equipment levels.
Specifications – Toyota Innova's engines are the biggest and most powerful. Ertiga is the most fuel efficient while the Lodgy's 1.5 L unit offers decent performance. No petrol engine on offer for the Innova Crysta yet. Honda's 1.5 L Diesel powering the Mobilio noisy and unrefined.
Price – Renault Lodgy and Maruti Ertiga are good value for money products. Toyota Innova Crysta is a bit too expensive.
Video Review
Also See – Renault Duster Review
What do you think? Do you agree to our verdict on the Renault Lodgy vs Toyota Innova vs Maruti Ertiga vs Honda Mobilio? Do let us know by penning your thoughts down in the comments section below. Stay tuned for the latest updates on Renault Lodgy vs Toyota Innova vs Maruti Ertiga vs Honda Mobilio comparison.