In a bizarre incident, a Royal Enfield Bullet experiences an explosion. This happened to a friend of the person who reported this on the Bullet Facebook page. The Bullet is one of the most popular bikes in Indian, especially for people looking for road presence. People also take the Bullet on long road trips to adventurous locations of the country. It is considered to be one of the more rugged and tough options to take off-road. But every once in a while, there could be some issue with any engine, be it a bike or a car. This seems to be one such incident. Here are the details of this event.
Also read: WATCH Latest Royal Enfield Classic 350 vs Last-gen Model In A Classic Drag Race!
Royal Enfield Bullet Explosion
The guy who shared these images explains that the motorcycle was in the parking position. This is very interesting that a bike caught fire while it was not driving. According to the comments shared by other members of the group, the bike is around 4 years old. The manufacturing was some time in 2017. The bike is a Royal Enfield Bullet in Gunmetal Grey paint shade. There are various arguments related to this post. The guy is complaining that there might have been a manufacturing defect. That could have resulted in some component malfunctioning causing an explosion. However, it is still weird considering the bike was in a parking position.
Also read: First-Ever New RE Classic 350 with Aftermarket Loud Silencer – This is it!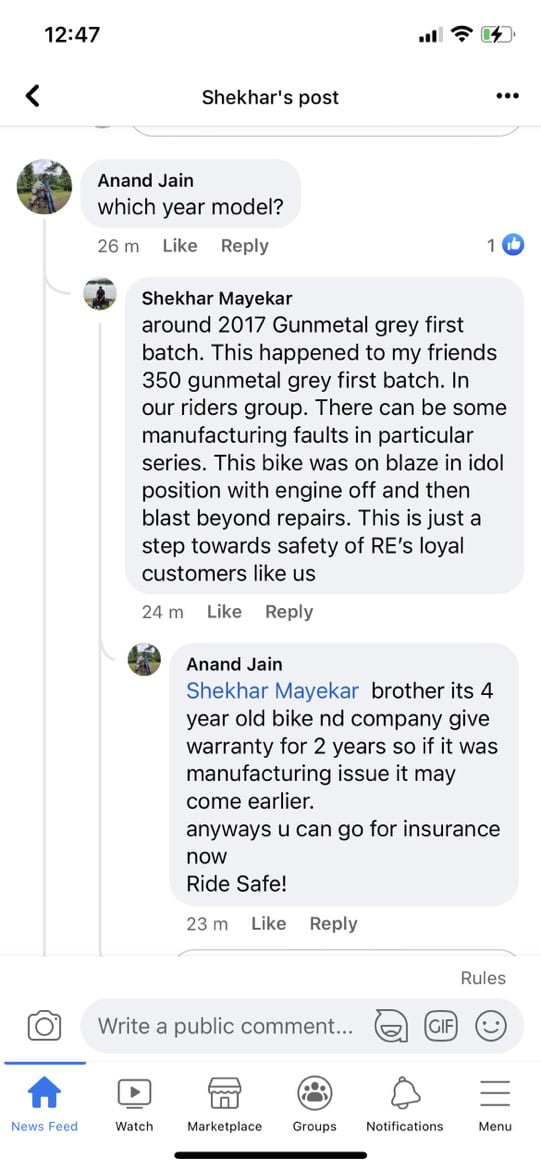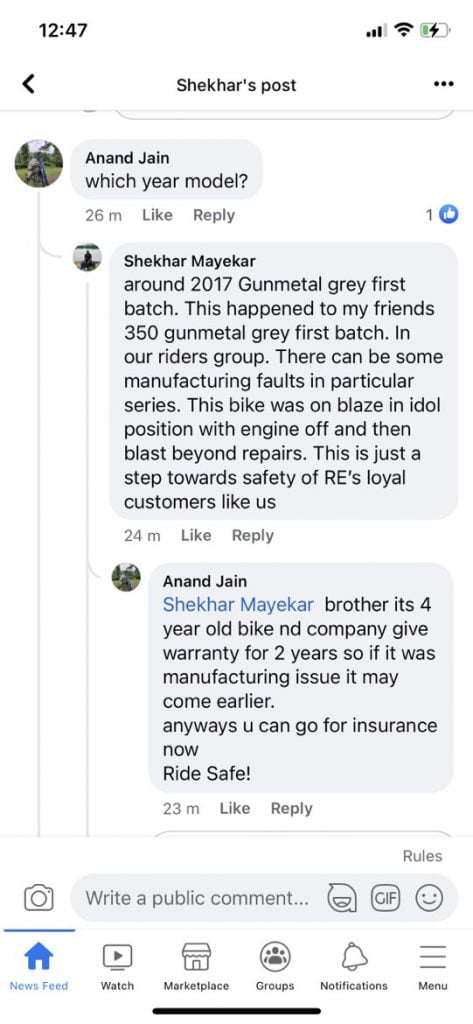 The other members explain to him that it shouldn't be the case. The company offers a warranty of two years. Generally, the manufacturing defects occur within the first year or so. But this motorcycle was more than 4 years old which means that there could be other factors at play. We don't know any other details about the bike. The images show the Bullet parked in the open and under the sunlight. That could also be a reason for the sudden explosion. But nothing could be said with certainty. Therefore, it is important to remember that although these incidents might occur, they are very rare. The components could malfunction every once in a while and that is why we must always maintain the bike according to the manual. Because in the long run, there could be many issues if you are careless in the beginning.
Also read: Royal Enfield Himalayan Chassis SPLITS Into Two While Riding