Badshah of Bollywood was busy with the shooting of his upcoming film Pathaan and these visuals come to us straight from the shoot.
In this video, Bollywood superstar Shahrukh Khan is seen on the roof of a Hummer. Reportedly, this shot is a part of a movie shoot that he performed in Dubai. SRK is arguably the biggest star in the Hindi Film Industry. He has done a lot of his action scenes in his previous movies himself. It looks like that will be the case with Pathaan as well. However, there are some stunts that his stunt double is seen performing. However, him on top of Hummer looks like a genuine stunt by him.
You may also like: Hummer H2 is The Real Big Daddy of SUVs – Towers Mahindra XUV700
You may also like: Sanjay Dutt Spotted in his Exotic Rolls Royce Ghost
Shahrukh Khan Standing on the Roof of Hummer
This video has been uploaded by myTrends on YouTube. The visuals capture various shots of the movie set. Pathaan is shot mostly in Dubai as evident from the trailer as well. These are behind-the-scenes of the movie shoot. The location of some scenes is in the vicinity of the mighty Burj Khalifa. SRK is a brand ambassador for Dubai Tourism. Therefore, it is not a surprise that the Dubai authorities make special provisions for him to shoot for his movie. Traffic is seen being stopped for some real-life shots.
You may also like: Spotted – Juhi Chawla in Porsche Cayenne and Sunny Leone in BMW 740Li
As per the information in the video, SRK has charged a jaw-dropping Rs 100 Crore for this film making him the highest-paid actor in India. That is a crazy sum of money but one could consider it justified when seen in conjunction with the stature of SRK. In one of the scenes, the actor is seen on top of the Hummer fighting with some other actor. The video mentions that he has done this stunt on his own without a stunt double.
You may also like: Arpita Khan, Sister of Salman Khan Spotted in her Rs 2.2 Crore Land Rover Defender
In another shot, he is seen riding a horse in the middle of the road. For this shot, the traffic was stopped. It is amazing to see how difficult it is to get these shots for action movies. Nevertheless, that is the reason which makes these scenes look so good on the screen garnering applause from the audience. What are your thoughts on this?
You may also like: Gauri Khan Spotted at Airport in her Rs 1.6 Crore Mercedes S-Class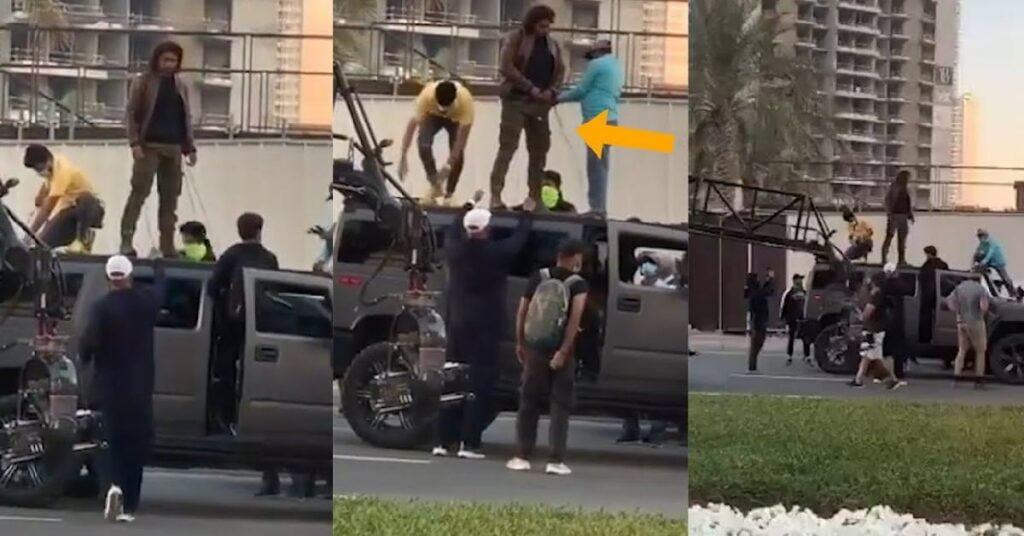 Disclaimer- The embedded videos/ external content is/are being used as a convenience and for informational purposes only; they do not constitute an endorsement or approval by Car Blog India of any of the products, services, and /or opinions of the corporation or organization or individual. Car Blog India bears no responsibility for the accuracy, legality, and/or content of the external site or for that of subsequent external videos/ external content. Contact the external publisher for answers to questions regarding its content.
Join our official telegram channel for free latest updates and follow us on Google News here.