Here are all the doubts regarding if you should buy a factory-fitted CNG car or it would be better for you to get an aftermarket kit installed?
CNG cars a lot more fuel efficient and those who have the budget constraints prefer those cars. The costliest one that you can find is the Ertiga CNG which gives more than 25 km/kg. CNG is cheaper than petrol as well as diesel and it is perfect for the city usage. However, you might not wanna take it to the mountains.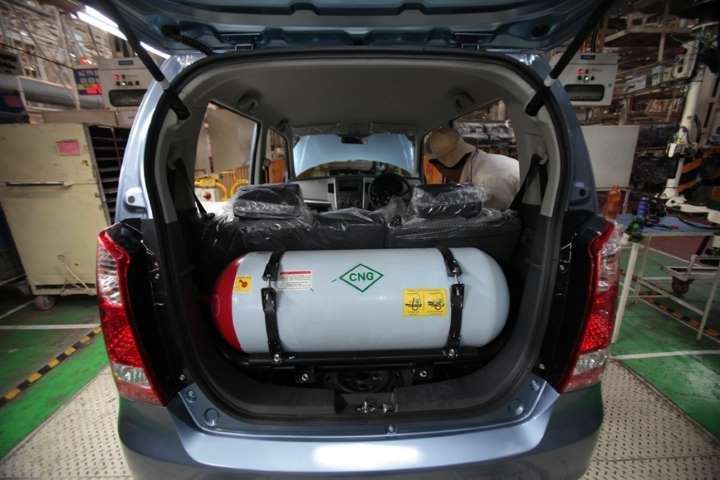 There are two choices before buying a CNG car. One is if you should buy a new car that already comes fitted with a CNG kit from the manufacturer itself or should you get it installed from outside? Both of them have their advantages and disadvantages. So, clear out your doubts here if you are planning to buy one.
Factory-Fitted CNG KIT
Manufacturers like Hyundai and Maruti Suzuki offer some of their models with factory-fitted CNG kits. With Maruti, you have a lot of cars including S-Presso, Alto, WagonR, Ertiga and Celerio that come with pre-installed kits. Since all these cars are manufactured with kits, the engineering has been done according to it.
So, the suspension, engine tuning and all the other mechanical changes are already done before the car is rolled out of the production line. You can differentiate between an aftermarket kit and a factory kit. Usually, in the latter, the CNG is filled from where the petrol is filled. However, in the aftermarket one, you have to fill it by opening the bonnet.
One disadvantage is that it comes with a comparatively smaller cylinder and thus offers a low driving range. The prices of both the kits are nearly the same, so that is one point where both of them have a tie. Now, let's move over to aftermarket CNG cars.
Aftermarket CNG KIT
You might have seen a lot of news where the CNG cylinders in a car burst. This scene is just not applicable to aftermarket kits but even to the factory ones. A small advantage of getting CNG kit installed from outside is that you need not take a new car. Just get your old car with CNG and its good to run. However, the engine tuning and suspension are not engineered for aftermarket kits.
It is said that most of the CNG cars have a shelf life of maximum 7 years or something. Its because the aftermarket kit slowly damages the engine and suspension. However, there is one big advantage that it comes with a bigger cylinder and will offer more range. The maintenance is comparatively lower for the factory-fitted cars.
Join us for FREE NEWS Updates on our Whatsapp Community or our official telegram channel.