The trend of car modifications is really catching up. The latest example of it could be seen on the exterior and interior modification on this Skoda Kushaq.
Here is a cool iteration of the modified paint scheme on the exterior and various changes on the interior of the Skoda Kushaq. Now, Skoda had expectations of its first product based on the MQB A0 IN platform in the shape of Kushaq. The mid-size SUV has ensured a significant increase in the overall monthly sales of the Czech carmaker. However, there have been a few cases of the EPC issue that has been plaguing its image. Skoda still hasn't found a permanent solution for it which is quite disappointing. But that is a story for another time. In this post, we shall experience the modifications that have been done on the Kushaq.
Also read: Owner Manual Recommends ONLY Premium Petrol For Skoda Kushaq
Skoda Kushaq Modified Paint and Interior
The video starts with the modifier explaining various aspects of the modifications done on the Kushaq. To begin with, the exterior of the SUV features a dual-tone paint shade. The orange colour is contrasted with an off-white theme. The A-pillar along with the roof rails and the area behind the C-pillar is wrapped in a white film. This white paint shade is extended onto the integrated roof spoiler at the rear too. The shark fin antenna is kept black to give a sporty look to the exterior. All in all, the external appearance is accentuated a lot by just making little changes.
Also read: WATCH Noisy Cabin of Skoda Kushaq on Day 1 of Ownership!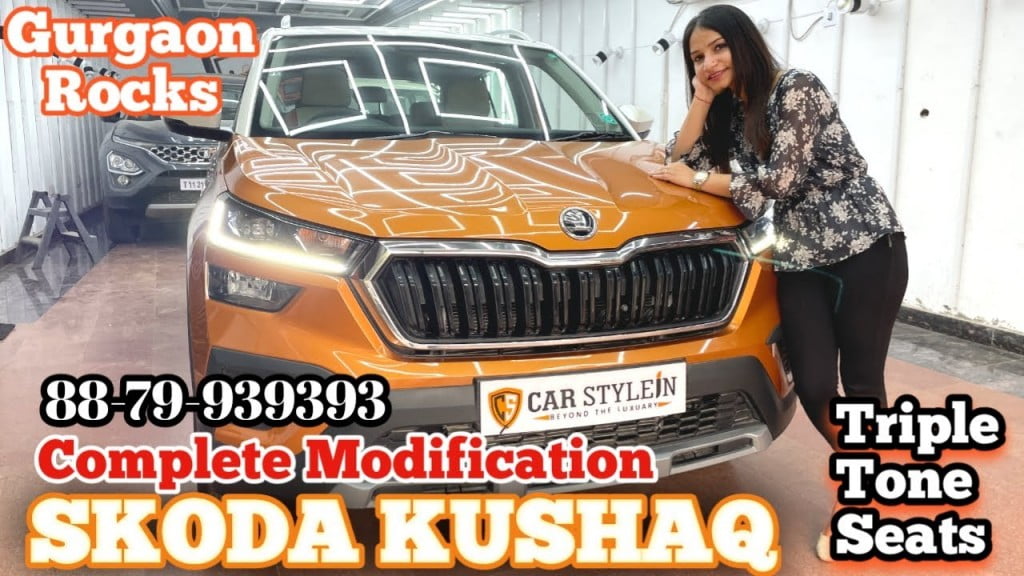 Interior
The changes in the interior are much more significant. To entire dashboard is finished in orange colour to match the exterior paint. There have been inserts of carbon fibre with a textured pattern. The orange and tan colour is chosen to compliment the exterior paint. This textured surface is extended to the centre console. The grab handles on the door panels are also finished in the same material. The area behind the door handle is also wrapped with Nappa leather material with the same tan colour. The use of Nappa leather has been generous in the seats as well. There are various contours on the seat to make the usage more comfortable. The seats themselves are finished in three colour tones, ice grey, tan brown and black. The stitching is done in ice grey colour which stands out and gives the interior a premium look. The overall cabin layout is neat and sophisticated.
Also read: FRUSTRATED Skoda Kushaq Owner Shows Poor Fit and Finish