This is a great instance to verify the mileage of a brand new Skoda Kushaq on the highway. Skoda Kushaq has received a lot of stick by the owners lately due to the EPC problems in the brand new SUVs. In some cases, the car refuses to start and the passengers are left stranded on the road. The vehicle has to be towed away to the service centre to get fixed. This is not great, especially for a brand that prides itself on quality. The mid-size SUV is a direct contender to challenge the reign of Creta and Seltos which dominate the mid-size SUV segment completely. A piece of news like this has the potential to boost the attractiveness quotient of the buyers looking to buy an SUV. Let us check out the details of how an owner of a brand new Skoda Kushaq was able to get a whopping mileage of 23 kmpl on the highway.
Also read: Scooty Rider Who Collided With Skoda Kushaq Laughs at Damages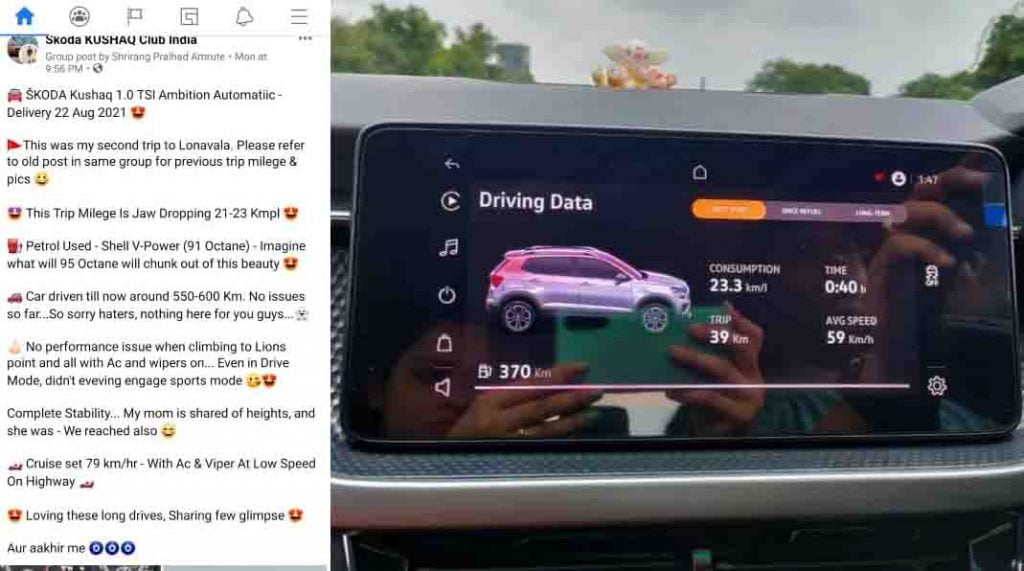 Skoda Kushaq Highway Mileage
The owner had posted this on the Skoda KUSHAQ Club India page on Facebook expressing his joy. He shares the images and details of the trip. The owner has the 1.0-litre TSI Ambition Automatic variant and took a drive to Lonavala. He tells that he used the Shell V-Power (91 Octane) petrol for this trip. This is a prime example of how an automatic transmission combined with Cruise Control can deliver some crazy mileage figures like these. He had set the Cruise speed to 79 kmph and the SUV was in Drive Mode (not Sports Mode). There were no issues in the performance even with sloping terrain. The AC and wipers were operating at low speed for the entire trip. As he shares the images of the Digital Infotainment Screen, it clearly reads 23.3 kmpl for the trip of 39 km with an average speed of 59 kmph.
Also read: Dealer Says Skoda Kushaq EPC Issue Is Now Resolved- Any Truth Here?
Specs
Powertrain options include a 1.0-litre TSI turbo petrol engine, making 115 PS and 175 Nm and its bigger sibling, the 1.5-litre TSI turbo petrol unit making 150 PS and 250 Nm in action with the Kushaq. Complementing the 1.0-litre engine is either a 6-speed manual or a 6-speed automatic transmission. The larger 1.5-litre unit comes with either a 6-speed manual or a 7-speed DSG (DCT) gearbox. The prices of the Kushaq range between Rs 10.49 lakh and Rs 17.59 lakh, ex-showroom.
Also read: First-ever Skoda Kushaq With Aftermarket 16″ Mags – This is IT!