Exchanging cars is not as common as one might think but this Skoda Kushaq owner offering his mid-size SUV in exchange for a Tata Nexon EV is a valid offer.
A Skoda Kushaq owner is offering his mid-size SUV in exchange for a Tata Nexon EV. The Kushaq is Skoda's main product that has ensured its successful beginning of the second innings in the Indian market. The sales data for the Czech carmaker has been quite impressive ever since the launch of the Kushaq. On the other hand, the Nexon EV is the sole and nominating market leader in the Indian EV space. Tata Motors hold over 80% market share in the EV segment and Nexon is solely responsible for it. Could this be a reason enough for this offer?
You may also like: Skoda Kushaq Service Costs are an EYE-OPENER!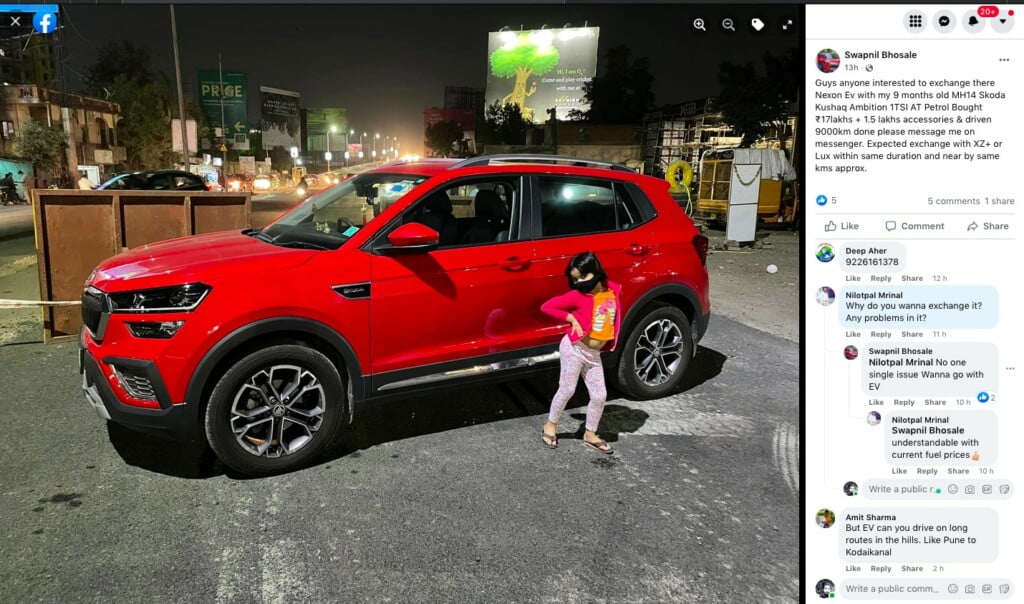 You may also like: Tata CURVV vs Nexon EV – Specs, Design Comparison
Kushaq Exchange Nexon EV
The Kushaq owner posted his offer on Facebook where a few people have shown interest. When one of them asked the reason why he wants to exchange his brand Kushaq for an EV, he confirms that he doesn't have any issues with the Kushaq, but he wants to go for an EV. Nexon EV being the most popular option by far, he is asking for the XZ+ trim of the Nexon in exchange for his 1.0-litre Ambition trim of the Kushaq with an automatic transmission that cost him Rs 17 lakh, on-road. With additional accessories worth Rs 1.5 lakh and 9,000 km on the odometer, he needs a Nexon EV that has roughly the same usage.
One of the interesting points that a user mentioned is the fact that EVs are cost-effective with running. The fuel prices are on a rise yet again and this time it will be permanent. People are beginning to get frustrated with the prices and are looking for sustainable solutions. CNG and EVs are the only two alternatives if you are living in big cities with adequate infrastructure for both these powertrains. This could be the prime reason why the Kushaq owner is looking exclusively for an EV.
You may also like: Tata Nexon EV to Soon Face Rivalry From Mahindra XUV300 Electric
You may also like: Hyundai Creta Leaves Skoda Kushaq Owner Impressed – VIDEO
Whatever the case may be, this unique incident highlights the demand for EVs in India as well. The sales of EVs have risen exponentially year on year and more carmakers have announced their plans to bring in new products in the EV space. The latest example being the Tata CURVV concept that the carmaker unveiled recently. Mahindra is all geared up to launch electric versions of its XUVs. As auto enthusiasts, we are excited to embrace the new era in the automobile industry.