Premium SUVs are very popular among Bollywood celebrities. Now, Suniel Shetty has purchased a new Land Rover Defender (worth over Rs 1 Crore).
Bollywood actors are often seen in luxury cars around the city. Most have their own collection of stylish cars as it is also part fo the celebrity lifestyle. Suniel Shetty is one of the actors who has known as a major SUV fan. His garage already houses the likes of a Mercedes Benz G350D off-roader, a Mercedes Benz GLS 350, a Jeep Wrangler, a BMW X5, and a Hummer H2. Now, the popular 90s actor has added a spanking new Land Rover Defender 110 to his collection. As of now, there is no information about the variant details.
You May Also Like: Ananya Panday Seen with her Wrapped Range Rover Sport
You May Also Like: Suniel Shetty Seen with His Mercedes G63 AMG
Land Rover Defender 110
The Land Rover Defender 110 is a rugged and capable off-roading vehicle. It comes with a price range of Rs 1.05 crore – Rs 1.5 crore (ex-showroom, Mumbai). The stylish SUV is imported into India as a completely built unit (CBU). It comes in three engine options. A 2 liter-4 cylinder turbo petrol engine offers 300 Bhp of power and 400 Nm of torque. A 3-liter-6 cylinder petrol engine produces 400 Bhp of power and 550 Nm or torque. However, the most popular version is the turbo diesel engine (3-liter inline 6 unit) that outputs 300 Bhp of power and 650 Nm or torque.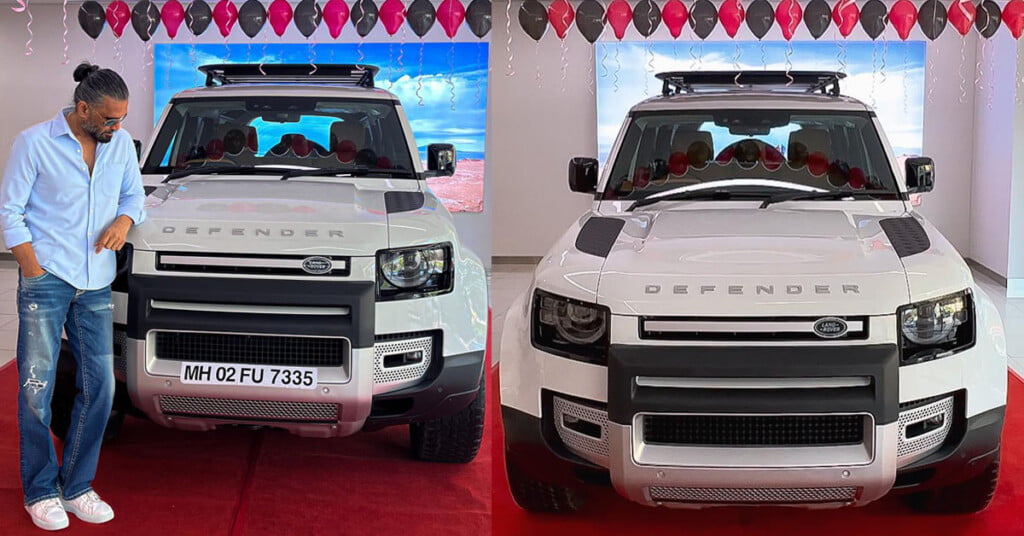 You May Also Like: Varun Dhawan and Kriti Sanon Seen on a Royal Enfield Bullet
The popular SUV comes with a four-wheel drive layout as standard across all variants. All three engines are paired with a ZF 8-speed torque converter automatic gearbox as standard. The Land Rover Defender SUV is built ground up as a dedicated luxury off-roader. The latest generation model features a long 1100inch wheelbase. It comes with a 5-door layout and is quite spacious. While the longer wheelbase affects off-roading, it makes it quite useful for everyday use. For comparison, the Defender 90 comes with a 90-inch wheelbase and a 3-door layout. Whereas the Defender 130 comes with a huge 130-inch wheelbase. It can seat seven passengers.
You May Also Like: VIDEO: 5 Bollywood Celebrities With Their New Cars – Nimrat Kaur to Genelia D'Souza

You May Also Like: New Cars of Bollywood Celebrities – Sanjay Dutt to Rohit Shetty
Popular Choice of Many Celebrities
The premium SUV is very popular across the world. In India also, it can be seen in the garages of many celebrities from the entertainment industry. Some of the notable owners of the Land Rover Defender include Malayalam megastar Mammootty, Sunny Deol, Arjun Kapoor, Ravi Teja, Aayush Sharma, and Prithviraj. The cult SUV is also the choice of many businessmen and politicians. This includes the likes of industrialist Mukesh Ambani, Tamilnadu CM MK Stalin, Indian Express scion Viveck Goenka, and Kanyakumari MP Vijay Vasanth. As for Suniel Shetty, his collection matches his on-screen images of a macho action hero.
Join our official telegram channel for free latest updates and follow us on Google News here.