Suzuki officials have hinted that they are planning to launch premium scooters in India in a couple of years, which will be 150cc and above.
Suzuki Motorcycle India had earlier revealed that they will just focus on premium motorcycles. Clearly, the commuter segment is not working out for them as they have seen poor success with the Hayate and Lets which are 100-110cc two-wheelers.
In his statement to Moneycontrol, Satoshi Uchida, Suzuki Motorcycle India, has confirmed that they plan to bring more premium motorcycles in India soon. While the company is working on 250cc motorcycles, it is also working on introducing premium scooters.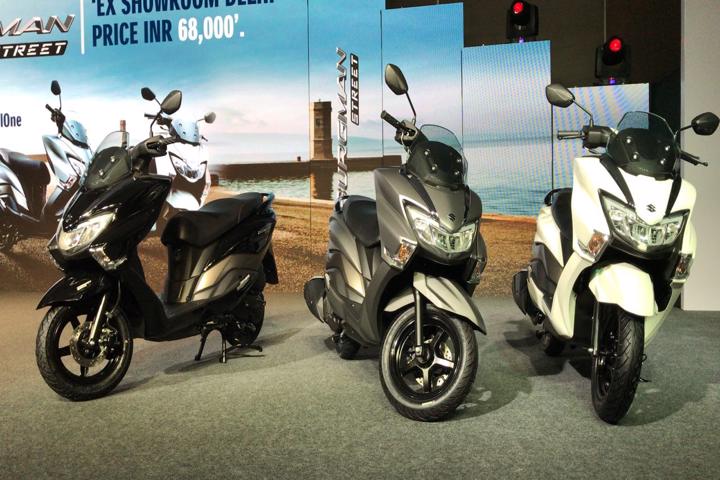 As of now, Suzuki has two scooters in the stable, the Access 125 and Burgman Street 125. While Access is one of the best-selling scooters of India, the Burgman Street is also quite popular in the 125cc segment. After this, Suzuki wants a say in the 150cc premium scooters segment.
Also Read: Suzuki Intruder 250 Launch Most Likely To Happen In 2020 – Report
We are not sure how many premium scooters are coming in, but is likely to include a more powerful version of Burgman Street. Globally, the Burgman Street range starts from 125cc going all the way up to 650cc. Also, in the global markets, the scooter looks a lot different from what we have here in India.
Recently, there were reports for Suzuki developing Burgman Street 180 for the Asian markets. Its design sketches were also leaked and so were some details. The new Burgman is being bought in to replace the 200cc variant of it.
If coming to India, the scooter will look completely different from the global version. The body parts would be scaled down to make it lighter and the engine will be tuned for the highest fuel efficiency. Also, it would look similar to the one that we have right here.
Also Read: Suzuki Burgman 180 Under Development – Report
Meanwhile, Suzuki has also confirmed another 125cc scooter to be launched by 2021. Other upcoming products from them include a 250cc cruiser and big-capacity motorcycles.