Suzuki WagonR 7 seater was first seen in 2013 Indonesia  International Motor Show. When unveiled, it was just a concept car but now it has been announced that it will be in production by 2016. Since India is one of the top markets for WagonR sales, it is most probable to be launched in India soon after production begins. Competing directly with the new Datsun Go+ MPV which is priced at around 5-5.5 Lakhs, the WagonR 7 seater should be around the same price. Suzuki's other 7 seater, Ertiga doing considerably well in India the WagonR will be an very exciting addition to the market. Moreover, many style elements and evolved interiors and features will be added to the WagonR 7 seater compared to the already present WagonR 5 seater.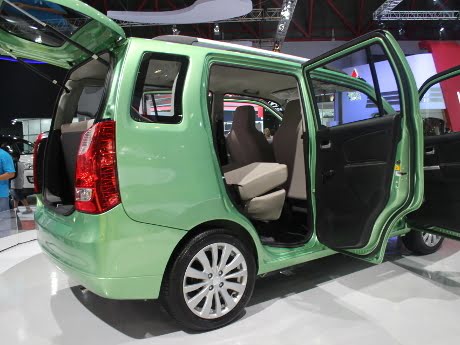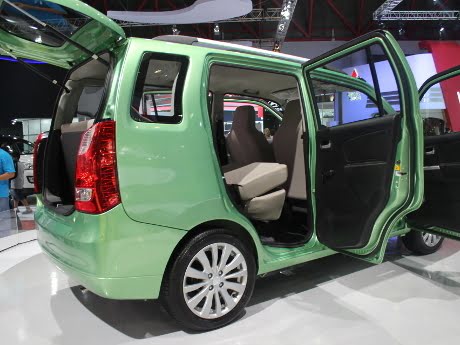 Expected Specifications
The car is in showrooms in Indonesia, but the tried and tested engines that work with the CNG and LPG fuels could be with more or less these specifications. The engine can be predicted to be 1 litre 3 cylinder K-series with 90 Nm torque and  power of 60 Bhp, hence a good pickup which is perfect for city roads, specially those of India.
The Suzuki's WagonR 7 seater is a sub 4-metre vehicle and hence based on the current features of the WagonR. If launched in the Indian market the Honda Mobilio and Ertiga would be competitors for the WagonR 7 seater. The real specifications will only be available after production starts in 2016.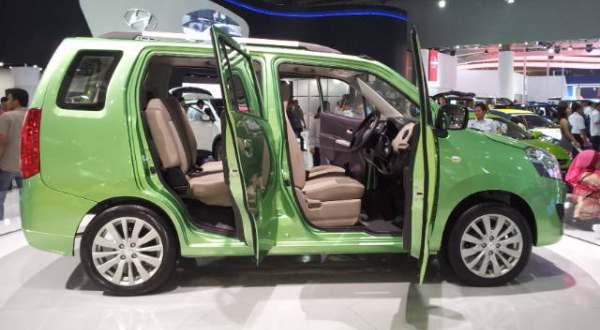 Style Quotient
This new WagonR is will have a much better style and interior than it's counter parts. As Davy J Tulian confirms that, "Karimun WagonR (7 seater) will certainly be more attractive, more sexy." It will also be a direct competition for all MPV vehicles. Although the manufacturer did not reveal exact features it is for sure that the wheelbase will remain the same for the 7 seater as it was for the 5 seater.
The hatchback will certainly do well in Indonesia as people there, like in India prefer MPV cars. The Director of Marketing and SIS did mention that they are "still learning" and so nothing can be said for sure. The concept shown in Indonesia International Motor Show had an extended length and quarter glass panels were added on the rear to create an illusion so that the car does not look too big. The car remains under the tax benefits in Indonesia of Low Cost Automobile and Green Card (LCGC) which makes it the "model city car."
image credits and source- Oto.Detik via CarToq