Tata Motors has showcased the new Tamo Racemo Electric at the Auto Expo 2018. Basically, Tamo is Tata's new sub-brand that will go on to define the company's future mobility solutions, which it calls 'FutuReady'. The Tata Tamo Racemo made its public debut at the Geneva Motor Show. The Racemo EV has made its public debut along with the Tigor EV and the Tiago EV.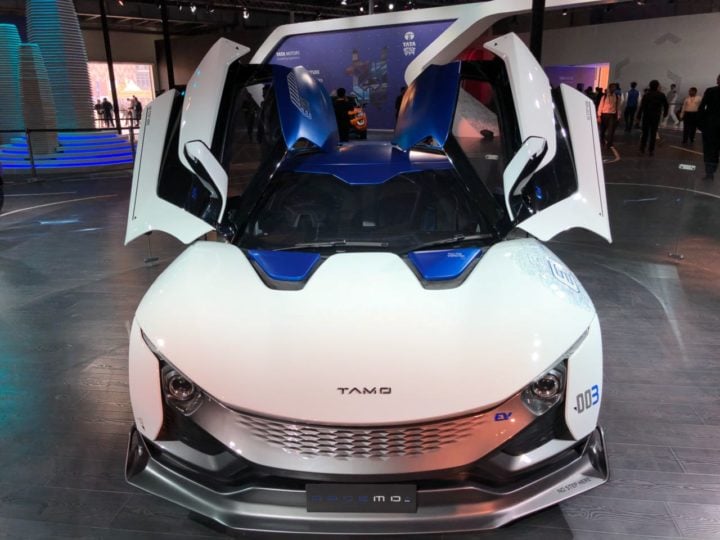 Powering the Racemo EV is a 3-phase AC induction motor. Power and torque output figures aren't known at the moment. However, you can safely expect us to update you with data on parameters like the range, top speed, 0 to 100 kmph, etc in a while.
Tata Tamo Racemo Electric Vehicle Review – Exterior & Interior Design
The new Tata Tamo Racemo Electric Vehicle looks a lot like the regular sportscar that it's based on. As per Tata Motors, the Racemo is "a stunning-looking car for the money". While the design of the Racemo comes from Tata's design team, the chassis comes from the house of Marcello Gandini. The Racemo is definitely the sportiest and the most attractive car from Tata Motors. It looks every bit like a true-blue sportscar should. While it misses out on the elegant flowing lines of, say, an Italian exotic, it makes up for this by offering a very dramatic and flamboyant look. Bits like scissor doors go a long way in adding to the visual flair.
The interior of the Tata Tamo Racemo offers clean and futuristic-looking surfaces. We like the multi-tone Gray-White-Red colour theme and the minimalistic approach from Tata's design team.
Tata Tamo Racemo Electric Vehicle Images
So, what are your views on the new Tata Tamo Racemo Electric Vehicle? Do you want Tata Motors to launch this stunning car in India? What do you think should be the price of the Racemo EV? Share your views with us by commenting below. Also, stay tuned to Carblogindia for latest news updates on cars and motorcycles in India.