Recently, we told you about a Mahindra Thar that was driven off the showroom floor accidentally and now, a Tata Altroz has met with similar fate as it crashes into other customers in a dealership
Hardly a couple of days ago, we reported how a Mahindra Thar was accidentally driven off the showroom floor and driven through glass walls of a showroom and now, another freak accident at a dealership has come to light. This time around, a Tata Altroz has been mistakenly driven off the showroom floor and into other customers present nearby. The latest incidents make us wonder if the the showroom owners of all car brands should take steps to somehow avoid such incidents.
As you can see in the video, a tata Tata Altroz parked behind a Punch suddenly starts moving and hits a lady who was standing close to the car. Furthermore, she's then dragged towards a seating space where other people are hit by the vehicle. As per what's reported above, a customer who didn't know how to drive a car was checking out the Altroz. A lady who accompanied the customer was standing near to the vehicle when suddenly, the hatchback started moving. Within seconds, it gained pace and hit the lady and dragged her towards a nearby wall. By the time the car could come to a halt, it had reached a seating space where some more people were present.
Thankfully, no one was seriously hurt and the lady who got hit by the Tata Altroz is said to have suffered only minor injuries. Clearly, the latest incident, along with the mishap involving a Mahindra Thar earlier this week, could have been avoided. It's not uncommon for first time car buyers to get a bit over-excited while checking out vehicles in a dealership. In all the excitement, they often end up making a mistake that can turn out to be pretty dangerous for all those present around. An easy way to avoid this situation is to ensure there's a dealership staffer to attend to every prospective customer who is checking out a vehicle. Another way to avoid this could be to not leave keys of a vehicle inside it to prevent someone from making a similar mistake.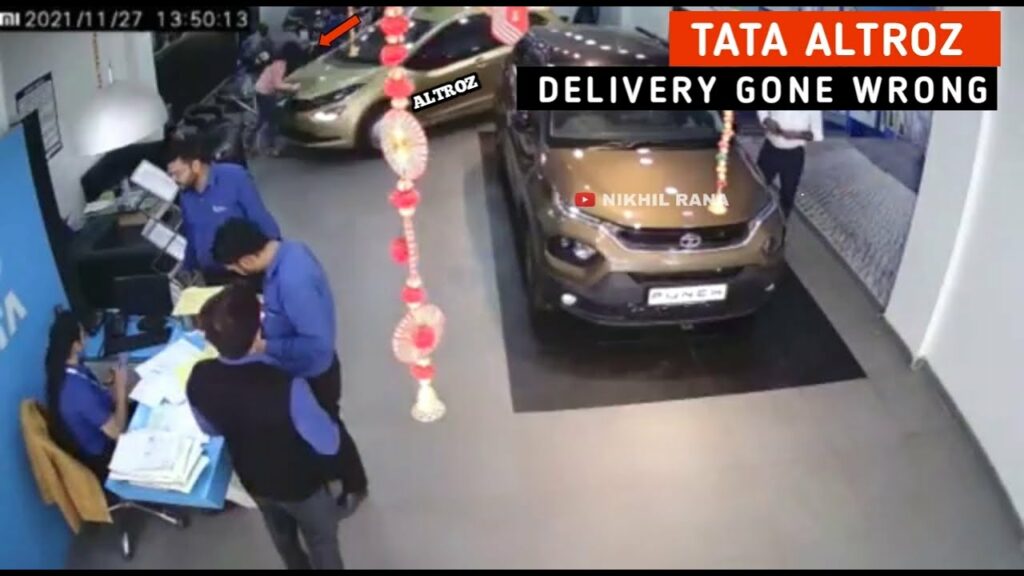 We are happy that the showroom area where this incident took place was quite small and the car couldn't gain any speed before hitting others who were present at the scene. However, the recent incidents make us wonder if the car showroom staff should be more careful before letting potential buyers get into a vehicle to check it out.
Join our official telegram channel for free latest updates and follow us on Google News here.