The aggrieved Tata Safari owner who was conned by a Ludhiana-based dealership is yet to get justice but it looks like dealership-related horror stories of Tata Motors just won't stop coming out of the closet. Today, we have come across an account of a Tata Harrier buyer from Bangalore who is shocked to find several issues in his yet-to-be-delivered vehicle. Apart from a misaligned door that seems to have been re-painted, the buyer has even found some food particles littered on the rear seat of his new SUV.
Also read: Harrassed Tata Safari Owner to Buy MG Gloster- Failure of 'Vocal for Local'?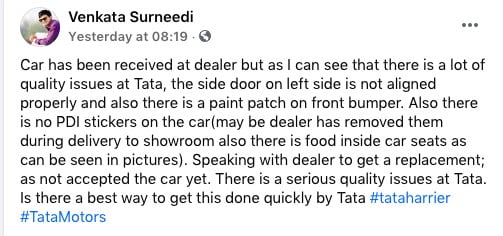 As reported by one Venkata Surneedi from Bangalore, he purchased his Harrier from Sivasankar Motors. Before taking the delivery of the vehicle, he did a quick inspection of the new vehicle. To his horror, he found that the LHS rear door is mis-aligned and even seems to have been re-painted. He also found no PDI stickers anywhere and assumed that the same were removed by the dealership before the delivery. What's even more shocking is that he found food particles littered on the rear seat. Venkata goes on to say that he has refused to take delivery of this vehicle and has demanded a replacement.
Also read: Fraud Tata Safari Dealer Already Under Radar For Scamming Tiago Buyer
However, the buyer reports that the dealer is adamant that there is no problem with the car. He also says that he doesn't blame Tata Motors for anything but Quality Control is definitely problematic. However, he is yet to touch bases with a Tata Motors official as he wishes to give the dealer a chance to replace the vehicle. A close look at one of the pictures reveals that a paint touchup job has been done on the edge of the misaligned door. While we are sad at the plight of this Tata Harrier buyer, he can rightfully deny the receipt of the vehicle unless he made the full payment and the vehicle has been registered in his name.
Also read: After Dealer-Level Fraud, Tata Safari Buyer to Now Buy Mahindra XUV700
This incident clearly shows the importance of conducting a PDI yourself before the car is delivered. It also shows how erratic dealerships have been tarnishing the image of Tata Motors, which manufactures some world-class cars and SUVs. We're now hopeful that all the problems of this Tata Harrier buyer would soon get resolved.