Tata Harrier has not been tested by the Global NCAP but it has time and again proven to be a very safe option
Tata Motors has made a name for itself for selling some of the safest cars in the mainstream market. Everything from the Tiago to the Safari have proven to be very safe options in an event of a mishap and this is something that holds true even for the Harrier. However, the Altroz, Punch and Tiago have been tested by NCAP and have received top honours but the same isn't the case with the Safari and the Harrier. The two flagships are yet to be tested by the organization but regardless of that, the latest Tata Harrier crash shows how even a safe car won't be able to protect you in case you're careless behind the wheel.
Here's a video on a sad event of many road-users losing their lives in a high-speed accident involving a Tata Harrier. As per the details we have with us, the SUV was travelling at a very high speed (150-200 kmph) and hit multiple vehicles before flipping over and splitting into two. In this impact, two of the occupants of the vehicle lost their lives on the spot while the third occupant succumbed to the injuries the next day. It's very sad to hear about the loss of lives but this accident not only goes on to highlight the importance of keeping speeds under a check but also about how carelessness on the part of the driver can lead to a catastrophe.
As per the video we have here, the cause of this huge accident is the high speed at which the car was travelling along with the driver falling asleep behind the wheel. This simply goes on to tell how important it is to be attentive behind the wheel and one should not drive in case he's drowsy. In such cases, it's best to take a stop for a while and resume driving only when one's sure he's not sleepy anymore. Also, it's important to keep speeds under a check as the risks increase exponentially as the speeds rise. It's far easier to handle a vehicle at lower speeds and avoid such mishaps.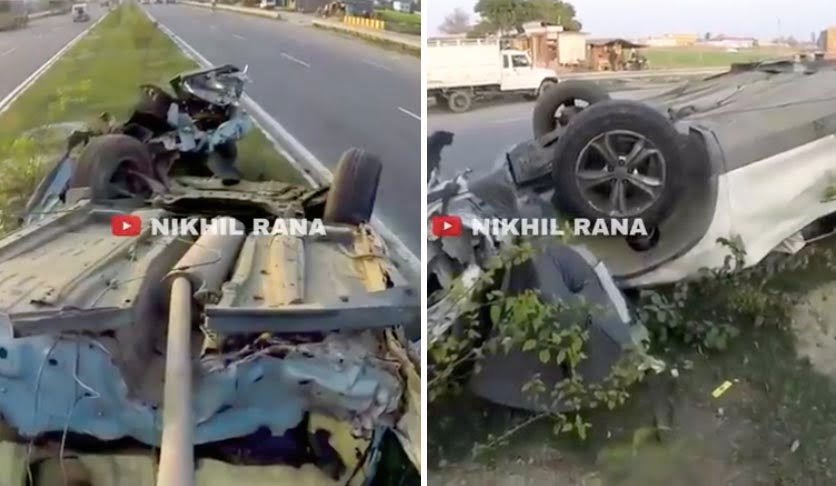 The latest Tata Harrier accident should act as a clear reminded to everyone that one's safety is in one's own hands regardless of the safety that his or her vehicle offers. This is true for any vehicle regardless of its NCAP score and one should drive with full attention, especially at high speeds.
Join us for FREE NEWS Updates on our Whatsapp Community or our official telegram channel.