We come across numerous visuals of accidents on a daily basis. In most of them, the Tata cars keep reinstating our faith in their safety capabilities. This time is no different.
Here are some visuals where a Tata Harrier turns turtle but still manages to keep the passengers safe. Tata has gained a lot of market share in recent years solely on the back of raising awareness about the importance of safety features in a car. People became more conscious of the safety rating of a car before purchasing one ever since the Nexon received a full 5-star safety rating at the Global NCAP. Tata has been producing 5-star safety products after that consistently. So when some accident takes place, it has proved why it is relevant to buy safer cars and how these cars can save your lives. This is yet another such case.
Also read: Can You Guess The Size of XXL Alloys of This Tata Harrier
Tata Harrier Turns Turtle But Keeps Everyone Safe
This video shows a Tata Harrier upside down in the middle of the road. The details of the accident are not known. However, the exterior body doesn't look like it is damaged too heavily. It is just that the SUV turned over. Harrier managed to keep the passengers safe, according to the reports. The number plate reflects that the accident took place somewhere in Karnataka. The video is also a short clip to get the visual from around the SUV. There are some scratch marks on the rear near the bumper. Apart from that, it is quite hard to tell what other damages has the SUV sustained.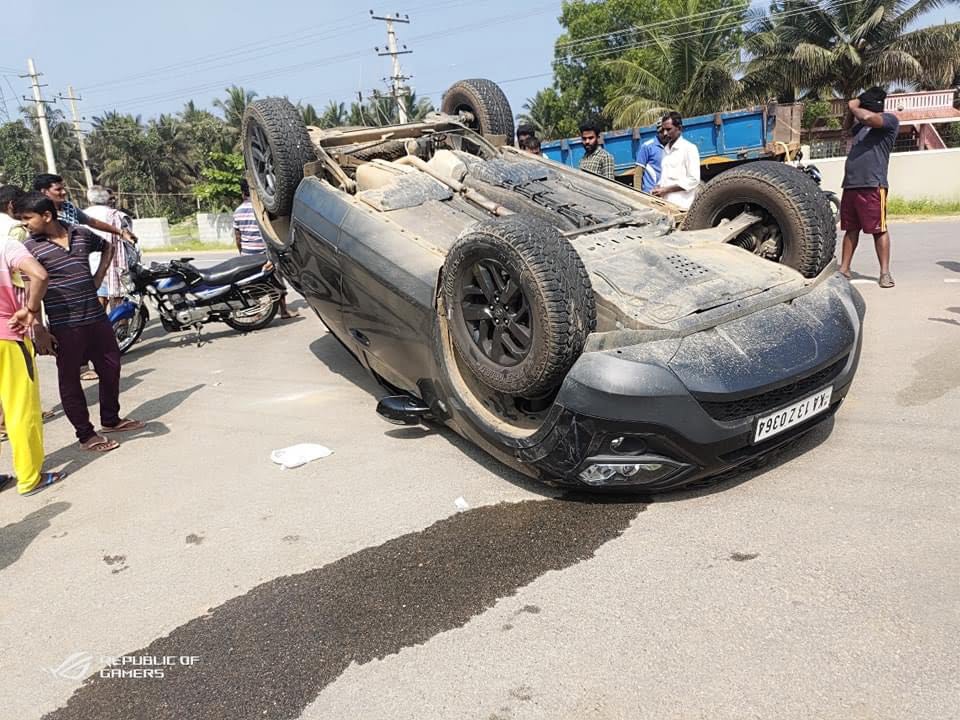 Specs
Tata Harrier comes with a 2.0-litre diesel engine that belts out 170 PS and 350 Nm of peak power and torque respectively. The transmission duties are carried by either a 6-speed manual or an automatic gearbox. The prices of the Harrier range between Rs 14.39 lakh and Rs 21.19 lakh, ex-showroom. There is no option of a 4×4 drive system yet. But the architecture on which the Harrier is built supports the incorporation of a 4×4 drive system at a later stage if required. Such accidents are unfortunate and could be avoided if all of us follow traffic rules and drive safely. Also, investing in a safer car could be the difference between survival and fatality.
Join our official telegram channel for free latest updates and follow us on Google News here.