Tata Motors is acting very aggressively over the past couple of months in order to prove their mettle in front of the world as well as the manufacturers like Maruti Suzuki, Chevrolet etc. With an extremely attractive product lineup, the company is not letting its customers lose their faith in it and with cars like Tata Nano and Tata Aria who would like to think of anything else.
Affordable sedans is another category of products that Tata is heavily equipped with and the lineup include Tata Indigo, Tata Indigo Manza and Tata Indigo Manza CS. The series is powerful enough to give other sedans a run for their money but since times are changing something new has to be introduced and as far as Indigo Manza is concerned a change is about to take place.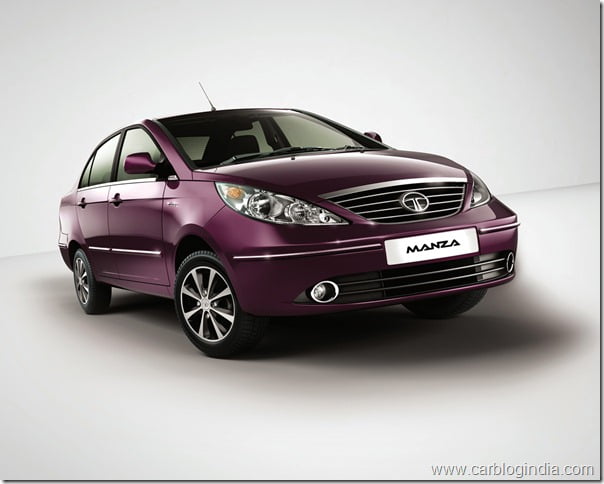 Tata Indigo Manza is soon to be renamed as Tata Manza Elan which is a great thing to do but technically speaking the car will remain the same. Minor changes on the exterior and interior will certainly be brought and will help the company give a new identity to the existing Manza. In fact the Vista 90BHP is also not used along with Indica as Indica Vista 90 BHP and surprisingly it has been stressed by the company not to use Indica.
And all this forces us to think upon the new strategies that Tata's are heading with to compete against the its potential rival Maruti and we wish them luck.
Tata Indigo Manza Elan Official Pictures
New Indigo Manza Elan 2011 s Old Indigo Manza
The features of New Indigo Manza Elan Over the old Indigo are:
All door power windows
Electrically operated outside rear view mirrors
Two tone interiors
Central console with silver finish
Front Silver grille and Chrome plated rounded fog lamps
Clean and classy door trims
Steering mounted audio and phone controls
Phone controls on central stereo console
Good Looking alloy wheels
Good Looking instrument console with Tachometer
Driver's seat adjustable for height and lumber support
Fully integrated 2-DIN stereo system
Stereo mounted audio controls
USB and Auxiliary posts for audio system
Bluetooth Phone Pairing Feature for making calls through car stereo
Airbags
Multi Stage drive away automatic locking system
Collapsible steering column
Door intrusion beam for side impact ensure complete safety
Dual tone alloy wheels
Burgundy & beige interiors
Chrome garnished bottom weather strip
Fog lamps
All new premium and exclusive Tyrian wine color
"Follow me home headlamps"  stay on for one minute after the car is switched off and can be extended by 30 seconds more by just pressing the lock key again
"Delayed power window" – even if the windows are left open and the key removed from ignition, they can be rolled up by just pressing the power window switch
Tata Indigo Manza Elan 2011 Launch Price