We tested the popular small car Tata Nano Twist for around 3 days as our primary car in various road and load conditions. In this review we talk about all the important aspects of the cars which matter to a car buyer including the price, variants, design, styling, features, mileage, specifications, space, comfort, ride quality, handling, drivability and quality of interiors. We give you our comprehensive review of the Tata Nano Twist. For those strapped for time, a video review of the car is also included below.
Before we go into more details lets talk a bit more about the car. The Nano Twist is the newest variant of the Tata Nano which comes with new features including power steering which makes this car much easier to steer. It also comes with better interiors and some extra features which make the Nano more appealing.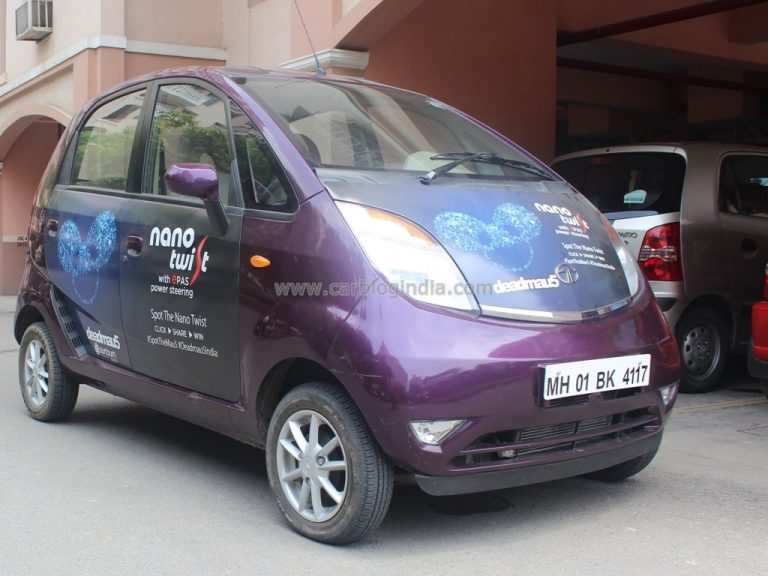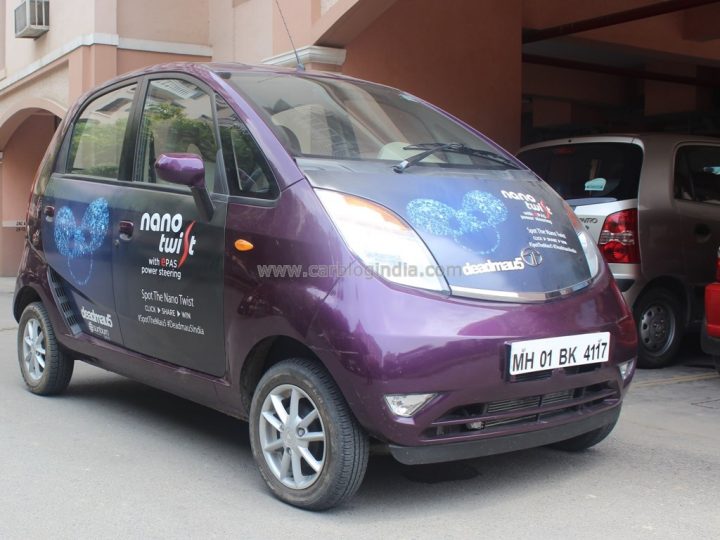 Price And Variants
Tata Nano Twist is offered only in one variant which is the Nano Twist XT which the most feature loaded variant of the Nano. The ex-showroom Delhi price of Tata Nano Twist XT is Rs. 2.31 Lakhs with the on-road price close to Rs. 2.60 Lakhs (approx).
Exteriors and Design
Tata Nano Twist does not look very different from the other variants of the Tata Nano except for some chrome treatment given to the car at the front and the rear which is also found on the Nano LX. The features of the Nano Twist are closer to Nano LX on the cosmetic front.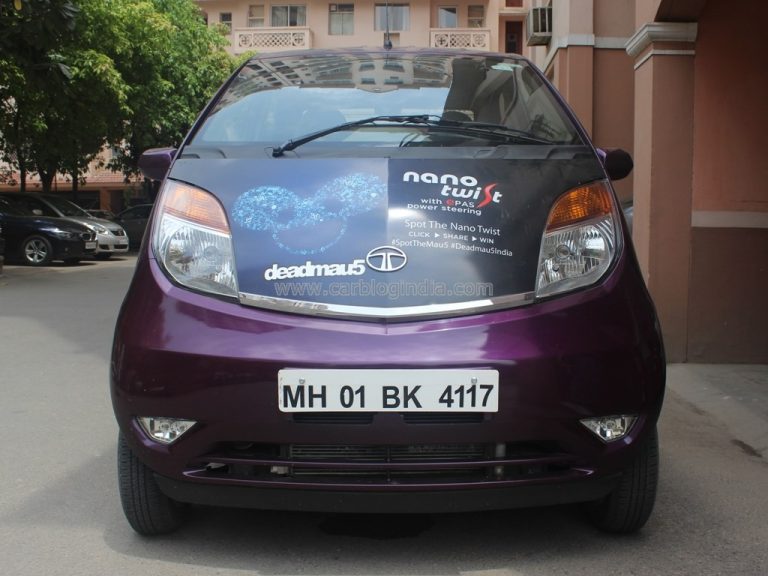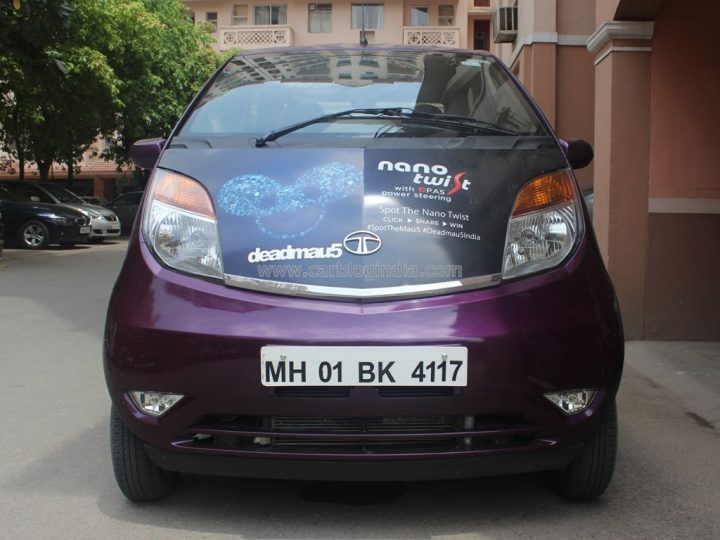 The Nano Twist has a tall boy styling and does looks visually pleasant. The front fascia is more like a smiling face and the small curved chrome strip running between the headlamps gives it touch of rich look. The front bumper is large in side and has an air-dam. You can easily see the radiators and heat ex-changers behind it. The headlamps are large and clear with combination turn indicators in-built. There also also fog lamps on the Twist variant. There is one large wiper with washer mounted on the Nano unlike two we see on most cars, but compact width of the Nano makes it effective.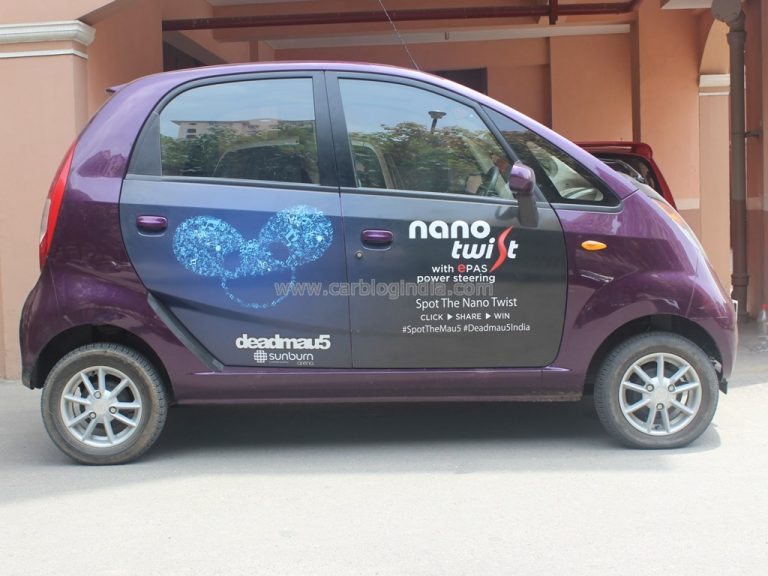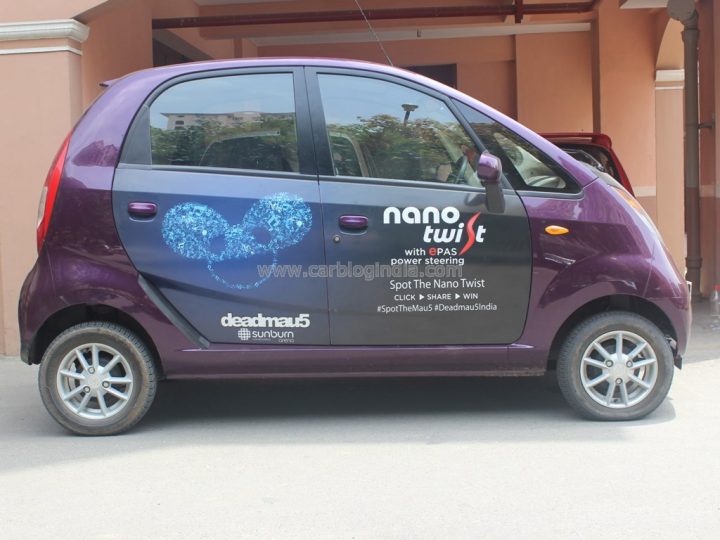 Side profile is also interesting, there is large window glass area which gives the Nano cabin a very airy feel. On the Twist model, you get body coloured bumpers, outside door handles, rear view mirrors etc. However the alloy wheels you see in these pictures are not standard. It gets full wheel covers as standard and not the alloy wheels which we got on the test car which we drove. There are subtle wheel arches on the Nano and a side body line which starts from front door and goes all the way up to the rear tail lamp cluster.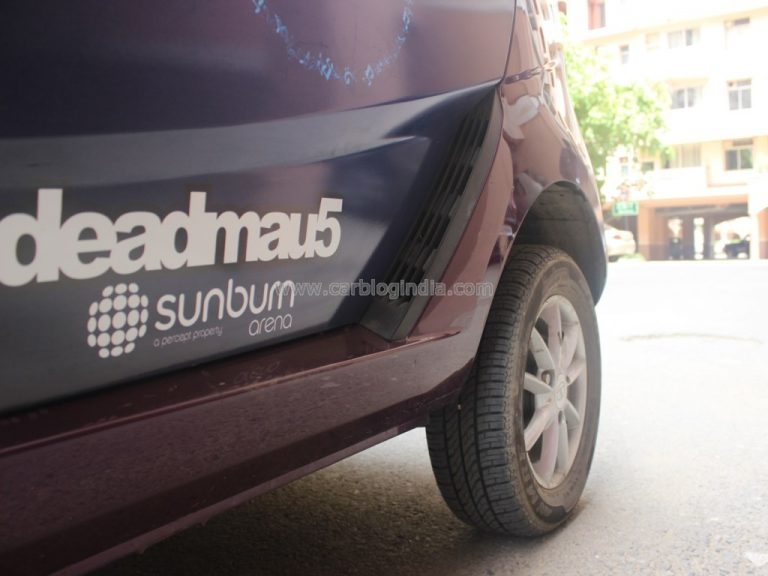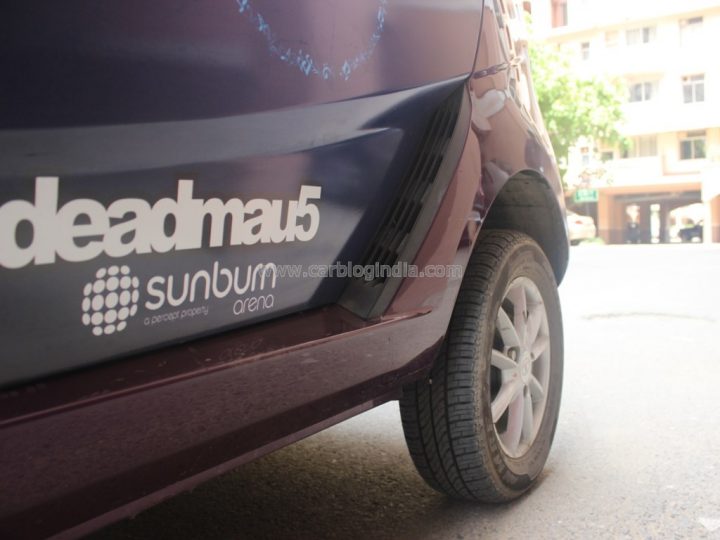 Towards the lower end of the rear door you find air scoops which have been smartly covered with plastic grilles which makes it look sporty and attractive. Interestingly they are not a cosmetic feature, rather very functional and required breathing space for engine which is mounted at the rear of the car.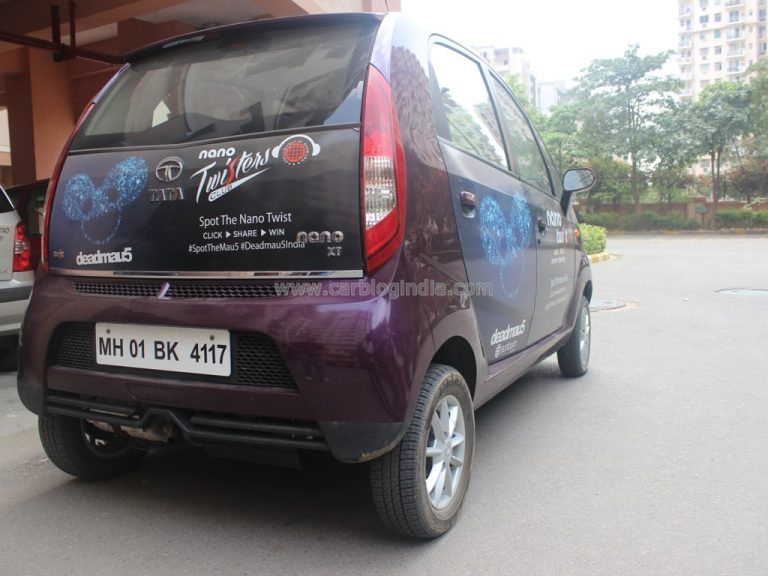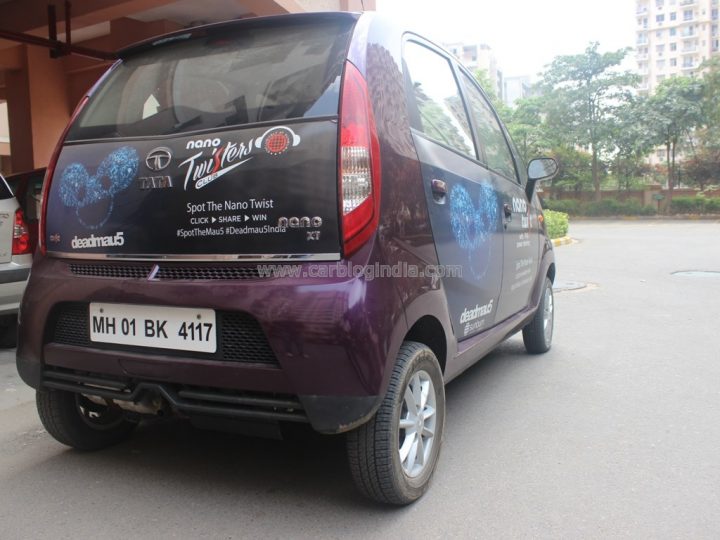 The rear of the Nano gets tall and sleek tail lamps combination cluster, a large bumper with grilles for the rear engine. There is a chrome strip running between the tail lamps on the rear of the Nano which by the way is not open-able. The boot compartment can be reached only from inside the car by reclining the rear seat down. The rear of the Nano also gets a spoiler and a high mounted stop lamp. The spoiler here is more of a cosmetic element as at 110 KMPH of peak speed, there is no point of aerodynamic down-force helping the Nano twist.
Summing up the Tata Nano Twist Exteriors review, its an unconventional design, may look odd to many, but it does the job of being a practical car with a good ground clearance.
Test Drive Review Video
Interiors And Space
Tata Nano Twist is a surprise package when it comes to interiors, besides being so low on exteriors dimensions, Nano is very spacious car. It uses the vertical space very intelligently and the packaging of the car has been done in a very smart way keeping a lot of space for the passengers.
The front seats are bucket seats but the size of the seat is not large. I personally found it to be slightly uncomfortable as the curves of the seat could not hold my back properly and I was feeling a bit out of the seat. So if you have a medium to heavy built, you may not feel very comfortable on the front seats. However the headroom and visibility is very good from the driver seat. The seating position is high and gives you a good view of your surrounding.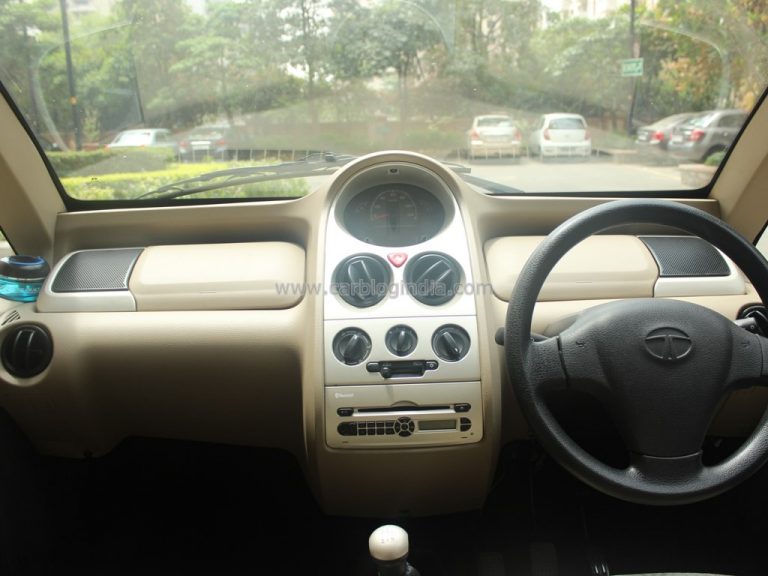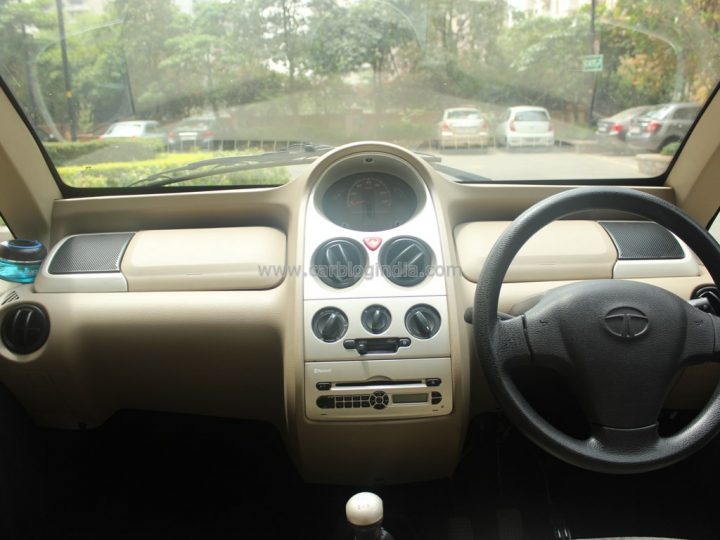 The dashboard design is simple yet functional, it has central instrument console with digital analogue combination console. It give you a large speedometer, digital fuel and temperature gauges, distance to empty, average fuel economy display and other warning lights all in the central console. The AC vents are large and circular, the AC control are simple and circular.
The multimedia system on the Nano Twist is also fairly feature rich with 4 speakers system, CD, Radio, USB, Aux-input as well as Bluetooth control for connecting with phones and also playing audio from phone over Bluetooth.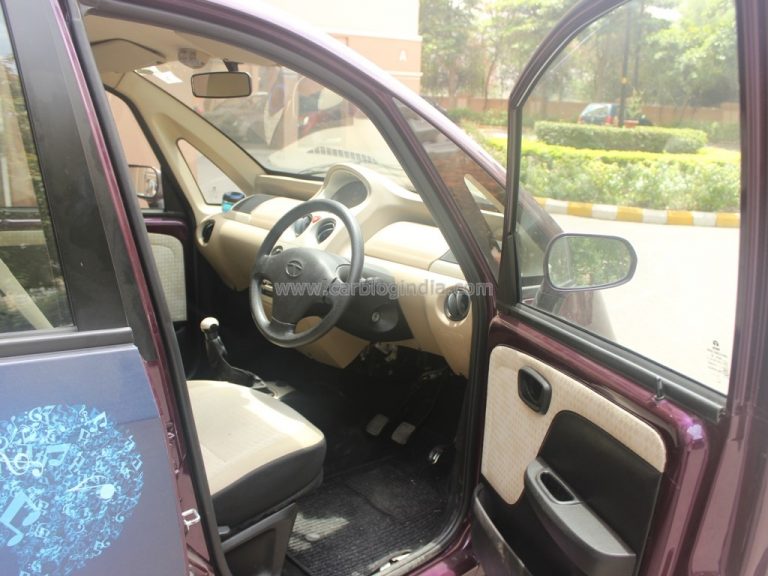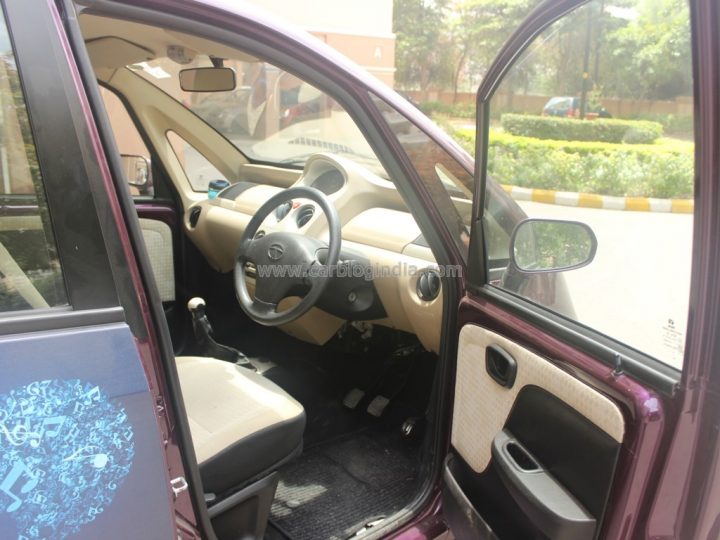 The steering wheel is very plain, simple and black in colour with Tata logo in middle. The doors are finished in dual tone trim, so are the dashboard trims. There are storage pockets around the front two seats as well.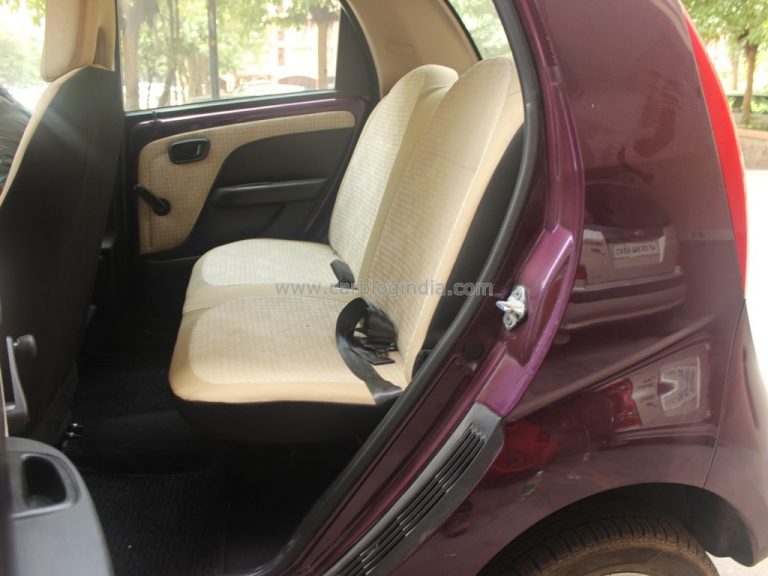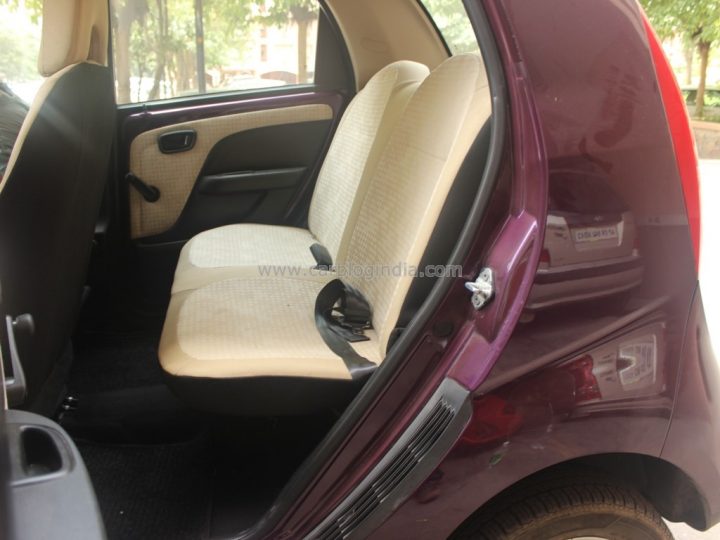 The rear seats are also fairly spacious and offer comfortable seating for two passengers. The legroom as well as headroom is ample, however the under-thigh support is a bit insufficient.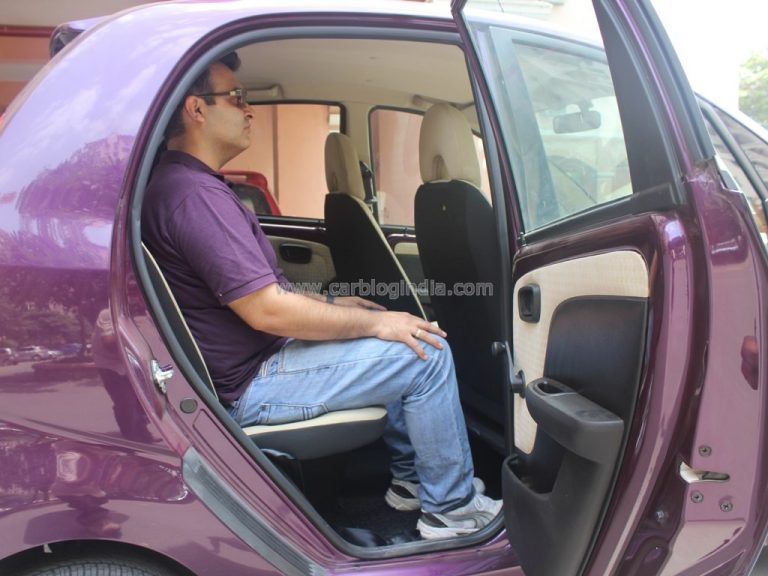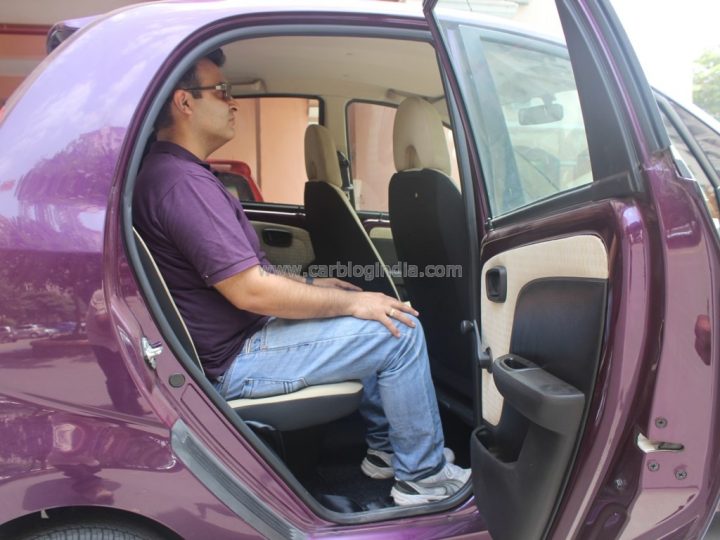 There is around 80 litre of boot space behind the rear seat, but the downside is that it is just above the engine compartment, which makes it warm. In case you need more space, you can fold the rear seat and free up 420 litre of additional space, which makes it around 500 litres of boot space at the rear of Tata Nano Twist.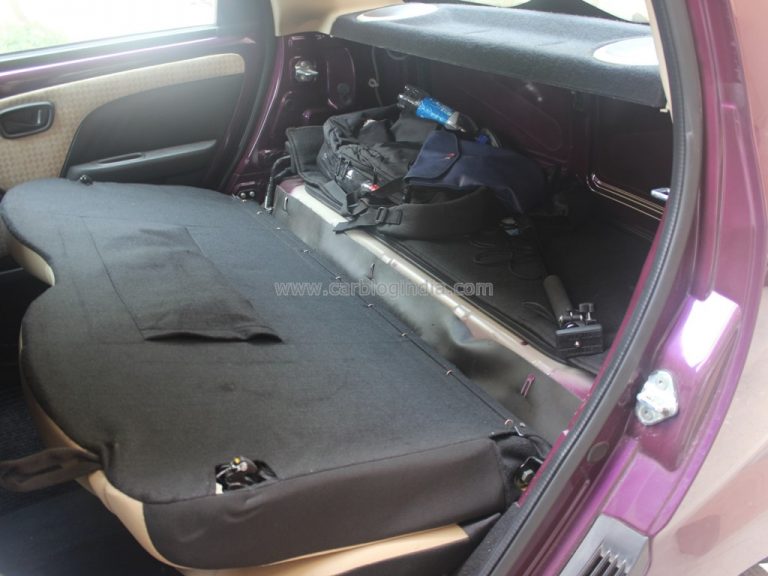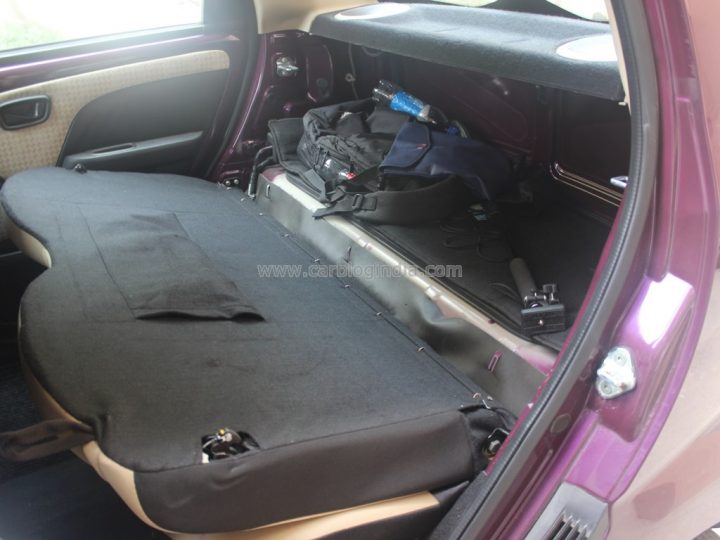 Summarizing the interiors review of the Tata Nano Twist, we believe that it is very spacious for 4 adults in comfort. The air-conditioning performance of the Tata Nano twist is also impressive.
Ride And Handling
The ride comfort of the Tata Nano is just about average, the suspension is on the tougher side, which makes the ride a bit uncomfortable on the bad roads. But the plus side is that this tough suspension makes the handling fairly accurate. The steering feedback is good, the turning radius is short and maneuverability is also impressive.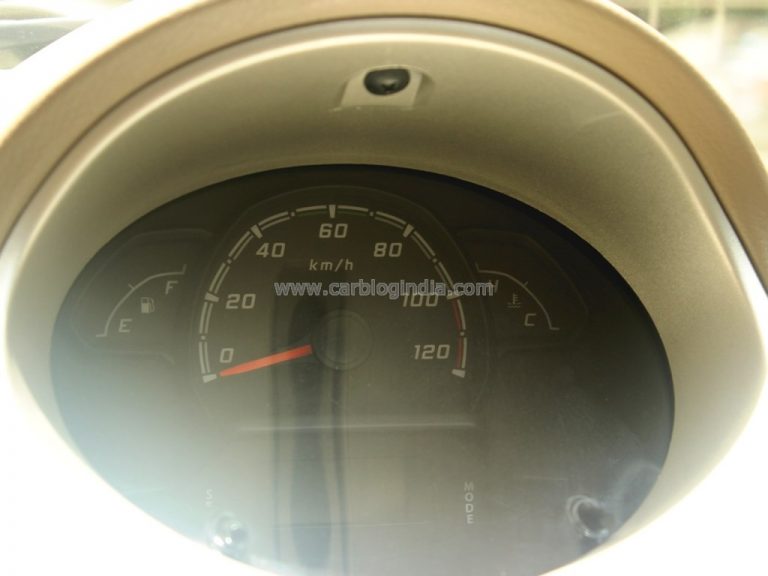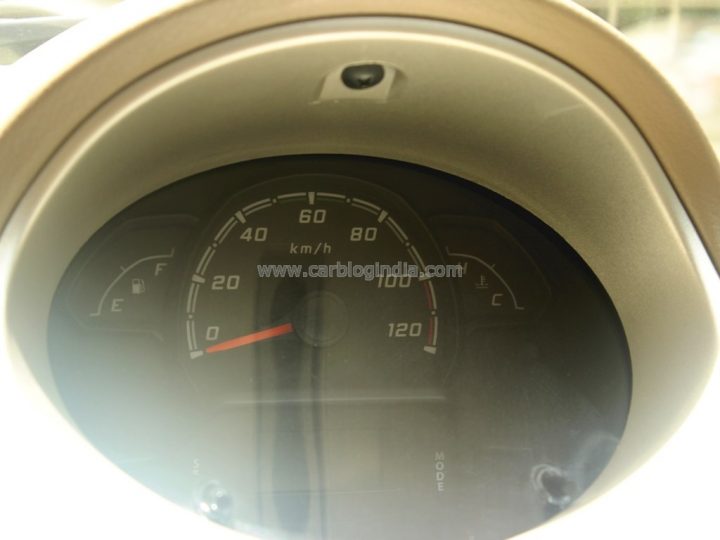 The Tata Nano twist handles well on high speeds, the braking performance is also confidence inspiring. I want to talk of two very important factors here- NVH and acceleration. Besides being a very low cost car with a rear engine, the NVH of the car are very well controlled. The cabin noise and vibrations were very low with the windows rolled up, however, the noise of the engine is very high outside the car. The acceleration of Nano is also surprisingly good, the car is very agile and quick, however, the power band is not very wide, so you may have to downshift for a quick overtake.
The car reaches from 0 to 40 KMPH effortlessly, takes some time to reach from 40 to 60 KMPH, but beyond 60 to 70 KMPH, its not very quick. It does reach the speeds of 90 to 100 KMPH, but not very quickly.
Specifications, Features, Mileage And Performance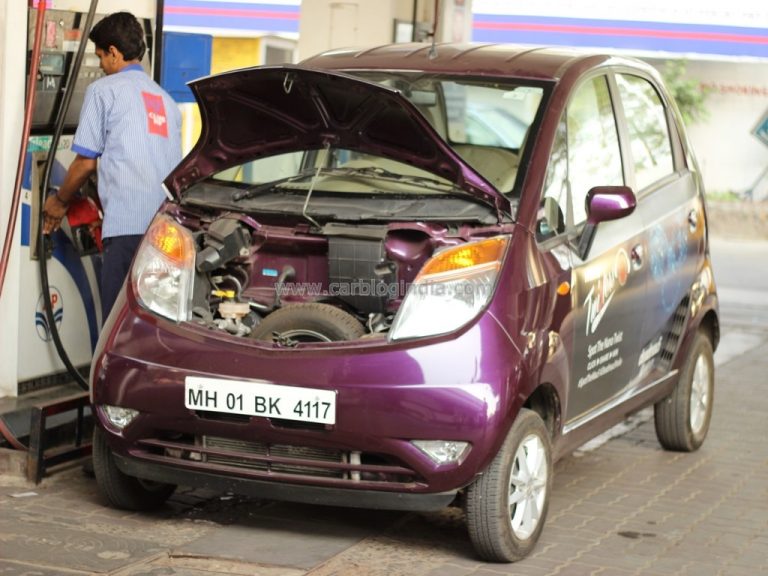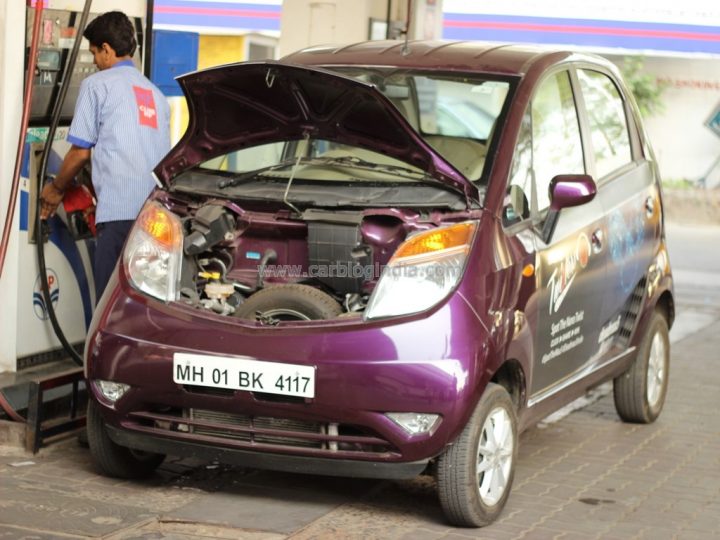 Specifications List
Dimensions: 3099mm x 1495 mm x 1652 mm (LxWxH)
Wheelbase: 2230 mm
Min. turning radius: 4 m
Kerb weight 660 Kg
2 Cylinder MPFI Petrol engine of 624 CC
Peak power of 37 BHP @5500 RPM
Peak torque of 51 Nm @ 4000 RPM
Top speed of 105 KMPH
4 Speed manual transmission
Electric power steering system
180 mm Drum brakes at front and rear
12 inch wheels at both front and rear
Front tyre size: 135/70 R12
Rear tyre: 155/65 R12
Mileage
The fuel economy of Tata Nano Twist as per ARAI is around 25 KMPL, but during our test with AC on all the time and a lot of idling time, we got a mileage of around 16 KMPL. Since our test conditions were much worse compared to general driving condition, we believe that Nano Twist should be able to deliver between 16 to 20 KMPL in real world conditions.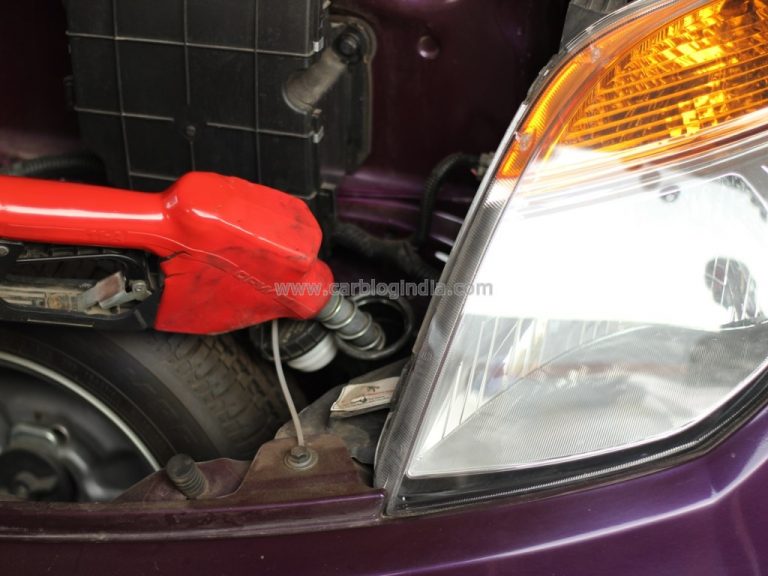 Features List
Body Colour Bumpers
Body Colour Door Handles
Chrome Strips Front and Rear
Driver Side Tip-Tap ORVM
Passenger Side Tip-Tap ORVM
Front Fog Lamps
Wheel Covers
Aerokit
Tinted Glasses
Front Wiper & Washer
Front Windshield
Roof Beading
Roof Spoiler
Roof Mounted Antenna
Clear Lens Headlamp & Tail Lamp
Dual Glove Boxes
Dash Integrated with Amphi Stream Music System with CD, MP3, AUX, USB & Bluetooth
Front and Rear Speakers
Bezel around speakers
Premium Seats
Rear Parcel Shelf with integrated speakers
A, B & C Pillar Trims
Electronic Trip Meter
Electric Power Assisted Steering
Distance to Empty Display (DTE)
Average Fuel Economy Display (AFE)
Digital Clock (LED display)
Remote Keyless Entry
Air Conditioning
Heater
Front Power Windows
12 V Power Socket
Cup Holders in Front Console
Cabin Lamp
Magazine and Coin Holder on all Doors
Map Pocket Integral with Driver & Co-driver Seat
Front Seat Headrests
Rear Seat Integral Headrests
Sunvisor on Driver and Passenger Side
Co-Driver Sunvisor with Integrated Vanity Mirror
Driver Seat with Slider
Passenger Side Seat With Slider
Front Assist Grips
Rear Assist Grips
Low Fuel Warning Lamp
Rear Seat Folding
Central Locking
Radial Tubeless Tyres
Center High Mount Stop Lamp
Booster-assisted Brakes
Front & Rear Seat Belts
Additional Body Reinforcements
Intrusion Beam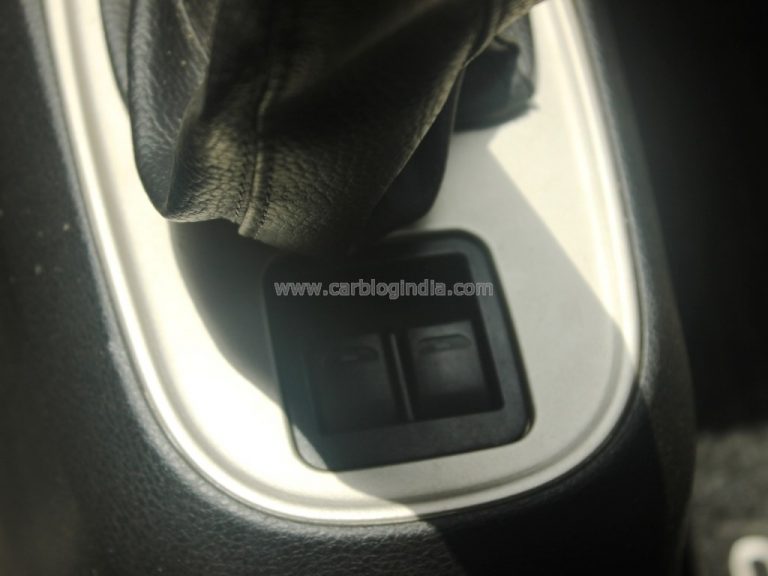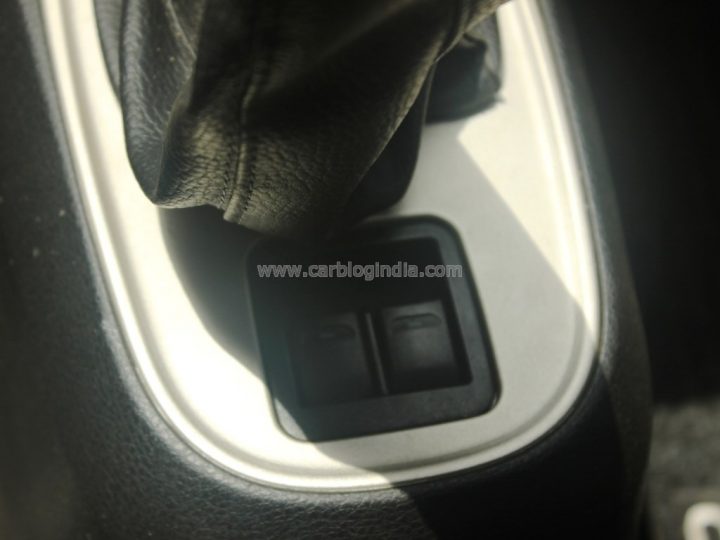 Image Gallery
Tata Nano Twist Review- Conclusion
Tata Nano Twist review concludes with a very simple statement, its a small wonder car. It may not offer you too much luxury or power, but at the price where it still remains one of the lowest priced 4 wheel offering in country, it manages to give a comfortable ride for 4 adults. It also manages to deliver good fuel economy along with fund to drive character it has.
It does have some downsides as well, but these are some things which may not be possible at this price, for example we find that the car maybe too unsafe in case of a head on crash or accident since there is practically no safety on the front row except for seat belts. But putting in air-bags and crumple zones may make this small car out of budget for the target customers it caters to. We have also listed some other shortcomings on the sections below.
In summary, Tata Nano twist is a good entry level small car with a peppy engine, good interior space and high value for money.
What we like?
Small turning radius
Compact dimensions
Effective air conditioning
Good mileage
Decent acceleration
Good interior space
Decent NVH levels
Zippy power steeting
Easy to drive
Nice handling
Good looks
What could have been better?
Reverse gear does not engage smoothly (sticks in between at times)
Boot gets warm, which may be bad for putting a laptop bag in there
Safety is a concern (in case of accidents)
Ride is a uncomfortable on bad roads
The Pros of the Nano Twist out weight the Cons and hence we feel that it still remains a very eligible first small car for many car buyer who are upgrading from two wheelers.
[review]