This is an extraordinary type of competition between two popular, but belonging to different segments of SUVs. Yes, we are talking about Tata Nexon and Nissan Magnite.
This video captures a ton of fun between Tata Nexon and Nissan Magnite while the SUVs are sand dune bashing. The location is the Aravali Hills and there is a patch of dirt with thick sand cover at one end. Now, the Nexon is the bigger and heavier of the two which could be a disadvantage for it. The Magnite is lighter on its feet but has a significantly less powerful engine. Who do you think will take home the trophy of the better SUV to sand dune bash in, let us find out?
You may also like: Meet Tata Nexon Gold Edition – Yay or Nay?
You may also like: WATCH Tata Nexon Dark Edition Crossing River Like A Boss
Tata Nexon vs Nissan Magnite – Dune Bashing
The YouTuber starts off the video by showing the Nexon doing the first mini-circuit in the sand. It starts off quite well but as it turns into the corner with thick sand at a low speed, the tyres start sinking into the sand. Before long, the SUV is stuck deep in the sand. The tyres keep spinning as the driver presses the accelerator, but to no avail. The people around the area who had come with their SUVs begin to manually pull the Nexon out of the soft pit. After several attempts, they were able to push the Nexon out of the sink. The second attempt is undertaken by the Nissan Magnite.
Now, he had already seen what had transpired with the Nexon and knew that momentum will be his best friend in this attempt. So, he keeps the speed moderate without stopping for too many obstacles. Before you know it, he gets past that depression on the surface relatively effortlessly compared to the Nexon. Everyone cheered in excitement. Thereafter, another Nexon repeats the process and emerges triumphant out of the circuit.
You may also like: Tata Nexon Sandwiched Between Truck & Bus, 5-Star Safety Protects Driver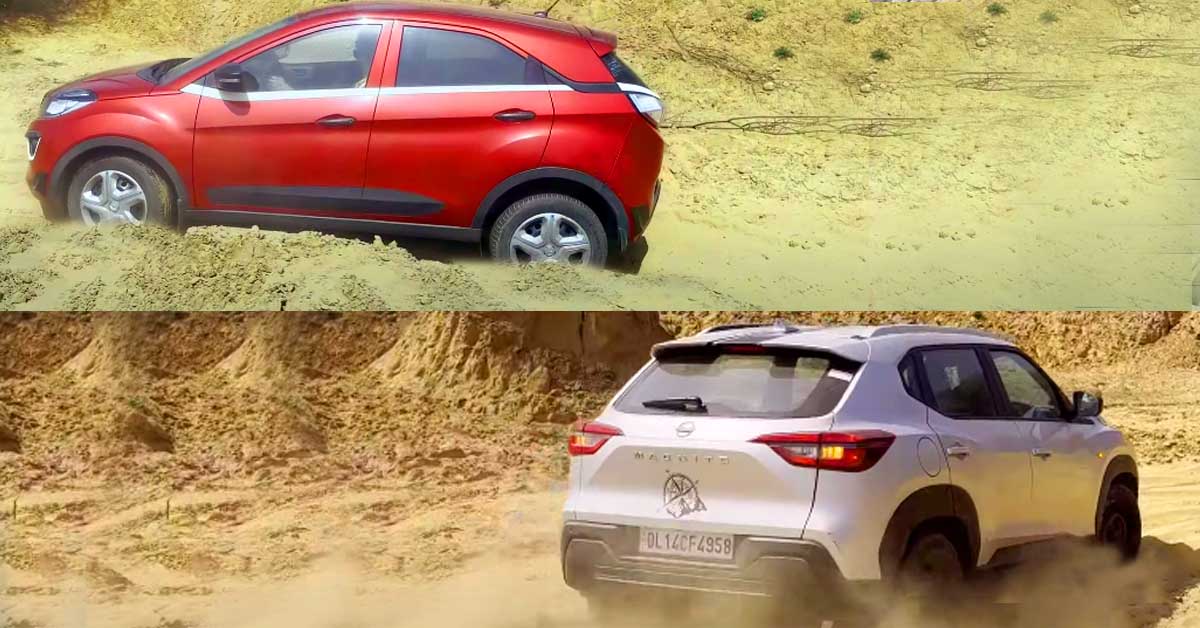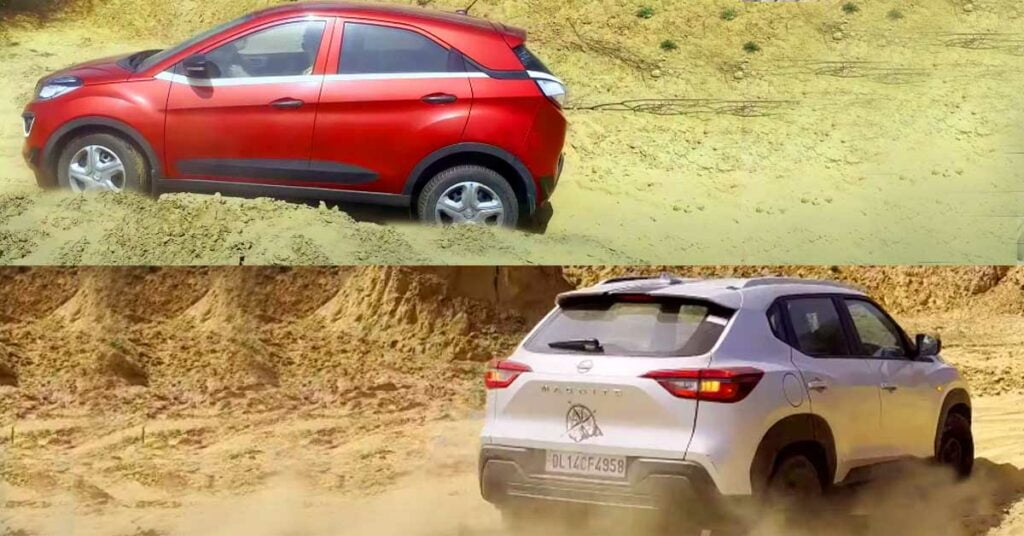 You may also like: This Low Rider Nissan Magnite is The Coolest We've Seen Yet
Now, these SUVs are not as tough as the full-size off-road-oriented SUVs and are not naturally designed for such kinds of adventures. However, with videos like these, these SUV owners will register this in the back of their minds that if need be, their vehicles have decent off-roading capabilities to tackle such kinds of minor off-roading instances.