Who would win the drag race between Tata Punch and Nissan Magnite? We are about to find the answer for you.
This video captures the drag race between Tata Punch and Nissan Magnite. Now, the Magnite is the second most affordable compact SUV in the country. It is so inexpensive that the price range overlaps with the Tata Punch. That is why many people were getting confused as to which one should they opt for. The Magnite is bigger than the Punch in terms of overall dimensions and cabin space. But Punch has been collecting accolades for receiving a full 5-star safety rating at the Global NCAP. Also, people really love its striking and bold looks which resemble the likes of the bigger Nexon and Harrier. A YouTuber has decided to drag race these two SUVs to see which one has a more powerful engine.
Also read: Here is an Off-Road Ready Concept of The Nissan Magnite!
Punch Magnite Drag Race
The duo starts off with the race claiming that they are doing it in a safe environment. But we would still urge our readers to not perform such stunts due to safety hazards. Also important to mention here is the fact that the Magnite they are driving is the turbo petrol variant. The drivers begin the race and the Magnite simply triumphs the Punch in the 0-100 km/h race. This is expected because the Magnite makes significantly higher power and torque in this turbo petrol guise. The drivers then decide to swap cars. However, it didn't make any difference to the outcome of the race whatsoever. The drivers established that there is a lot of wheel spin on Magnite which could be due to high power being forced through the tyres. The Punch felt a bit more planted.
Also read: WATCH This Tata Punch Modified From The Base Variant To The Top Variant!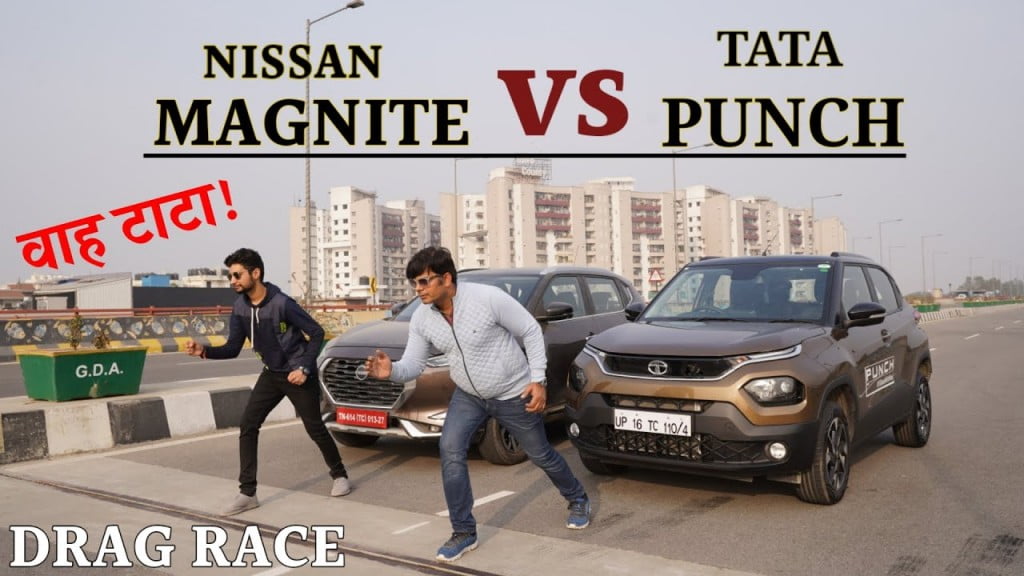 Specs
The Punch comes with a 1.2-litre naturally aspirated petrol engine that outputs 86 PS and 113 Nm of peak power and torques respectively. There are options of either a 5-speed manual or an AMT gearbox. The turbo petrol version of the Magnite is a 1.0-litre unit that outputs 100 PS and 160 Nm of peak output. There is an option of either a 5-speed manual or a CVT automatic. The reason to compare these two SUVs is the prices of the two. While the Punch ranges between Rs 5.49 lakh and Rs 9.39 lakh, the Magnite retails between Rs 5.71 lakh and Rs 10.15 lakh, ex-showroom.
Also read: WATCH The Real World Fuel Mileage of the Tata Punch!
Join our official telegram channel for free latest updates and follow us on Google News here.