Here is a list of things one must not do in a DCT/DSG car. With DCT transmission becoming more and more prevalent even in non-performance-oriented vehicles, it becomes important to know the things one should and should not do. DCT is regarded as one of the quickest gear-shifting transmissions because it has two clutches. One clutch is engaged while driving and the other already pre-selects the next gear that it anticipates according to the driver input and vehicle parameters. Hence, during the time of gearshift, there is no actual movement to reach the next gear.
Also read: Battle Of The Transmissions- Torque Converter vs DCT vs CVT vs AMT vs iMT
The first clutch disengages and the second clutch simply engages. Hence, the time required for gearshift is minimal. Oftentimes, one doesn't even feel the gear changing. This is the beauty of having a DCT, which is a preferred choice for a whole bunch of people, who like to drive a bit enthusiastically. Therefore, this video by Engineering Explained will help you remember the things one must NOT do in a DCT vehicle.
Also read: Have You Been Driving Manual Transmission Cars WRONG All The Time?
Things Not To Do In A DCT/DSG Car
Sudden Braking and Acceleration
One must understand that the computer of the car predicts the next gear according to various parameters and pre-selects the likely gear. However, if you suddenly brake hard due to any reason, the computer will take a moment to rectify its prediction. This will most likely result in a sudden jerk, which is typical with any DCT/DSG car. The same is the case with sudden acceleration while slowing down. The car is ready for a downshift but a sudden demand for acceleration requires the car to upshift causing a moment of delay or jerk.
Also read: Cars Under Rs 10 lakh With CVT Automatic Transmission!
Creep Function
With a manual transmission car, the driver has complete control over how much clutch must he/she release to ensure a certain amount of forward (or backward) movement. But with the DCT, there is not partial clutch engagement. Hence, if you release the brakes just a little, the clutch will wear a bit. The solution to this is quite simple. One must try to move the vehicle only if there is quite some gap until the next braking occasion. This gives the transmission enough time to get fully engaged/disengaged to avoid any wear.
Also read: Compact SUVs In India Around Rs 10 Lakh With Diesel Automatic Transmission!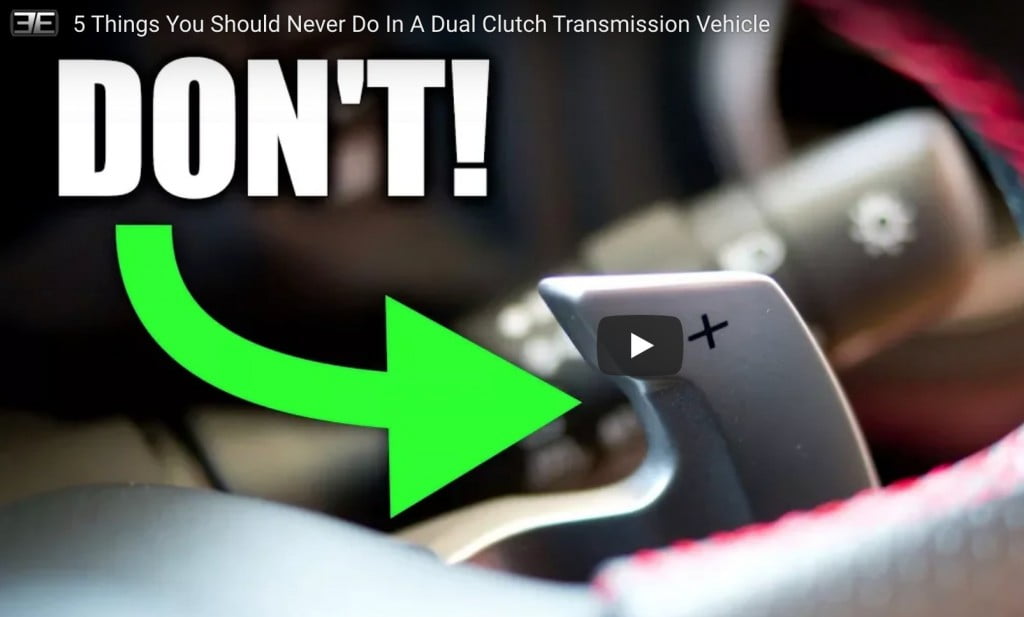 Pressing Brake and Accelerator Simultaneously in DCT/DSG Equipped Cars
One is always curious about what happens while launching the vehicle if one presses down both brake and accelerator at the same time. You must avoid doing this because the clutch tries to release but the brakes don't allow the car to move. This will cause wear and produce a lot of heat which could be a problem. It is recommended to release the brake as soon as possible after the accelerator pedal is pressed if you are at an incline and worry about your vehicle slipping backward. These are a few things that you should not do if you drive DCT/DSG equipped car.
Also read: Maruti Follows Hyundai, Files Trademark For Clutchless Manual Gearbox
Join us for FREE NEWS Updates on our Whatsapp Community or our official telegram channel.