Updated on 21st October 2013
Toyota India has relaunched the Toyota Fortuner TRD Sportivo in India. The TRD Sportivo variant will get cosmetic changes, which apparently make the SUV look sporty. Toyota will only sell 400 units of this limited edition SUV and they can be booked from Toyota dealerships till the end of December 2013. Toyota had launched the Fortuner TRD Sportivo earlier in 2013 too (read the previous update below).
It is a bit hard to believe that Toyota's Racing Development division has had anything to do with this SUV, the point in case being that the additions made to the SUV do not improve its performance and handling in any way whatsoever. The changes made are just a styling job, and you will not find any difference between the normal variants of the Fortuner and the Fortuner TRD Sportivo apart from the stickers and the faux 'sports' parts.
Price
The Toyota Fortuner TRD Sportivo is priced at Rs. 24.26 Lakh, ex-showroom Delhi
What's New?
The Toyota Fortuner TRD Sportivo gets the following new features:
You get a new grille with a 'TRD' emblem, it doesn't have the three chrome slats found on the normal Fortuner and is a bit easy on the eyes
You get front and rear bumper spoilers
TRD engraved strips on the sides
Rear roof spoiler
A 'TRD Sportivo' emblem on the back door
Paint Options:
Super White
Silver Mica Metallic
The previous Spotivo edition had dual-tone paint options
The Toyota Fortuner TRD Sportivo doesn't get any mechanical changes over the normal variant of the Fortuner. Which means it is powered by a 3.0-litre turbocharged diesel engine producing 169 BHP @ 3600 rpm and 343 Nm @ 1400-3200 rpm (in the 2WD MT variant) / 360 Nm @1400-3200 rpm (in the 2WD AT variant). Yes, the Fortuner TRD Sportivo edition is only available in the 2-wheel drive guise. You get either a 5-speed manual transmission or 5-speed automatic transmission.
Let us know your thoughts on the Toyota Innova TRD Sportivo limited edition in the comments below.
Updated on 16th January 2013
Toyota Kirloskar Motor India (TKM) has launched the Toyota Fortuner with a 5 speed Automatic Transmission. This new feature will add to the driving comfort and convenience of the drivers. Fortuner came on floor almost three years ago and never looked back. Rightly termed as segment leader, this SUV has managed to trade more than 40000 units in last three years.
Considering the wide appreciation and popularity of this vehicle, Toyota has also introduces an exclusive edition of Fortuner TRD Sportivo as a regular grade. This limited edition of Fortuner TRD Sportivo has mainly been designed to bring up a sporty look in the SUV.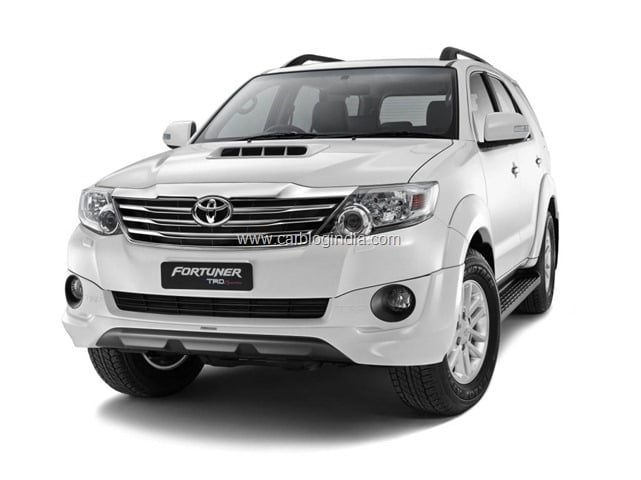 Other defining features of this SUV are:
Rear roof spoiler designed aerodynamically
Front Bumper spoiler designed aerodynamically
Elegantly designed rear bumper spoiler and a trendy TRD Sportivo emblem
Availability of three dual tone colors – Silver + Grey, Super White + Grey and White Pearl Mica + Grey
The new Fortuner Sportivo versions are priced as:
4X2 AT (with 5 speed)– Rs. 22,33,000 (ex-showroom Delhi)
4X2 AT TRD Sportivo (with 5 speed)– Rs. 22,93,000 (ex-showroom Delhi)
4X2 MT TRD Sportivo– Rs. 21,96,668 (ex-showroom Delhi)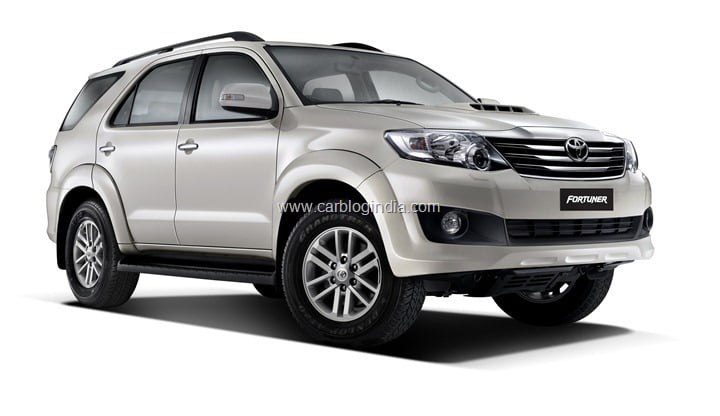 White Pearl Mica colour is now being offered in all grades of this vehicle. Expressing his pleasure on the occasion Mr. Sandeep Singh, Deputy Managing Director and Chief Managing Officer of Toyota Kirloskar, commented that
"Further adding to Fortuner's strength of unmatched road presence and luxury, we have now introduced the 5 speed automatic Transmission. The 4X2 automatic transmission is extremely popular, it has been highly appreciated by customers. The 5 speed AT will further add to drive quality and comfort. We introduced the Fortuner TRD Sportivo as a limited edition last year in October. The bookings will open starting 18th January 2013."
Stay tuned to Car Blog India for latest updates.