There have been cases of SUVs catching fire due to short circuit but here's live CCTV footage of BJP MLA's Toyota Fortuner being set on fire
Watching a car engulfed in fire is not an uncommon sight, with many vehicles having being witnessed engulfed in flames in an event of an accident or a short circuit. However, it's certainly out of normal to see someone setting car ablaze in a perfectly peaceful neighbourhood. The video we have with us today shows exactly this as you can see a youth setting a Toyota Fortuner of BJP MLA on fire. This incident took place late last month outside MLA Hostel at Sector 3, Chandigarh.  
Also Read- Ford Endeavour 4×4 vs Toyota Fortuner Legender 4×2 Drag Race – Who Wins?
This incident happened around 12:10 AM as per a member of the MLA's staff. This Toyota Fortuner belongs to Parmod Vij, who's Panipat (Urban) MLA. He was not present at the hostel at the time of this incident. The CCTV footage shows a young man in blue jacket, black pants and white shoes vandalizing the SUV and then setting it on fire. A case was registered at the Sector-3 police station. The live CCTV footage we have here with us shows the man repeatedly hitting the windshield and window glasses of the SUV with a heavy object. Later, he sets the SUV ablaze, which then caused the SUV to explode.
"The SUV driver Pardeep Kumar had returned to the hostel after dropping MLA Vij in Panchkula. Usually, whenever the MLA comes to Chandigarh, his vehicle is parked at the MLA Hostel. We have lodged a police complaint in the area police station," said a staff member. What's interesting here is that this hostel, where Haryana and Punjab MLA stay during their visits to the city, is in a high-security zone. A police station is merely 100 metres away from the site of the crime. The incident even goes on to raise concerns over the security arrangements that have been made at this hostel.
Also Read- WATCH Mahindra Thar vs Toyota Fortuner in Classic Tug of War!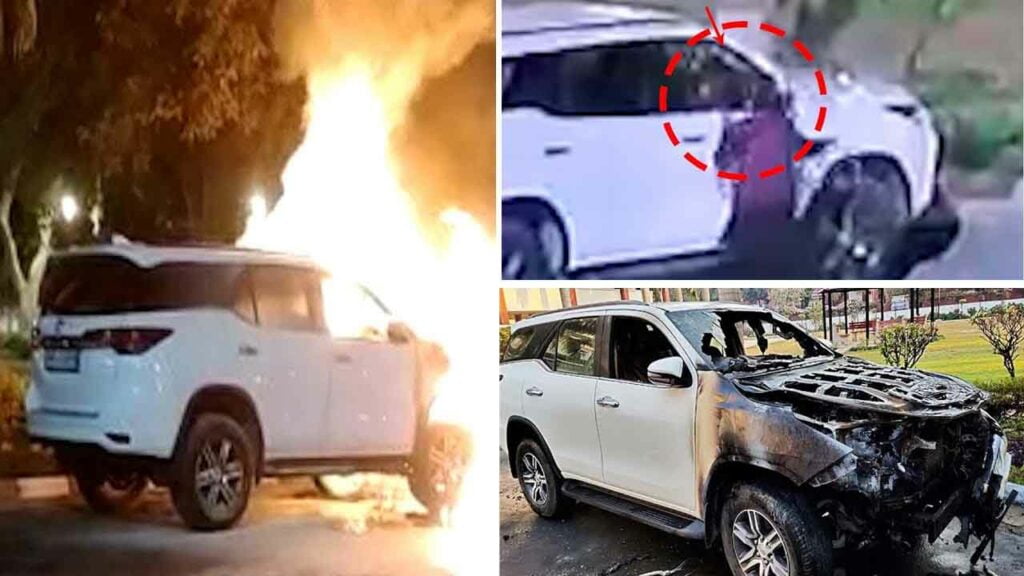 A day after the SUV was set on fire, the miscreant, who has been identified as one Himanshu (24) has been nabbed by the police. Himanshu is a resident of Nada Village, Mohali, and is a cloth seller. A white Ford Ikon that he used in this crime has also been recovered by the police. As per the cops, Himanshu and his friends, namely, Mukesh, Tillu and others, had an altercation with the driver and the gunman of the MLA over reversing the car. Later, to take revenge, Himanshu set the Toyota Fortuner of the MLA ablaze.