The two capable off-roading SUVs are the most popular vehicles among the off-roading community in the Indian market. Check out this tug of war between the two.
Here is a video of a tug of war between a Toyota Fortuner and Mahindra Thar. Both these SUVs boast tremendous off-roading capabilities. People have used these SUVs extensively for adventure travelling. The Thar is a small 3-door SUV with immense off-roading capabilities. On the other hand, the Toyota Fortuner is catered towards achieving the same destination of off-roading but with a more luxurious appeal. But what happens when these two SUVs collide against each other in a tug of war? Let us find out.
You May Also Like: Maruti Vitara Brezza vs Tata Punch in Tug of War – VIDEO
You May Also Like: Kia Seltos Has a Tough Time Beating Maruti Vitara Brezza in Tug of War
Mahindra Thar vs Toyota Fortuner in Tug War
The video has been uploaded on YouTube. In the first attempt, the SUVs are in their 4×2 mode with traction control and AC OFF. As seen in the video, there is no clear winner and the result is a solid draw. In the second attempt, the SUVs are set to 4×4 mode but with a high ratio setting. The traction control and AC continue to remain OFF. The Fortuner is able to pull the Thar this time around and is a clear winner. In this third attempt, the traction control and AC settings remain OFF but the cars are set to their most aggressive off-road mode with 4×4 low. Again, the higher power and torque of the Fortuner enables it to pull the Thar and win the round, as well as the match.
You May Also Like: Less Powerful Ford Endeavour Pwns Toyota Fortuner in Tug of War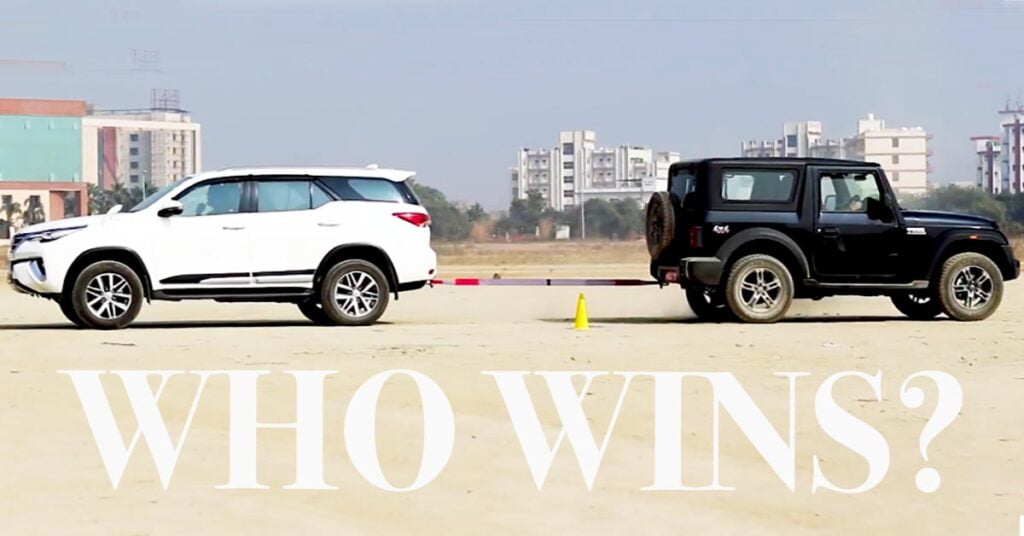 Specs Comparison
Toyota Fortuner comes with a 2.7-litre petrol engine which makes 166 hp and 245 Nm. It comes with either a 5-speed manual or a 6-speed automatic. The more popular diesel engine is a 2.8-litre unit that produces 204 hp and 420 Nm (in manual) and a colossal 500 Nm (in automatic). The Thar comes with 2 engine options, a 2.2-litre turbo-diesel, and a 2-litre turbo-petrol. The oil-burner makes 130 PS/320 Nm of peak figures while the petrol makes 150 PS/320 Nm of max figures. Transmission options for both the powertrains are a 6-speed manual and a 6-speed automatic with a low range box.
Join our official telegram channel for free latest updates and follow us on Google News here.