This video shows the tug of war between Tata Punch and Maruti Suzuki Vitara Brezza. Tug of war is a popular activity where two cars try to pull each other and the vehicle with more power/torque wins. This has become quite common these days where YouTubers films two cars to see which one has more power in real-world conditions. Tata Punch is the latest micro SUV from house Tata. Brezza has been a popular compact SUV in our market for a long time now. Although it might seem a bit unfair, both these SUVs have comparable power figures, which is what makes it interesting. Let us see which one comes out on top.
Also read: Have You Seen The Coolest Off-Road-Ready Tata Punch Yet?
Tug of War – Tata Punch vs Maruti Brezza
The YouTuber ties up the two SUVs from the front. Initially, the drivers attempt this on a dirt track which is quite uneven. In the first go, it looks like the Punch trumps the Brezza and is able to pull it. The Brezza experiences wheel spin and is not able to put the power down to the wheels. In the subsequent attempts, Brezza manages to pull the Punch a couple of times. However, the crew decides to do this next attempt on an even road devoid of dirt. Hence, they shift the location to a parking lot. There, the Punch is able to pull the Brezza once or twice but for the most part, Brezza is able to win the tug of war. The more torquey diesel engine is able to come out on top for the most part. But Punch delivers an excellent performance considering that it has a petrol engine and is smaller than the Brezza.
Also read: Tata Punch (5-Star NCAP) Tests Build Quality of Metal Pole In 1st Reported Crash!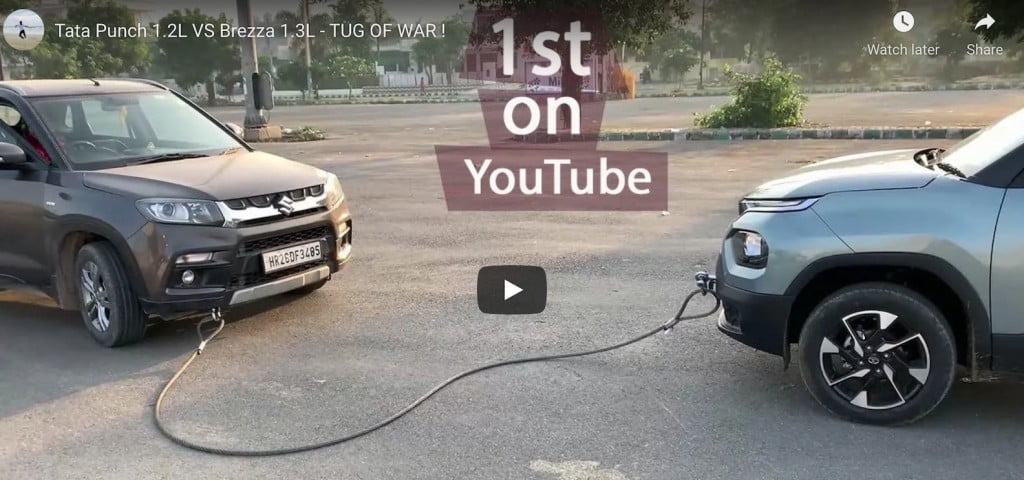 Specs
Powering the Tata Punch is a 1.2-litre naturally-aspirated petrol engine that is also available on the Altroz as well as the Tigor. This motor outputs 86 hp and 113 Nm. Transmission options will include a 5-speed manual and a 5-speed AMT. The Brezza now comes with a 1.5-litre petrol engine making 105 hp and 138 Nm. There are options of a 5-speed manual or a 4-speed torque converter automatic. The diesel in the video is a 1.3-litre unit making 89 hp and 200 Nm but has been discontinued ever since the BS6 norms came into effect.
Also read: Next-Gen Maruti Vitara Brezza LEAKED Pre-maturely?