The sales figures for November suggest that 62% of Toyota Cars (Glanza and Urban Cruiser) sold in November are actually Maruti Suzukis (Baleno and Brezza). What this means is that the Maruti Suzuki Glanza and Vitara Brezza have been renamed as Toyota Glanza and Urban Cruiser respectively. In 2017, Toyota and Maruti Suzuki join hands to rebadge some of their models in India. Toyota was to receive Baleno and Brezza and rebadge them under Toyota. They are currently available in India as Glanza and Urban Cruiser. Maruti Suzuki in return is getting access to the technology and other markets to save some money on its R&D.
Toyota Glanza and Urban Cruiser, Maruti Suzuki Baleno and Vitara Brezza – Similarities and Differences
When it comes to exteriors, mechanical components, engines and interiors, Glanza and Baleno are exactly identical. The only difference is the badge on the front, rear and steering wheel. The case with Vitara Brezza and Urban Cruiser is also the same. This helps Toyota enter the sub Rs 10 lacs market with products that are already hugely successful and popular. Toyota has also given Suzuki access to rebadge its Corolla sedan. With this, Maruti can try its hands in that segment, without spending anything on the R&D.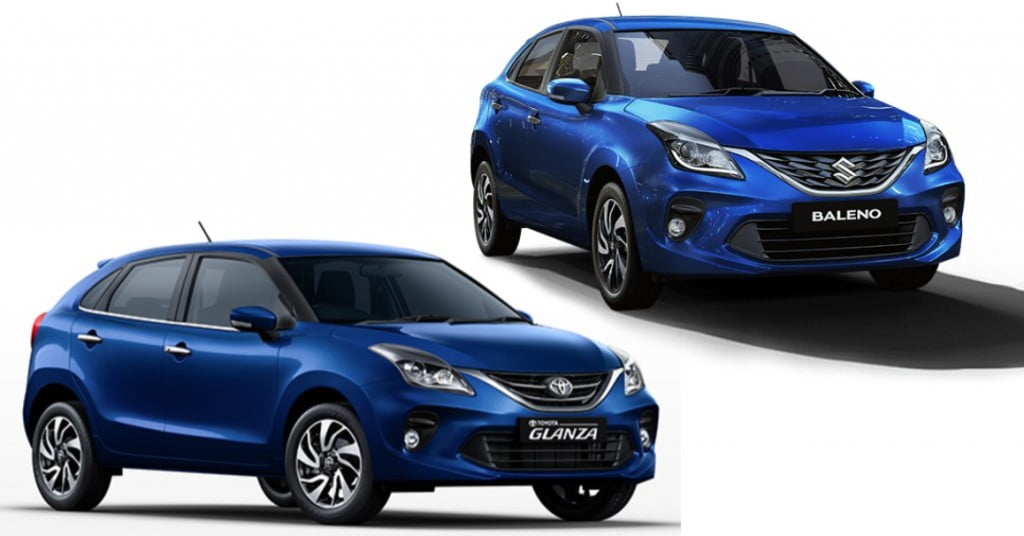 To be honest, there aren't too many differences between these cars. The only difference in the case of Toyota products is the 3-year/1,00,000 km warranty in comparison to Maruti Suzuki's 2-years/40,000 km. Other than that, the Toyota Glanza's base variant, G comes Rs 32,000 cheaper than Suzuki's Delta Smart Hybrid variant. All the other models are almost identical in terms of pricing.
Also read: Variant-wise features offered by Toyota Urban Cruiser!
When it comes to Urban Cruiser and Vitara Brezza, there isn't any difference between the prices, interiors, engines and exteriors at all. This is what is referred to as Badge Engineering, where only the company logos have been changed and nothing else.

Other Rebadged Products
It may come as a surprise to you that the Volkswagen Vento and Skoda Rapid are also examples of badge engineering. Since, they have made a few changes to the styling, exteriors and interiors it is not so obvious. Also, there is a significant difference in prices of the two at lower as well as higher end. They share the platform and engines from Volkswagen.
Other rebadged products include Nissan Terrano and Renault Duster. In the past, we have also seen Nissan Micra and Renault Pulse.
Essentially, rebadging is directly beneficial for one company, in the sense that, it gets the already successful product directly, without having to spend on manufacturing costs. The other company is often an indirect beneficiary, in the sense that, it can have access to the technologies from the other company, saving their R&D budget.