Updated on 15th April 2014
Trium Motorcycles India has opened its third dealership in India at Kochi, Kerala. Syamadynamic Motorcycles comes after the first two opened in Bangalore (read previous update) and Hyderabad. Triumph will open three more dealerships in India by 2nd May 2014, which include one each in Mumbai, Pune and Ahmedabad.
"The opening of this dealership advances our commitment to not only better establish the Triumph marquee in the local market but more importantly, to extend a comprehensive suite of after sales services and support to our esteemed customers. Kochi with its vibrant culture and winding roads adjacent to the gorgeous sea makes for a perfect riding destination. With our state of the art dealership, our aim is to give the brand lovers not just a product but an overall experience that they deserve from a globally renowned brand like Triumph," said Mr Vimal Sumbly, Managing Director, Triumph Motorcycles India Pvt. Ltd.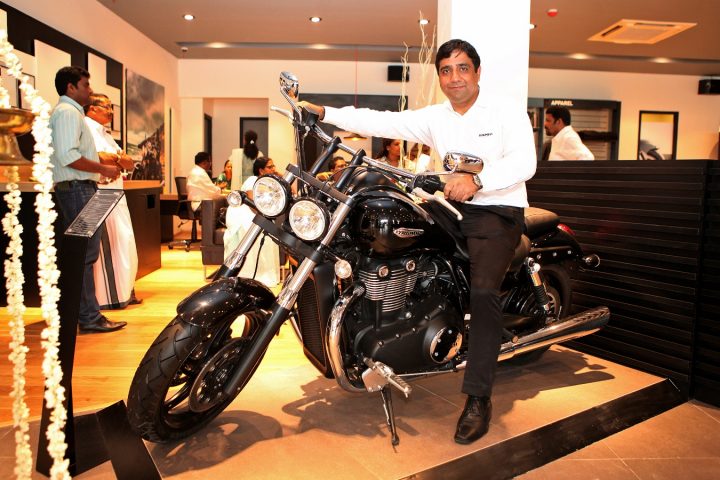 Triumph has also stated that there is a pretty good interest in their motorcycles, with over 300 bookings across 5 model ranges since January 2014.
"We are extremely delighted with the fantastic initial response from Triumph enthusiasts. We are also confident that the booking trend will continue to improve as we move closer to the start of sales with 6 functional dealerships across key cities within the next one month," Mr. Sumbly added.
Updated on 14th November 2013
Triumph's first showroom in India will be setup in Bangalore, if the banner in front of an old Mitsubishi showroom is to be believed. According to Team-BHP.com user livyodream and others on the 'Triumph Motorcycles to Enter India' thread, the new showroom-cum-service station will be setup in the same space that the was earlier used for the Auto Pacifica Mitsubishi showroom. The showroom is located in the Prestige Delta building along the Residency Road, near Bishop Cotton's Girls School. Check out the photo below: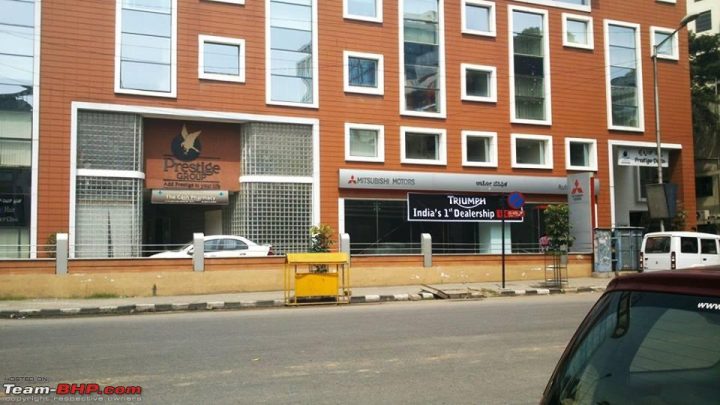 Have you seen the showroom? Do you have any further information about the dealership and their plans? Do let us know in the comments section below.
Updated on 25th October 2013
Triumph first announced their intent to enter the Indian market in January 2012, when they showcased a whole bunch of bikes from their stable at the Indian Auto Expo held in Delhi. Then there was news that their foray into the Indian market would be delayed to 2013, this happened as they had a change of management, they have been setting up a local factory near Bangaluru and because the company wanted to get most things right before entering this highly lucrative market.
Finally the company has announced that it would officially enter the market on 28th November 2013. It would announce its range of bikes to be offered in India closer to that date and also release details about its dealerships around the country.
The bikes will be assembled at a assembly plant in Manesar, Haryana while the main assembly plant is being completed, it should be operational by end 2013 or early 2014. Triumph will bring its bikes to India via the CKD (Completely Knocked-Down) unit method to keep pricing competitive.
Updated on 1st August 2013
Good news! Triumph will start their Indian operation by November 2013, they will assemble their bikes via the CKD (completely knocked down unit) method at a plant in Manesar, Haryana. Read more about the bikes Triumph will bring to India below.
"The year 2013 is a very crucial year for Triumph Motorcycles in India and as a company, we are confident about the timing of our market entry. In the past few months, we have carefully assessed the market landscape and will be making well-honed efforts to provide our discerning customers with a complete brand experience," Paul Stroud, director sales and marketing (global), Triumph Motorcycles in a statement.
We're waiting to get our hands on the monstrous Rocket III!
Updated on 23rd July 2013
The premium biking segment in India is flourishing with each passing year and companies like Harley Davidson are making the most out of it. Harley Davidson has started CKD assembly of the majority of its bikes in India so as to make them affordable and accessible. To rival the throne of Harley Davidson, its arch rival Triumph Motorcycles is all set to set its foot in India and give the Harley bikes a run for their money. The company's Indian website is up and running and it has a complete list of models that will be making their way here, alongside the list of their dealerships in the country. The company will be launching 7 models in the first phase.
The bikes which have been chosen to spearhead the Indian operations are:
Bonneville

Street Triple
Speed Triple
Daytona 675
Tiger 800 XC
Thunderbird Storm
Rocket III
In the first round, the company will be opening up dealerships in Delhi, Mumbai and Bangalore. These will be joined by Pune, Ahmedabad, Chandigarh, Jaipur, Chennai, Hyderabad, Cochin and Goa. The company has not revealed the pricing of the bikes but it is expected to launch them via the CKD route right from the start instead of going via the CBU route initially and later on switching to the CKD route.

The bikes will be rolled off from the facility installed at Manesar, the company's Bengaluru facility will become operational by 2015 which will have an installed capacity of 2,50,000 units per annum. The bikes have had a delay in launch due to a slew of issues and the CEO of the company quit even before the official launch, but thankfully everything seems to be in order now for its entry to the Indian market. The sales of the iconic bike manufacturer are expected to start as soon as October 2013 which is the festive season in India.
Harley Davidson, are you listening? Triumph is coming.