The current generation Porsche 911 GT3 has been through some turbulent times off late. The most hardcore naturally-aspirated 911 has weathered criticism about its lack of a manual transmission, as well some problems with units catching fire, but there's good news on the way. A set of technical drawings leaked out of a British patent office have prematurely revealed the upcoming Porsche 911 GT3 RS. The 911 GT3 RS is certainly on the radar since being spotted testing, but it's the firt time we see the 911 GT3 RS without the camouflage shrouding the details. The new RS is expected to take a significant leap over the regular GT3 in terms of weight reduction and overall performance. Though we still have some doubts as to when shall the GT3 RS make its debut, with reports strongly indicating it shall happen sooner rather than later.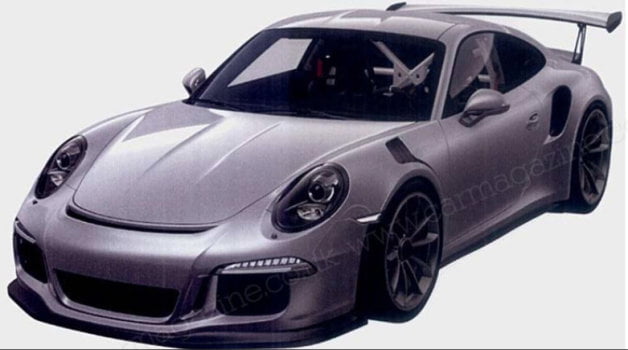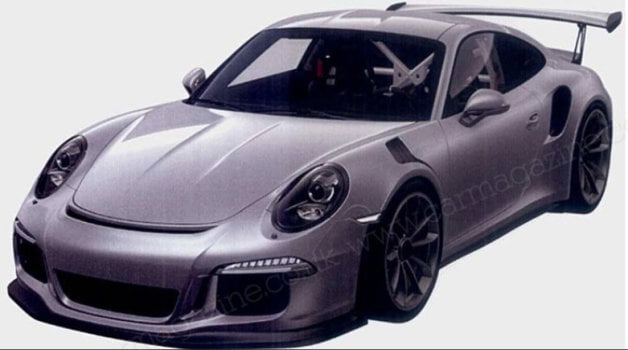 Porsche 911 GT3 RS, What's New ?
The 911 GT3 RS sports a number of aerodynamic enhancements including a wide body borrowed from the 911 Turbo. The pictures highlight the upcoming model's tiny air inlet at the tip of the hood, the massive intakes in the rear fenders and general design of the rear wing with a ducktail underneath. The bubbled roof is much clearer here, where it was disguised in spy shots. You can also spot the slashing fender gills behind the front wheels that are a completely new feature. Insiders also say the coupe will boast "near race car levels of downforce."
The interior appears to be fitted with sport seats for the front passengers and a roll cage in lieu of the rear seats, while headroom is increased thanks to a double-bubble roof panel. The flagship coupe is also expected to pack numerous weight-saving components such as a lithium-ion battery and a titanium exhaust system.
The GT3 RS is the ultimate naturally aspirated 911 for the street, but Porsche aims to take that even farther with the latest model. Keeping that in mind the Porsche 911 GT3 RS is expected to use a naturally-aspirated 3.8-liter flat-six engine tuned to produce anywhere between 475 and 500 horsepower. Shifting duties will be handled exclusively by Porsche's seven-speed PDK dual-clutch gearbox, and Porsche's electronic four-wheel steering system will come standard.
Source: Car Magzine