PUC certificate is as essential as RC and car insurance. In this article, let's find out about the validity of a PUC certificate for a new car
PUC Certificate is mandatory in India. All car and motorcycle owners have to get the vehicle tested at Government-authorised centres and obtain a PUC Certificate on passing the emission test. Unlike the original certificate that comes with the vehicle, the PUC issued at the centres is only valid for 6 months. In summation, after the first year, you are legally required to get a pollution check for your car every 6 months. This test should be done at an authorised PUC centre. Let's take a closer look at the importance of a PUC Certificate and the legal/ financial implications of driving a car with an expired PUC certificate.
You May Also Like: How To Fill Your Car's Windshield Washer Fluid Properly
Validity of PUC Certificate for New Cars and SUVs
A PUC (Pollution Under Control) certificate indicates the carbon emissions emitted by a car. It also shows if carbon emissions by your car are within acceptable levels. You can get a PUC from any of the authorised PUC testing centres or even a petrol pump. Each pollution control certificate comes with an expiry date. After this period, you have 7 days to get it renewed. However, you can also renew the PUC before the expiry date as well. Luckily, any new car or SUV you buy comes with a PUC certificate right from the factory. This certification is valid for exactly one year from the day of purchase. Once the first year of ownership is complete, the owner is required to get it renewed. The renewed Pollution Under Check certificate has a validity of 6 months. 
Failing a PUC test means that your car is polluting the environment more than the acceptable levels. In this case, you will need to make necessary modifications to your car to meet relevant environmental standards. If not, you need to get a new car. PUC is one of the few documents that need to be accessible while driving a car. Along with a driving licence, vehicle registration, and car insurance, car owners should always carry a PUC certificate. You can keep a soft copy as well.
Is It Mandatory To Have A PUC Certificate?
Yes, the Government of India has made it necessary to keep car owners carrying a PUC certificate. As per Section 190 (2) of The Motor Vehicles Act of 1988, a PUC certificate is mandatory for all vehicles running on an ICE (Internal Combustion Engine) powertrain. This rule was made to address the rising pollution levels in India. As the number of cars on Indian roads increases exponentially every year, it is important to keep a check on the pollution levels of each car.
You May Also Like: Here's How To Check FASTag Balance
What Are The Consequences Of Not Having A Valid PUC Certificate?
If authorities catch a car owner with an expired PUC certificate, they can impose a fine of Rs 1000. However, for a repeated offence, the fine amount is doubled every time. It is not legal to drive around a city in a car without a PUC certificate. Additionally, you will not be able to get an insurance policy without a valid pollution control certificate. This is also true for renewing an insurance policy. Please note that fines and other legal consequences for driving offences may differ from state to state.
Where Can I Get A PUC Certificate From?
You can easily get a new PUC certificate from your nearest petrol pump. You can also visit a registered testing centre to get the pollution control certificate. To promote pollution checks, the Indian government has set up testing centres across the country. At a PUC testing centre, the emission levels of your car are checked through a series of tests. Once the tests are finished, you will receive a PUC certificate. Each PUC certificate mentions the date of the test, the car's emission levels, the PUC issue date, and the expiry date. It also contains basic details of the car owner.
You May Also Like: How To Check Engine Oil Level Of Your Car Correctly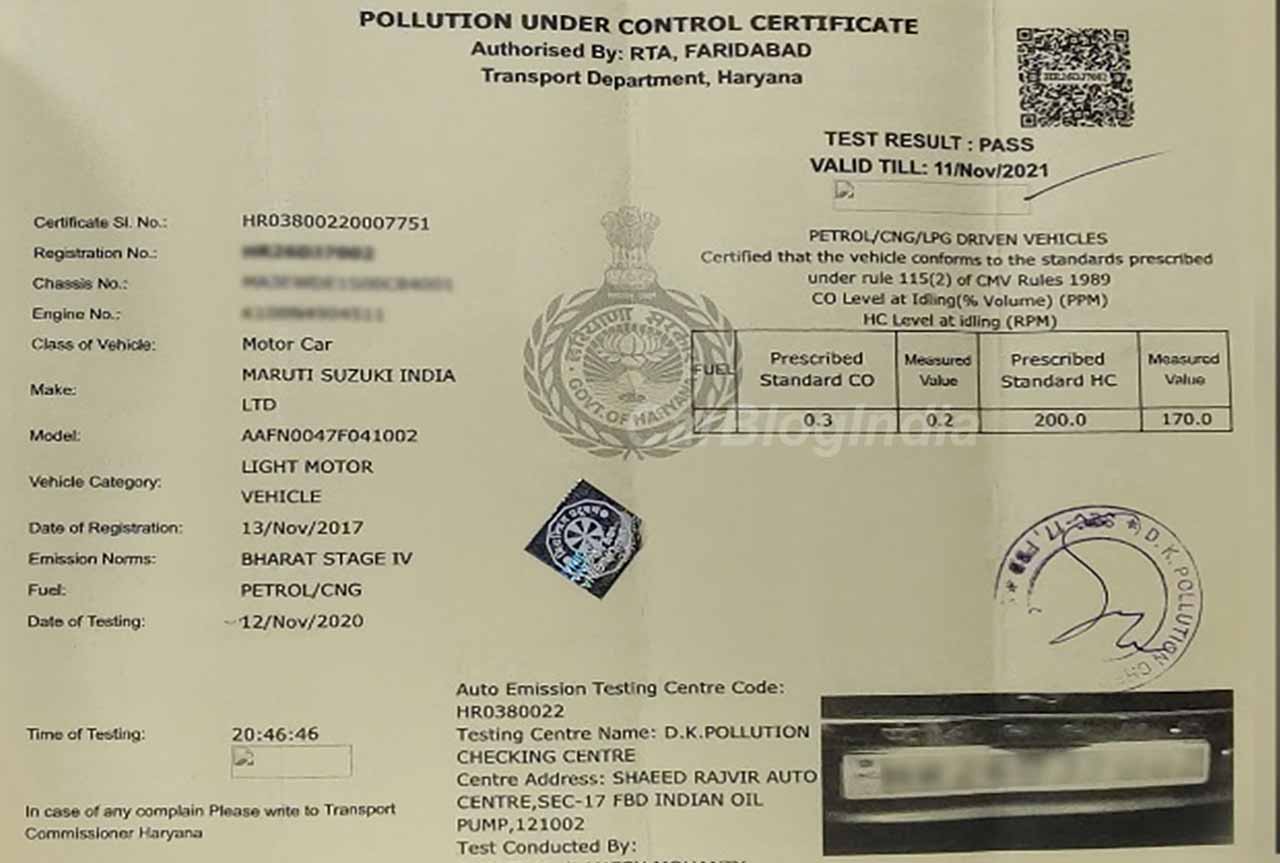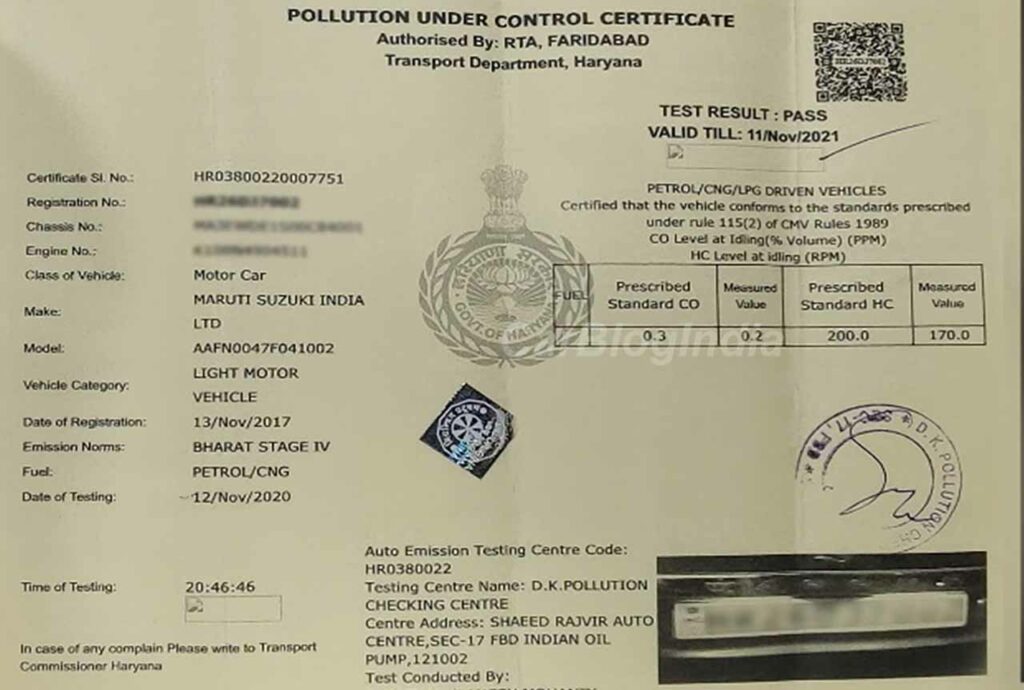 Conclusion
For a worry-free travel experience, it is important to make sure all your car papers are in order. These include everything from a RC and insurance to the PUC. Failing to produce any of this when asked by a traffic police officer can incur penalty. So, it is necessary to have a valid PUC certificate with the correct vehicle details. It is as necessary as having a valid insurance policy. All in all, it is the moral as well as legal obligation to renew your car's PUC validity at required intervals. If you are someone who just purchased a new car, you can stay worry-free about the PUC validity for the first year of ownership. Thereafter, you need to get the certification renewed every 6 months at a Government-authorised centre.
You May Also Like: How to Access Your RC on mParivahan and DigiLocker
Join us for FREE NEWS Updates on our Whatsapp Community or our official telegram channel.