India's first hypercar, the Vazirani Shul concept of the car was showcased at the 2018 Goodwood Festival of Speed. The prototype will be a turbine powered electric hypercar. Currently, the car is just a prototype and will be put to proper testing around year-end. 
Most of the hypercars we love are either made by Germans or the Italians. Everyone wants to ride such hypercars one day in their life. Well, we Indians can finally be proud and say that even we have one. India's first Hypercar, the Vazirani Shul has been revealed at the Goodwood Festival of Speed. It will be a turbine powered electric hypercar. The designer and the co-founder of this hypercar is Chunky Vazirani, head of Vazirani Automotive. He has worked earlier with Sahara Force India Formula 1 team and also with Michelin tyres, which have helped him in building this car. Currently, only the prototype has been showcased. The Shul is still in its prototype stage and will start testing by the year-end. So, in this article, we explain all about this hypercar.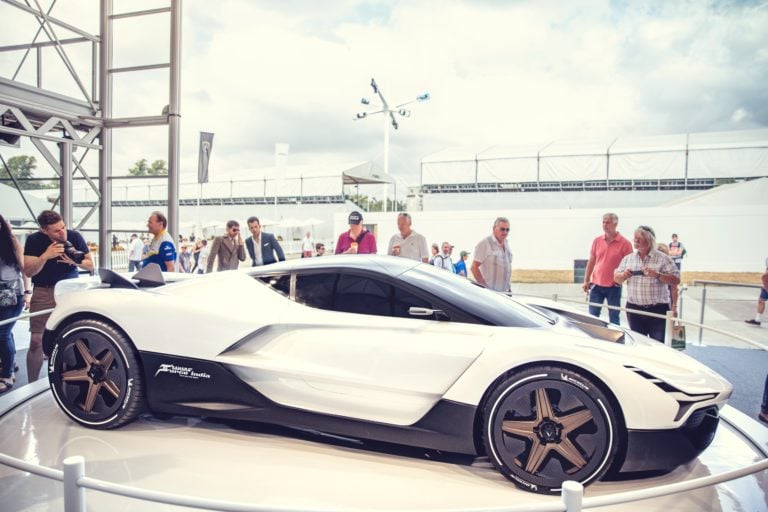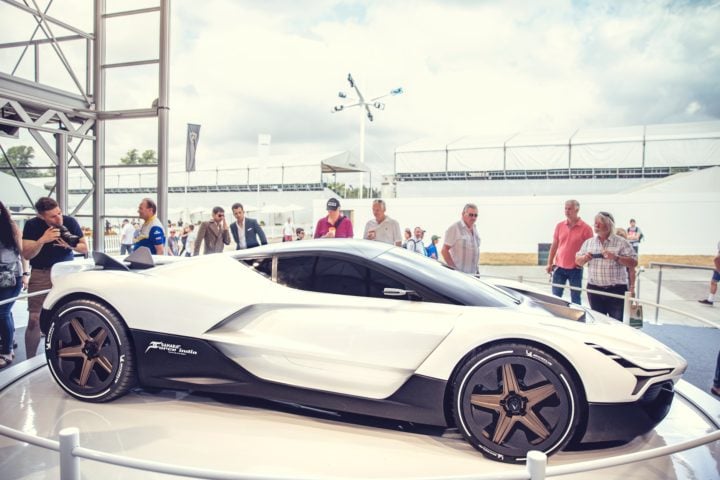 What will the engine specs be?
Currently, the car is just in its conceptual stage and the performance figures are not out yet. The Vazirani Shul uses a revolutionary Jet Turbine Electric powertrain encased in a suit of carbon-fibre. This carbon-fibre chassis is also seen in the BMW i8. Since the turbine acts as an onboard generator, charging the batteries, it will come with a lightweight battery pack. The Shul gets a four-electric motor setup, which is located beside each of the four wheels for independent torque vectoring. This would give the car heavy torque figures with quick acceleration.
Also Read: Mahindra Working On Lamborghini Urus And Bugatti Chiron Rivals- Report
What is Vazirani Automotive and who is the Founder?
Vazirani Automotive is founded by Chunky Vazirani. He has previously worked in Sahara Force India Formula 1 team and also with Michelin Tyres. He graduated from Art School California and has previously worked in the design team of many automotive brands like Land Rover, Volvo and Yamaha, Jaguar and Rolls-Royce. Even though the company has its roots in India, the concept was made at Chunky's California studio and might be manufactured from California itself.
When will it come to India?
It is not yet confirmed when the Vazirani Shul will come to India. Only the concept has been showcased until now. The co-founder said that the car will be put to testing later this year. So we can expect it to launch globally by year-end.
What will be the price of the Shul?
First of all, the Vazirani Shul is an electric car, to top it, it is a hypercar. Be ready to shell out a good sum of money. We expect it to be priced around Rs 3-4 Crores. The price has been estimated by taking a count of the other hypercars in this price range.
Will it be a worthy competitor?
Currently, the only full electric hypercar is the Rimac One, which is in full production. If it is going to cost around Rs 3-4 crores, a lot of hypercars would come in that range. The list would include several Ferraris, Lamborghinis, Maseratis, Aston Martins and much more. Well, a lot of electric hypercars are in the launch line-up. However, in a market like India, this car might not see much buyers. Globally, the Vazirani Shul might turn out to be a successful car. Overall, the concept is new and is quite futuristic.
Vazirani Shul Gallery
Join us for FREE NEWS Updates on our Whatsapp Community or our official telegram channel.