At this year's NAIAS, Volkswagen has unveiled a new five-seater crossover coupe concept that has been christened as the Cross Coupe GTE. The new Volkswagen Cross Coupe GTE is the German auto major's latest plug-in hybrid with all-wheel drive and is the pre-cursor to the car giant's new design language for the US market. The new concept has been revealed ahead of the commencement of production of a new seven-seater midsize SUV at VW's Chattanooga factory in Tennessee. The new Cross Coupe GTE is the manufacturer's third concept model that has been released ahead of the introduction of the production version. Together, all three concept cars– the CrossBlue, the CrossBlue Coupe and the Cross Coupe GTE represent a part of the wide spectrum of SUV variants that can be based on the manufacturer's modular transverse matrix (MQB) platform.\
Volkswagen Cross Coupe GTE Images
Although the design of all three SUVs is based on the Volkswagen design DNA and they have common stylistic features, the latest model breaks in many ways with previous concepts, and thus increases the momentum towards series production. The Cross Coupe GTE measures 4,847 mm in length, 1,736 mm in height and 2,030 mm in width. Commenting on its appearance, Klaus Bischoff, chief designer at Volkswagen said: 'The concept car has a commanding presence; it is powerful with a look that could almost be described as aggressive. Numerous details hint at how we envisage a future production SUV model for North America.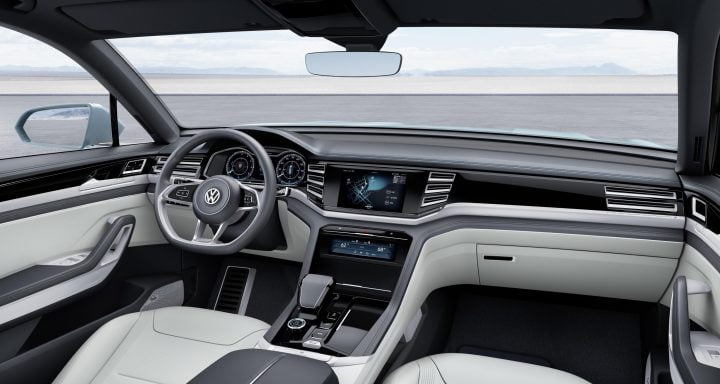 Under the hood of the Cross Coupé GTE is a 3.6-litre V6 petrol engine that is complemented by two electric motors. The six-cylinder direct-injection engine (FSI) delivers a max power of 280 PS and peak torque of 350 Nm, while the two electric motors deliver 40 kW and 220 Nm (front) and 85 kW and 270 Nm (rear). They are powered by a compact lithium-ion battery housed in the centre tunnel, with energy content of 14.1 kWh. The total output of the drive system is 360 PS, and using this full power, the Cross Coupé GTE, which has a top speed of 130 mph (209 km/h), accelerates to 60 mph in just 6.0 seconds. The Cross Coupé GTE can be driven in five different power modes: E-Mode, Hybrid, GTE, Offroad and Battery Hold / Battery Charge.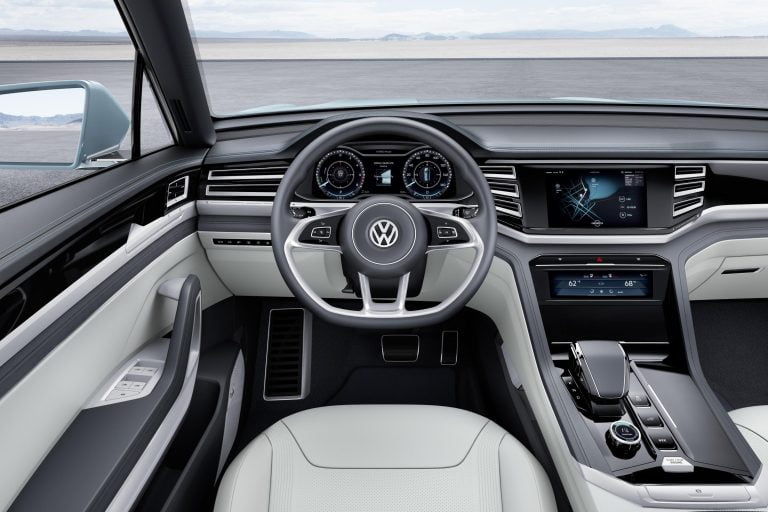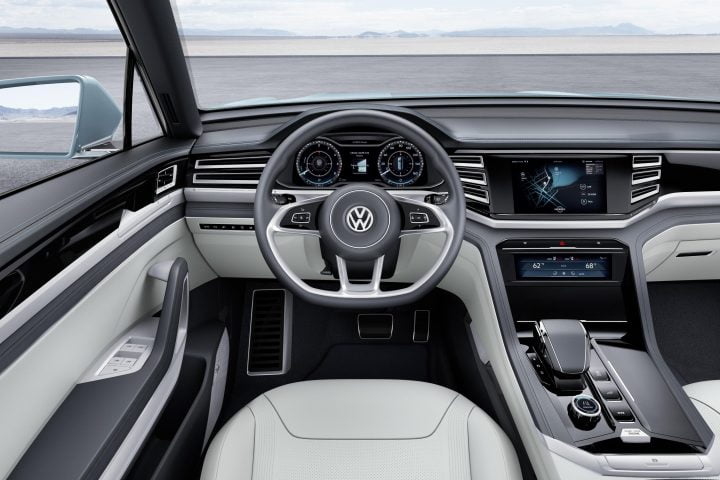 In E-Mode, activated at the press of a button, the Cross Coupé GTE can travel in zero-emission mode for up to 20 miles or 32 km, and in this case the 85 kW rear axle electric motor alone drives the vehicle, with the V6 FSI decoupled from the drivetrain by disengaging the clutch and shutting down. But as soon as the six-cylinder engine needs to be restarted due to the battery charge status or other parameters, it engages smoothly in the drivetrain again in a fraction of a second.
Join us for FREE NEWS Updates on our Whatsapp Community or our official telegram channel.