In its second generation now, the Mahindra Thar has been a runaways success with the waiting period for the SUV extending to more than 12 months for select variants. There is a lot that is responsible for such unprecedentedly high demand, including the plusher cabin, multiple engine-transmission options, and a high off-roading capability. Interestingly, it looks like it's just not the macho-types who are buying this SUV. There are many from the fairer sex who have taken a fondness to this off-roader. And what's even better is that these users are customizing the SUV as per their tastes. The modified Mahindra Thar you see here, for instance, has been inspired by Barbie. It is being called 'Thar-bie' by Upshift Autos, who have customized the vehicle for Ishita Wadia.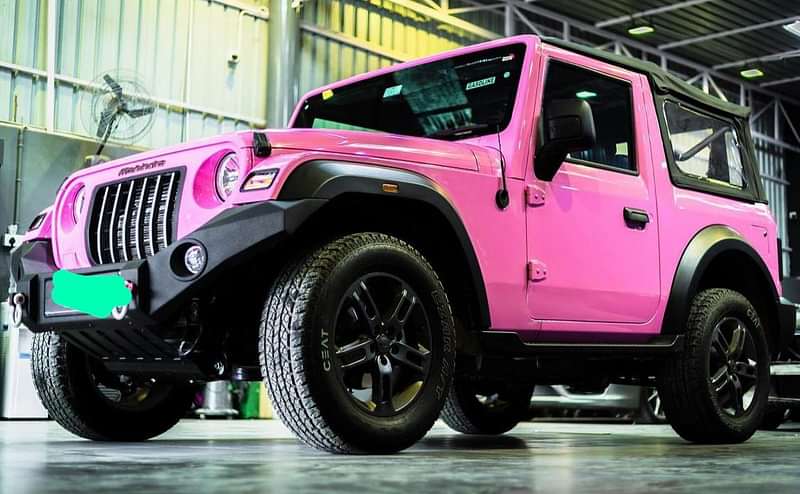 Also read: Thar Stuck At The Beach, Rescued By JCB!
The highlight of this modified Mahindra Thar is its baby pink colour scheme which is courtesy UASkin Peelable Paint. Apart from this custom paint job, the only other mod this Thar seems to have is an off-road-spec front bumper from Bimbra 4×4. Frankly, the overdose of pink does remind us of Barbie to a lot of extent. It's not known if a similar colour theme is followed even inside but going by the seriousness with which the pink theme has been adopted on the outside, we won't be surprised to find an overdose of this colour even in the cabin.
Also read: New Thar vs Ford Endeavour – Who Wins – VIDEO!
What's also not known is if this modified Mahindra Thar has been given any performance update. The stock version is available in two engine variants -2.2-litre turbo-diesel and 2.0-litre turbo-petrol. The oil-burner outputs 130PS and 300Nm, while the gasoline unit produces 150PS and 320Nm. Transmission options for both the motors include a 6-speed manual as well as a 6-speed automatic while 4×4 is offered as a standard fitment.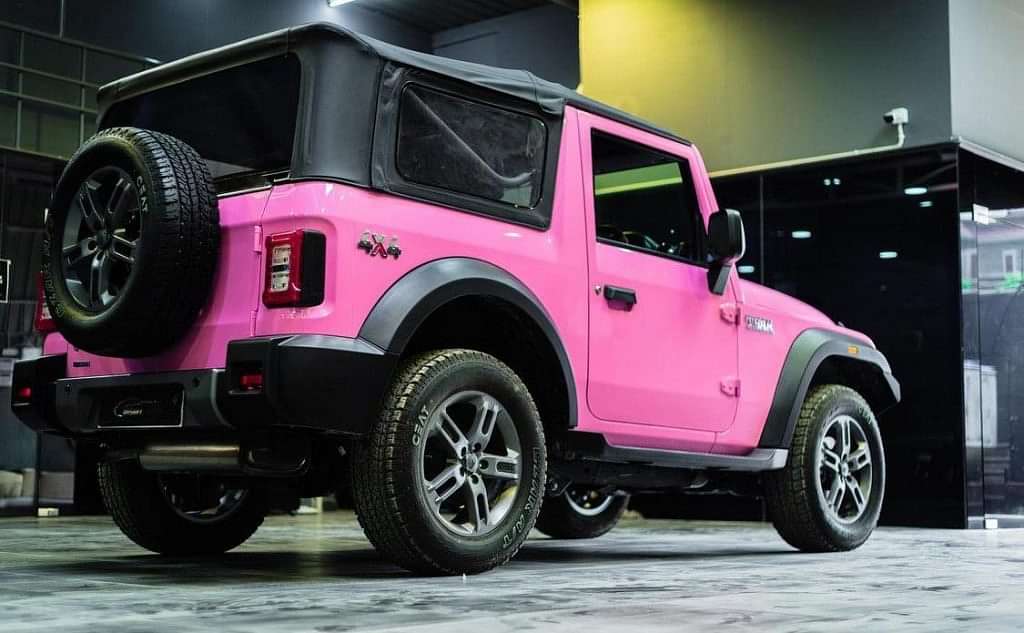 Also read: Force Officially Announces The Arrival Of Gurkha Soon – Expected Specs, Details!
It's said that Mahindra is working on a low-cost version of the Thar in order to make it more affordable. The purported low-cost model would miss out on the 4WD system and come with a detuned motor. However, it's for sure that it would have the same design and even benefit from the 4-star safety rating provided by the NCAP. In fact, rumours are that there's even a 5-door version in the offing. At present, the Mahindra Thar retails in a price range of Rs 12.12 lakh to Rs 14.17 lakh, ex-showroom, Delhi.
Also read: India-bound Suzuki Jimny Reviewed By Americans – They Loved It!
Stay tuned to CarBlogIndia for more such interesting posts!
Join our official telegram channel for free latest updates and follow us on Google News here.