Bajaj Pulsar N250 is clearly more powerful than the Yamaha MT15 but the power-to-weight ratio changes the moment the latter is used by a lighter rider
Launched late last year, the Bajaj Pulsar N250 is one of the two most powerful motorcycles in the famous Pulsar range. The streetnaked sibling is definitely the bolder of the two and has already found many buyers. On the other hand, the Yamaha MT15 has been a bold-looking streetnaked that has impressed with its refinement and styling. Its specs sheet, though, is no match for the N250's performance figures. Still, in a drag race, a lot is determined by power-to-weight and here's a video of the MT15 racing against N250 with a lighter rider. Who wins? Let's find out in the video below-
You May Also Like: Bajaj Pulsar N250 City Mileage Tested – Awesome Results – VIDEO
You May Also Like: New Bajaj Pulsar F250 Challenges KTM RC200 in Drag Race
Right from the start of the race, the Bajaj Pulsar N250 takes lead and continues accelerating away from the Yamaha MT15 for a while. Clearly, the Yamaha is seen several bike lengths behind the N250 for most parts of the race. Finally, the Bajaj-rider notices that he's got so ahead of the MT15 that he can't even see in the rearview mirrors. Concerned about his rider friend, he slows down to let her catch up. Within moments, the Yamaha flies past. However, it just takes the Bajaj rider some hard acceleration to get in the lead again.
From the video, it's clear that both the motorcycles are capable of easily achieving speeds of more than 120 kmph. Also, the speedos of the two motorcycles even show speeds in excess of 130 kmph but it's clearly the Pulsar N250 that is much quicker off the line. This, in spite of the fact that the MT15 was being ridden by someone who must be lighter. Even if you compare the kerb weights, the Yamaha MT15 (138 kg) is substantially lighter than the Bajaj Pulsar N250 (162 kg).
You May Also Like: This Yamaha MT-15 Gets Premium USD Forks From KTM Duke 390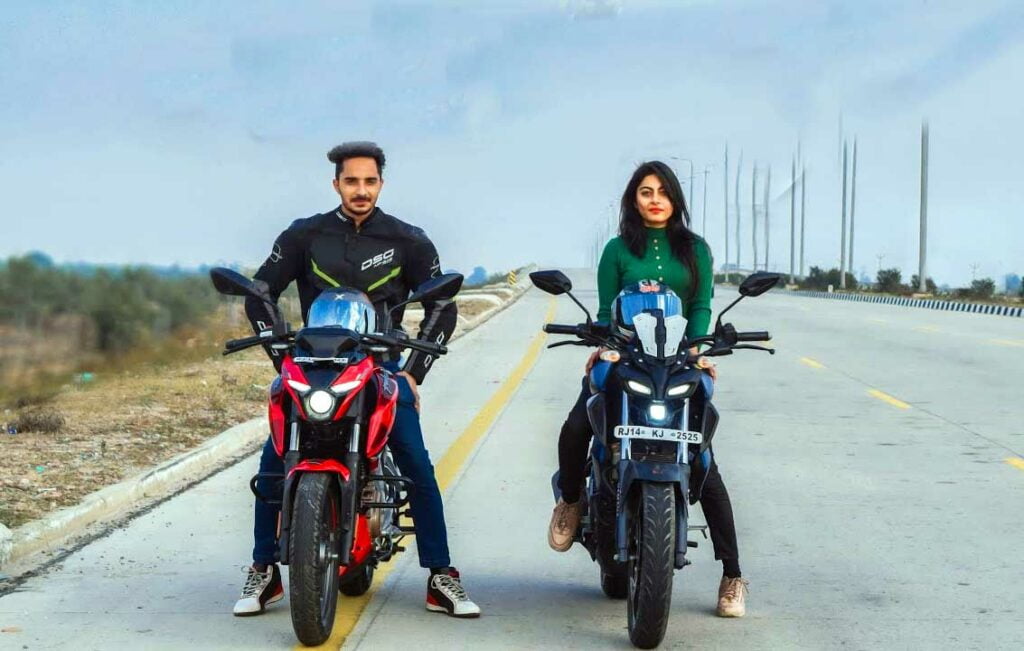 Yamaha MT15 vs Bajaj Pulsar N250 Specs Comparison
Yamaha MT15 is powered by a 155cc, single-cylinder engine that produces a maximum power of 18.5 PS and a peak torque of 13.9 Nm. The engine comes mated to a 6-speed manual transmission. On the other hand, the Bajaj Pulsar N250 is propelled by a 249cc engine that outputs a maximum power of 24.5 PS and a peak torque of 21. 5 Nm. Even this motorcycle has a 6-speed manual transmission.
Join our official telegram channel for free latest updates and follow us on Google News here.