In a tone-deaf social media promotion, the Yezdi brand made unabashed fun of road-safety rules. After being called out, it had to go back and remove the post.
Yezdi is all set to launch three new motorcycles in India on 13 January 2022. This will include an adventure bike and a roadster. Just like the original Yezdi models, the new bikes will be based on the Jawa bike (likely Perak). They will use the 334 cc, liquid-cooled, DOHC engine that offers a maximum power of 30 bhp and 33 Nm of torque. It will be paired with a six-speed constant-mesh gearbox. However, the brand committed a blunder before its comeback. In a stupid social media post, the brand made a mockery of road safety.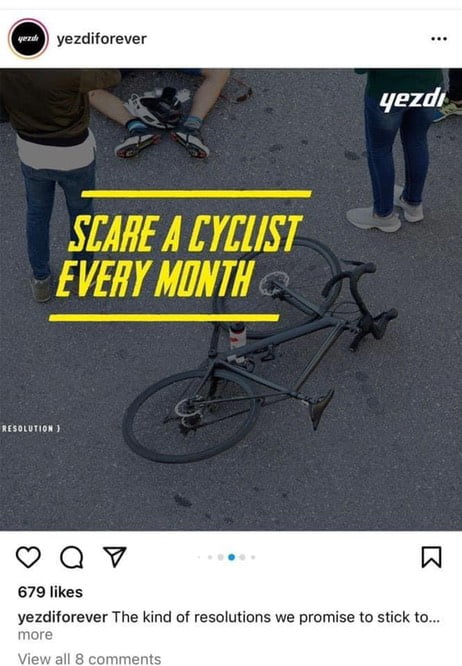 Also read: Here's The Most Beautiful Wrap Job On a Royal Enfield Bullet – VIDEO
In an Instagram post, Yezdi (with the username @yezdiforever) shared a picture of a damaged bicycle lying on the ground. The graphic on the picture read "SCARE A CYCLIST EVERY MONTH". The insensitive post encourages the violation of road safety rules and road rage. In addition to the tone-deaf poster, the brand added a caption – "The kind of resolutions we promise to stick to." The dangerous promotion was quickly called out by social media users and the company had to remove the post.
Also read: 2018 Mahindra Jawa Yezdi To Rival Royal Enfield
The above-mentioned promotion shows the arrogant attitude of the brand. It further adds to the careless attitude among a lot of bike and car owners. With more and more cyclists and bikers, there is a need for better behaviors on roads. This kind of regressive promotion by a popular bike brand is a dangerous precedent. While the number of road accidents has decreased over the last decade, the number is still high. In 2020, there were as many as 48 cyclists fatalities from road accidents in Delhi alone. In the previous year, there were 36 fatalities.
Also read: Legendary Yezdi Might Make A Comeback In India Soon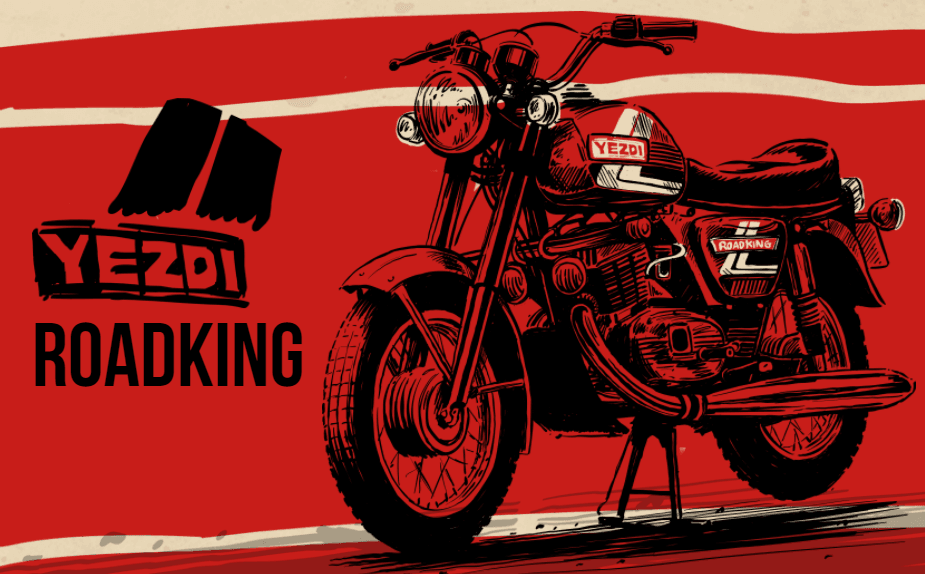 Yezdi (phonetic transcription of Czech language verb "jezdí) is a popular Indian motorcycle company. It was previously known as Ideal Jawa Ltd. The Mysore-based company is known for selling Jawa motorcycles (from 1960 to 1973). Now, the Yezdi brand is being revived by Classic Legends (they relaunched Jawa in 2018 and BSA earlier this year). The upcoming Yezdi siblings have already been spotted in their camouflaged guises. They seem to be in their final stages of testing. The Yezdi Roadking Scrambler and the Yezdi Adventure are expected to take on the upcoming Royal Enfield Hunter and Himalayan, respectively. Both bikes are expected to feature a new architecture with a higher load-bearing rear subframe.
Also read: Royal Enfield-Inspired Yezdi Spied Undergoing High-Speed Tests