People are often heard telling stories about how they rode this bike and the bike was a part of their body. The bike which has won several races and rallies across the world said, 'Forever Bike, Forever Value'. It is none other than the legendary Yezdi 350 series. The bike touched many lives and changed them forever. 
Back in 1964, there was one Fariborz Irani, who was a famous bike racer. He won many rallies and races across the world with his beloved Yezdi 350. With him, there are a lot of people who share their stories with this cult guru, who taught Indians to ride with style. The bike stopped way back in time, but still has a huge fan base, who regularly take their Yezdi's out for a spin. Recently, Yezdi's own website was created by Mahindra indicating that it might relaunch in India. Also, at the start of the year, it was revealed globally with the similar design but new engines. If relaunched in India, it will go by the name of its parent company, Jawa Motorcycles. This bike will go against the reigning Royal Enfield Bullet and Classic.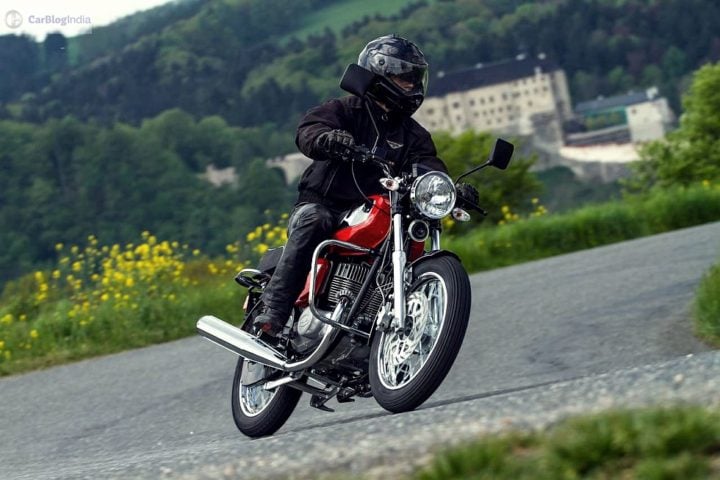 The new 2017 Jawa 350 was revealed some months ago. Much like its predecessor, the new motorcycle has a 350 cc heart and its design pays homage to the original one. A big difference, however, is that the engine is no more a 2-stroke unit. The company has used a 4-stroke motor in order to meet the much stricter emission norms of today's day and age. So, it will lose its earlier engine and that classic noise but will get the same body. One of the good things about such restored or revived bikes is that they get almost the same body, but they lose their engines, their iconic throttle sound and also cheap pricing.
Also Read: The Legend Yamaha RX 100 Might Not Relaunch In India- We Explain
New Yezdi 350 Launch Date
| | |
| --- | --- |
| Launch Date (expected) | Late 2018 |
Mahindra hasn't yet made an official announcement on the launch date of the new bike. However, it's worth a note here that the manufacturer recently launched the official website for Yezdi. This, along, hints at a fast-approaching launch. Subsequently, its launch could happen at the end of 2018.
Production of the new Yezdi 350 will take place at Mahindra's Pithampura facility. The new bike will be also exported as the new Jawa 350. We await an official word on the launch date at the moment. However, you can watch this space for all the news updates on the new Yezdi 350 launch date.
New Yezdi 350 Price
| | |
| --- | --- |
| Price (expected) | Rs 1.5 lakh |
Price of the new 350cc Yezdi model will be announced only at the time of its launch. However, Mahindra has been pretty vocal about positioning this new brand as a lifestyle offering. This means there's a high chance of prices being on the higher side. We're expecting a price of Rs 1.5 lakh for the upcoming model. The new bike will be manufactured locally and India will be the export hub for this new model. The new offering will go on to rival the Royal Enfield Classic 350.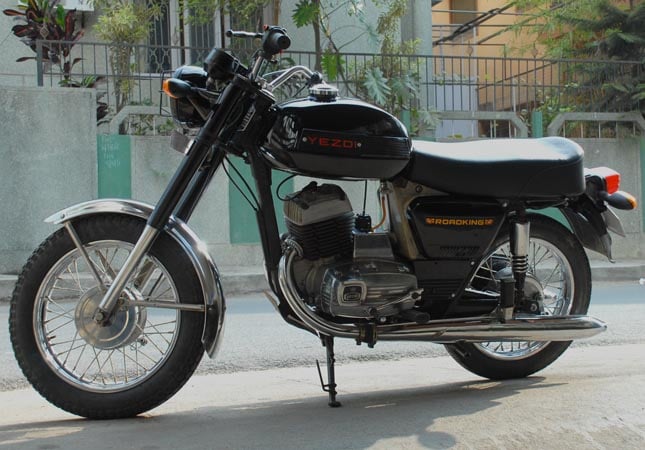 New Yezdi 350 Specifications
| | |
| --- | --- |
| Engine | 350cc, single-cylinder, air-cooled |
| Max. Power | 26 BHP @ 5,250 RPM |
| Peak Torque | 32 Nm @ 4,750 RPM |
| Transmission | 4-speed Manual |
The new model 350cc Yezdi will have the same single-cylinder 350cc engine that powers the 2017 Jawa 350. This engine comes from a Chinese engine manufacturer, Shineray. Essentially, this engine is based on an old Honda engine. The motor outputs a max. power of 26 BHP and a peak torque of 32 Nm. It comes mated to a four-speed manual transmission. That said, we're hoping Mahindra would take note of this and offer a five-speed unit. The new bike will offer ABS.
New Yezdi 350 Mileage
| | |
| --- | --- |
| Maximum Mileage | 30 KMPL |
| Minimum Mileage | 24 KMPL |
While the ARAI mileage figure will be out only around the launch, it's possible that this engine will offer a maximum mileage of 30 KMPL. Based on a slightly outdated engine, the motor won't be as efficient as some of its modern counterparts.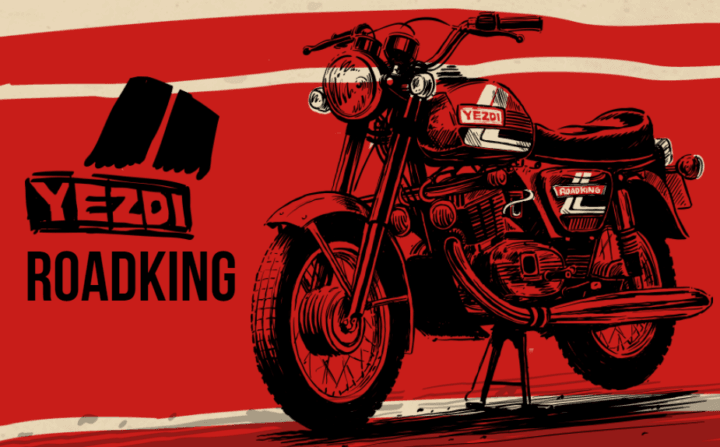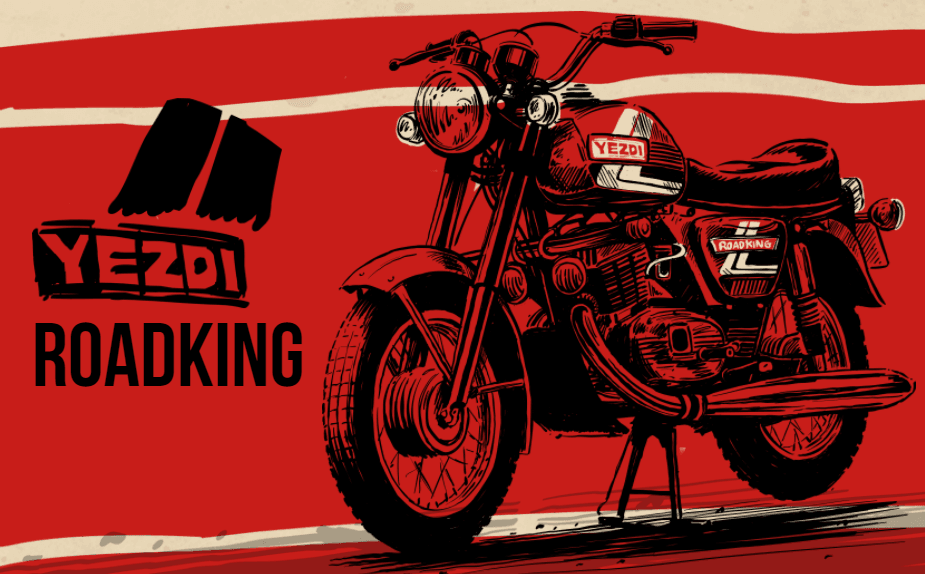 New Yezdi 350 Top Speed
The claimed top speed for the 2017 Jawa 350 is 130 KMPH. The India-spec Yezdi 350 could have the same claimed figure.
New Yezdi 350 Images
New Yezdi 350 – Other Details
| | |
| --- | --- |
| Front Tyre | 100/90 – 19-inch |
| Rear Tyre | 130/70 – 18-inch |
| Front Wheel | 1.85 x 19-inch |
| Rear Wheel | 3.00 x 18-inch |
| Battery Type | Maintenance Free |
| Seat Height | 760 mm |
| Wheelbase | 1420 mm |
| Dry Weight | 160 KGs |
| Fuel Tank Capacity | 12.5-litres |
| Reserve Fuel Capacity | 2-litres |
The new model of the 350cc Yezdi has a dry weight of 154 KGs. It has a fuel tank of 17-litres. The new bike gets spoke wheels, with the front wheel measuring 19-inch in diameter and the rear wheel measuring 18-inch in diameter.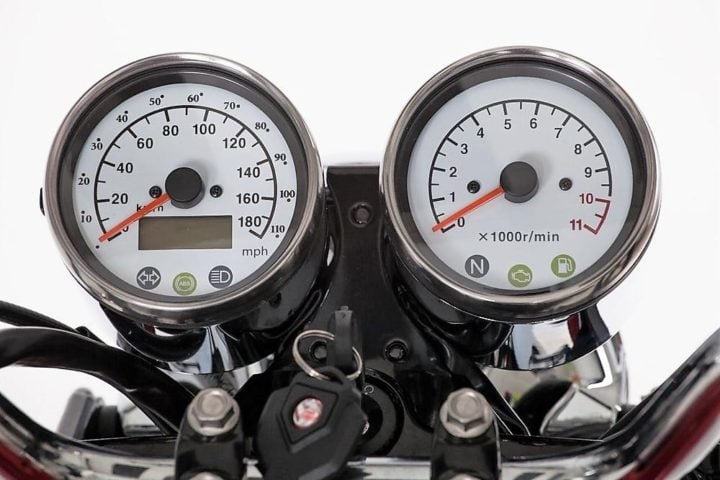 Stay tuned to Car Blog India for latest news updates on the new Yezdi 350 launch date, price, specs, mileage, etc.
Editor Rating

Rated 5 stars

Spectacular
---
Legendary Yezdi 350 Series Might Relaunch In 2018 - We Explain

Reviewed by:

Published on:

Last modified:
---
More Related News