As of 2022, India is the third-largest automobile market on the globe, with its cumulative sales surpassing that of Japan and Germany. The last few years have even witnessed a rather remarkable shift in consumer behaviour. Now, an average car buyer prioritizes safety over many other aspects but many new drivers still tend to turn a blind eye to the rules and regulations. The need of the hour is for all new drivers, especially Gen Z and Millennials, to practice safe driving and adhere to all traffic laws right from the moment they get behind the wheel. 
You may also like: Hyundai IONIQ 5 Ushers in a New Era of Electric Mobility
Thousands of mishaps take place every year simply because drivers tend to overlook traffic rules and regulations. For the uninitiated, National Crime Records Bureau (NCRB) reports that approx. 1.3 million road users have lost their lives in accidents in the last 10 years. This is in addition to roughly 5 million road users who have been injured. The report from NCRB suggests over-speeding and careless driving as some of the major causes of road accident deaths in 2021. In fact, no research or data is required to highlight how most Indians don't buckle up at the rear, which is often a cause of injuries in an unfortunate crash event.
Not buckling up at the rear is not just irresponsible but even in violation of the law. As per the Motor Vehicle Act 1988, the driver, the front passenger and even the passengers in the front-facing rear seats need to be buckled up. Still, most car users are unaware of this. Fortunately, the traffic police in most major metros now issue a challan if the occupants in the rear aren't buckled up. While it's only a matter of time before the traffic police in other cities follow suit, what's pretty clear is that wearing a seatbelt at the rear is as important as it is when seated in front. Yet another rather basic traffic rule that everyone is aware of but not many follow is adhering to the speed limit. What most drivers don't realize is that the braking distance increases exponentially with an increment in speed. Basically, it is proportional to the square of the speed, which means that even a minor increase in speed leads to a significantly longer braking distance.
You may also like: New Hyundai Tucson Redefines Extravagance in Premium SUV Segment
Similarly, there are various common malpractices that expose car users to great risks. For instance, many drivers use high beams where it's absolutely unnecessary. And then, there's the common malpractice of driving on the wrong side of the road. Both these habits are utterly dangerous and put one at great risk along with even increasing the chances of an accident for other road users. It's also fairly common for occupants of a car to have their body parts out of the sunroof. Many car owners even let their kids open the sunroof and stand through the roof. This is surely as dangerous as it gets. One can only imagine the injuries that might be caused in case of sudden braking or rollover. Of course, there's even the danger of exposure to external elements such as low-hanging wires, tree branches, etc.
You may also like: Why New Hyundai AURA Should be Your Ticket to World of Sedans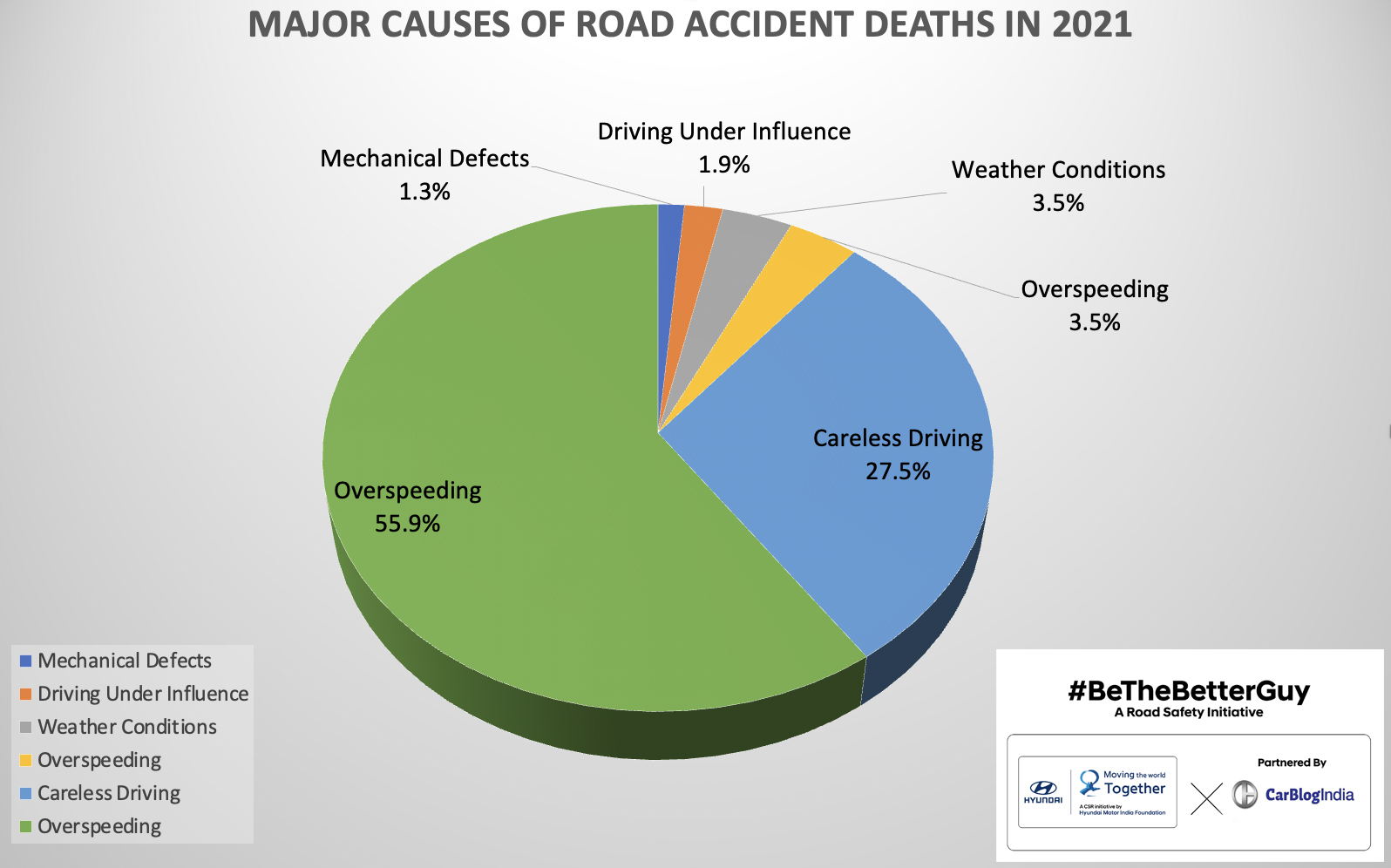 You may also like: New Hyundai Grand i10 NIOS offers Best in Class Safety, Advance Convenience and Comfort Rolled Into One with Competitive Pricing
It's actually pretty interesting how there has been increased stress on the 'star rating' of a vehicle without one trying to be the better guy who practices safe driving. Even though the latest cars come with safety features like dual front airbags and ABS, the onus is on the road users to make a positive change in attitude and respect all traffic laws and safe driving practices. Working towards bringing this behavioural change is the Hyundai #BeTheBetterGuy campaign that aims to enlighten Indian road users by driving the narrative of 'Safety Begins with You'. This narrative is rooted in the thought process that in spite of better road infrastructure and much safer cars in today's day & age, the onus of being a 'Better Guy' majorly falls on the road user. 'Buckle Up, Young India', the campaign's theme for this season, highlights the importance of the usage of seat belts, both at the front and the rear.
It's pretty heartening to see the young Indian car buyer prioritizing a strong safety net over many other factors but in spite of the high focus on safety, especially the 'star ratings', most road users turn a blind eye to the rules and regulations. This is exactly where the Gen Z and the Millennials can create a 'Chain-of-Change' by adopting safe driving practices and influencing all road users. Resonating with this message, we, at CarBlogIndia, urge all our readers to stop irresponsible driving and #BeTheBetterGuy.
Join us for FREE NEWS Updates on our Whatsapp Community or our official telegram channel.