You'll see it being ridden by people past their prime, by the college going boys and girls, it serves with the military and the Police. It looks good whoever sitting on it, be it a leather jacket clad enthusiast or your local doodhwaala with a dozen milk cans fixed on either side. It tackles potholes in the city with the same aplomb as it has as it taken on the mountains and deserts; undoubtedly the country's favourite motorcycle manufacturers for generations, yes we are talking about The Royal Enfield. Royal Enfield has even in this age and time retained their old school charm while not missing a beat when it comes to satisfying their consumers who have taken to them as an alternative religion. Such is the following of this cult motorcycle that the company rarely has to spend on advertisement; you'll find more fan-made videos and documentaries than you will find official advertisements online. A testament to this amalgamation of their roots and mordernisation is the current line-up of Royal Enfields which comprises of:
The Bullet (350cc & 500cc)
The Classic (350cc & 500cc)
Thunderbird (350cc & 500cc)
Continental GT (535cc)
One of their official tag lines read "Made Like A Gun", which is a smart way to explain that under that elegantly designed full metal body lies a rouge who roars with the slightest tug on the accelerator. So what do you do with a "GUN" if you don't have a "Firing Range" ? Well you log on to their official website and select a firing range of your choice. One such range is called the "Himalayan Odyssey".
The 11th Royal Enfield Himalayan Odyssey 2014:
The Himalayan Odyssey is a road trip organised by RE for riders, covering a mind numbing 2700 Kilometres in 17 days. A duration in which they pass through the highest motorable road "Khardung La" at a mighty height of 18,380 feet. From riding over peaks, on curving mountain roads the riders face the elements on their ever dependable bikes as they pass through Parwanhoo, Narkhanda, Keylong, Sarchu via Kalpa & Kaza regions on their way to Leh. The Kalpa and Kaza areas are considered to be the toughest terrains for riding across the world.
Flagged off from India Gate on 21st June 2014, by Mr. Abhijit Singh Brar, Head-Marketing, RE, the 11th edition of Royal Enfield Himalayan Odyssey saw a total of 72 riders converge from not only the metropolitan cities but smaller cities like Calicut, Amravati and Erode united by their love for biking and sense of adventure. Once the riders reach Leh, RE will also have its second edition of the "Himalayan Reunion" on 29th June where bikers veterans and amatures share their biking stories and experience. It also acts as a break for the riders who have been on road for most of the time with various games, activities and musical performances scheduled to celebrate the ride and riders alike.
Other Rides Organised By Royal Enfield:
RE regularly orginises trips across the country which encourages bikers from all parts of the country to get together and get their share of thrill and excitement on their Royal Enfield's. Spread across different geographic conditions and against all the elements, its a unique chance for people to take time out of their busy lives for themselves, where they can get together with their friends and celebrate the spirit of adventure along with like minded enthusiasts. Here is a look at the rides already conducted by RE in the year of 2014.
Tour Of Rajasthan:
Far from civilisation a ride through isolated roads along the border and sand dunes. The Thar is a perfect symbol for the Royal Enfield itself, its rich heritage ingrained in the proud yet simple Rajputs. The tour of Rajasthan is a challenge for both the man and their machine. That said it is not all that bad, because after a hard day of riding you are lodged in the palace-turned-hotels or luxurious tents out in the dunes to give you a taste of the Desert's hospitality. It kicked off on 4th February this year from Jaipur, and the 10 day ride covered almost about 2210 Kilometres.
Tour Of Bhutan: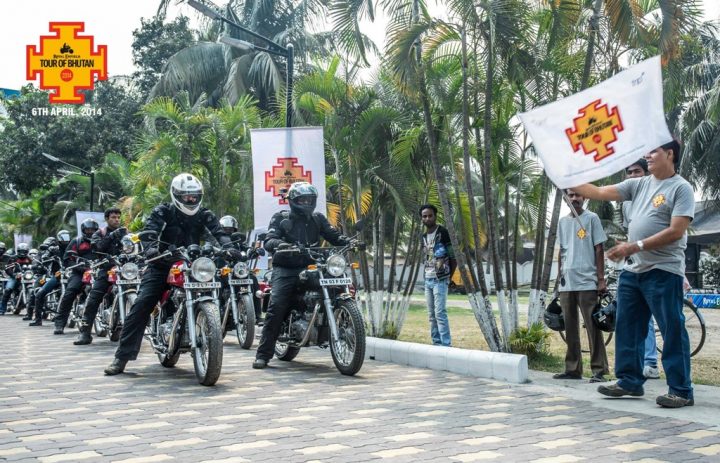 Starting from Siliguri, this trip ventures into the Himalayan kingdom of Bhutan. Minimal traffic but a challenging terrain keeps the riders on their toes. Starting from Siliguri in West Bengal you enter Bhutan and after travelling across the country would exit out towards Assam finally ending at Guwahati. This adventure in the eastern region is one which not only test your riding skills in the hills but also promise you unique sights and sounds of the Himalayan region. Rough it out on some patches in remote places which haven't seen tarmac. Daytime weather would definitely be pleasant but sometimes occasional showers may add a surprise element. Not recommended for novices, grab some practice before hand if you seek this adventure. Flagged off on 6th April, this 8 day ride covers a  respectable 1408 Kilometres.

Now we do not want to come across as a sales blog for the Royal Enfield, we have been all praise for this legend of a bike but our main intention is to applaud Royal Enfield not as manufacturers but as an organisation which promotes such experiences. In India the concept of touring is still finding its feet but when a reputed  maker gives their buyers a chance to go through such an experience we have to give them their due credit. This author had the privilage of spending a couple of days with Lt. Col Sohan Roy, Limca record holder for being the oldest person to ride up to Khardung La (a record by the way he made on his RE Classic 500). Col Roy made a statement which will resonate among RE enthusiasts world over, a statement with which we sign off.
"How can a man made of Iron, ride on a bike made of Plastic?, Iron rides Iron. A man rides Royal Enfield"
Share your biking experience with us on an RE or any other bike through the comment section below. Feedback is highly appreciated.