It is not every day that a 125 cc could race a 150 cc bike. Well, here is one such example of what happens when a light bike with a small engine takes on a heavy bike with a bigger engine.
This race between the TVS Raider and Yamaha FZ16 will definitely keep you on the edge of your seat. The TVS Raider is a popular bike among bike enthusiasts who are looking for an affordable fun to ride motorcycle. It has impressed everyone with its performance. Its lightweight construction makes its engine peppy. The Yamaha FZ16, on the other hand, is a heavier bike with a bigger engine. It is also a popular choice for people looking for something a bit upmarket. But what happens when these two bikes go head-to-head?
Also read: TVS Raider 125 vs Honda Shine SP 125 – Drag Race!
TVS Raider vs Yamaha FZ16
The YouTuber has uploaded this video but we urge all of our readers to not try such stunts on roads. It could have fatal consequences. Coming back to the race, the first attempt surprises everyone with the Raider securing a win over the FZ16 with a marginal gap. For the second attempt, the bikers decide to swap the bikes. This is a great way to ensure accurate and reproducible results. It will compensate for weight mismatch and personalised driving mannerisms. However, in the second attempt as well, the Raider stays ahead almost throughout the race. The YouTuber mentions that the FZ16 is not so stable at high speed which is why you don't drive it at high speed for long periods of time.
Also read: GUESS Who Wins Yamaha R15M vs Bajaj Pulsar RS200 Drag Race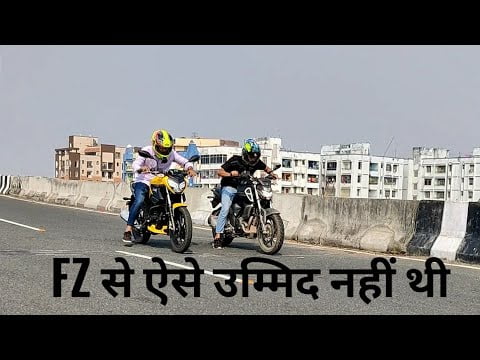 The main reason for the Raider winning the race is its weight advantage. For a bike of 125 cc segment, Raider has some impressive power output figures. In the case of the FZ16, the power output figures for a bike of 150 cc segment is not all that great. It is rather average. However, the heavy body and wider tyres mean that the performance of the bike takes a hit. Also, with the upgrade to BS6, it has lost some power to keep the emissions in check. All these factors combine to make the TVS Raider the winner in this race against Yamaha FZ16.
Also read: Inappropriate No. Plate of TVS Jupiter Leads to Major Embarrassment for Women Rider
Join our official telegram channel for free latest updates and follow us on Google News here.