This video represents the acceleration and drag race between two very popular bikes, Yamaha R15M and Bajaj Pulsar RS200. Check out the details of who came out on top.
Here is a cool drag race between Yamaha R15M and Bajaj Pulsar RS200. Before we move on, we must urge you not to perform such stunts by yourself. The YouTuber must've taken the safety precautions necessary. You should not try these things, especially on public roads. Now, these two bikes are quite popular in the segment of affordable performance motorcycles. The R15M was launched recently and has found many buyers with its striking looks and capable engine. The Pulsar, on the other hand, has always been Bajaj's popular product in our market in various iterations. It will be interesting to see which bike has the edge over the other.
Also read: Bajaj Pulsar NS1000 Makes Another Appearance In New Pics!
Drag Race – Yamaha R15M vs Pulsar RS200
The video starts with the YouTuber preparing for the drag race. In the first attempt, he rides the Pulsar RS200 and his friend takes the R15M. Just to warm up, he begins with a wheelie. In the actual first attempt, there was almost nothing to choose between the two bikes. They attempted the race a second time with similar results. After that, they decided to swap the riders since the launch control of bikes depends on the rider. To make the results accurate and consistent, the riders swapped bikes. However, this time around, the R15M had a very slight edge throughout the course of the race. They decided to perform the race another time. The result was the same. The R15M was ahead of the RS200 by a whisker. However, the difference might have been too small and could easily be ignored.
Also read: WATCH Sports Exhaust From Yamaha R15M Bolted on Bajaj Pulsar RS200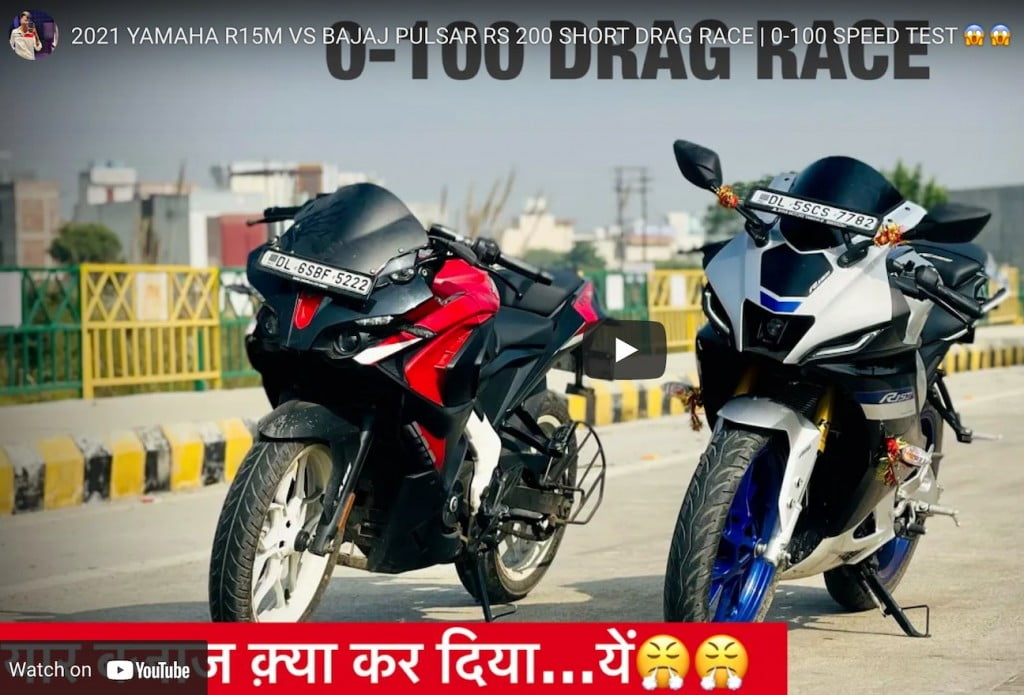 Specs
The R15M comes with a 155 cc liquid-cooled SOHC engine making 18.4 PS and 14.2 Nm of peak power and torque respectively. The transmission duties are carried by a 6-speed manual gearbox with a wet and multi-disc clutch. It comes with traction modes and a quick-shifter for smoother gearshifts. The RS200, on the other hand, draws power from a 199.5 cc single-cylinder fuel-injected liquid-cooled DTS-i engine that outputs 24.5 PS and 18.7 Nm. The transmission option includes a 6-speed manual wet, multi-clutch gearbox. The R15M is quite impressive even with the lower power output.
Also read: 2021 Bajaj Pulsar Top Speed and Acceleration Test Results Are Out!
Join our official telegram channel for free latest updates and follow us on Google News here.