This video shows the top speed and acceleration test results of the 2021 Bajaj Pulsar 250. The Pulsar was launched recently in two variants; N250 and F250 (with and without the fairing). Many people have been wanting to see the test results of the acceleration and top speed tests for the popular Bajaj Pulsar. Pulsar has been one of the crowd favourites for many years now. This new facelift has injected new life into the bike once again. The 250 cc segment has become exciting again with these Pulsars. For now, however, let us check out how well the Pulsar 250 performs on these top speed and acceleration test results.
Also read: This is How Bajaj Pulsar F250 Should Have Looked Like!
2021 Bajaj Pulsar Top Speed & Acceleration Tests
The YouTuber gives a disclaimer upfront that he is over 100 kg in weight and that might have an effect on the acceleration test. If someone is around the 75 kg mark, there could be quite a significant difference in the acceleration times of 0-60 km/h and 0-100 km/h. However, the top speed will remain the same. The YouTuber also tests the in-gear top speeds. In the first gear, the Pulsar achieved 44 km/h, in the second he was able to hit 74 km/h, third gear pulled the bike to 99 km/h, fourth gear was good until 126 km/h and the fifth gear took the bike to its top speed of 137 km/h. However, the biker mentions that had there been more straight stretch, the bike would've been able to hit the 140 km/h mark.
Also read: Bajaj Pulsar NS200 Tests The Build Quality of A Bus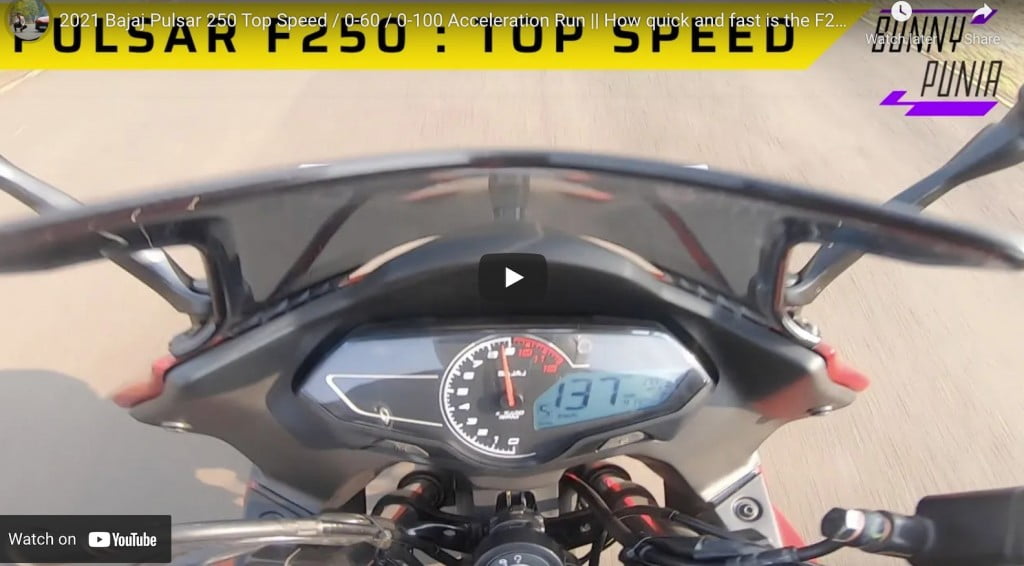 These test results were done by the rider who weighs over 100 kg. Thereafter, the biker went to do the acceleration tests. He was able to do a 0-60 km/h sprint in 4.1 secs. The 0-100 km/h took him 10.2 secs. This time could see some change with a rider who weighs a bit less. The YouTuber himself claims that the 0-100 km/h mark could be done in under 10 secs, which is quite respectable and impressive for this bike. The prices of the 2021 Bajaj Pulsar 250 start at Rs 1.38 lakh for the N250 and Rs 1.40 lakh, ex-showroom for the F250. The rivals to the Pulsar 250 range include the likes of Suzuki Gixxer SF 250, Xtreme 200S and Yamaha FZ 25. Stay tuned to Car Blog India for more exciting news from the world of automobiles.
Also read: Is This The 400cc Bajaj Pulsar We've All Been Waiting For?