This 1959 Royal Enfield Bullet has been resto-modded to like a bobber-styled motorcycle but the biggest surprise is that it's powered by a diesel engine made by Lombardini in Italy.
Royal Enfield motorcycles has to be India's one of the most popular motorcycles when its comes to customizations and modifications. Be it the new 650 twins or any Royal Enfield from even e decade ago and particularly the Classic range, all have been very popular in the after market modification scene. From scramblers to Harley Davidson replicas, you will find many fine examples of modified Royal Enfield's in our country. But the one we have here today is quite a timeless classic but the biggest surprise is that it's powered by a diesel engine.
This Royal Enfield motorcycle has been modified to look like a bobber. This is a 1959 Royal Enfield Bullet and considering that its over five decades old, we have to admit that the restoration job on this motorcycle is pretty darn amazing. This Bullet has been modified by custom motorcycle shop Time Cycles in Madhya Pradesh. However, the diesel engine on this Bullet was already put by its previous owner before the restoration job for better fuel efficiency.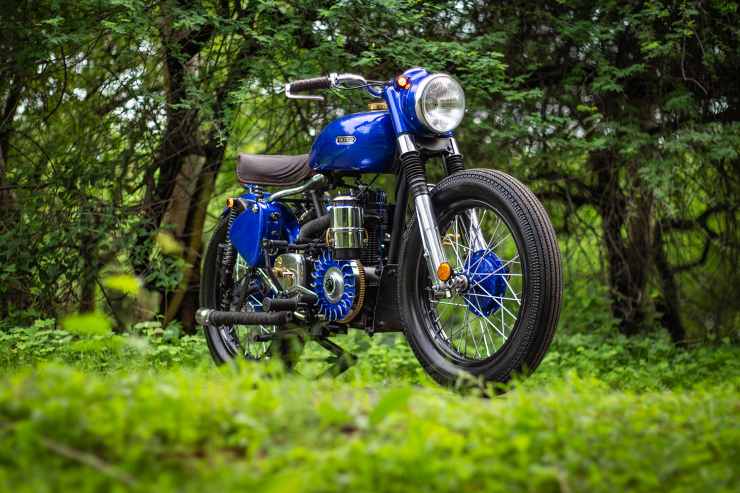 As we already mentioned, this Bullet has been styled as a bobber and it was completely dismantled for its restoration job. They began by removing all unnecessary body panels like the front mudguard, battery covers, chain covers and so on. The motorcycle was then painted in a beautiful shade of blue with some intricate detailing on the fuel tank. It even comes with 'diesel' written in italics on the fuel tank. The biggest element which lends this motorcycle its signature bobber style are the 19-inch wheels that come wrapped with tall and wide tires and they look beautiful.
Also Read : BS6 Benelli Imperiale 400 Launched; Price Starts from Rs 1.99 Lakh
The handle car is completely custom built and now comes with leather wrapped hand grips and chrome plated bar-end clutch and brake levers. The electricals on this motorcycle has also been completely reworked as its a pretty old model. It now only gets a single seat which comes in a brown leather springer saddle and the compression ratio on the shock absorbers were also altered. The motorcycle also gets a custom made exhaust pipe.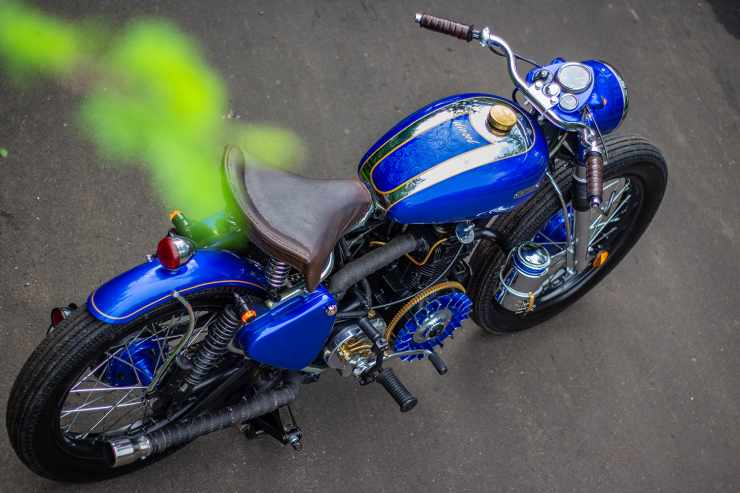 Also Read : Royal Enfield Meteor 350 Fireball Price Will Be Lower Than Classic 350!
And now let's address the engine. This Royal Enfield Bullet is powered by a 325-cc, single cylinder, engine made by Greaves Lombardini in Italy. The engine produces 6.5 Bhp and 15 Nm of peak torque. Time Cycles has done no mechanical modifications to this engine but they sure have shed some weight from the engine by removing the engine cover from one side, thus exposing the fly wheel. And even that comes painted in blue. Also, given the fact that this is pretty stripped down bike, its performance will be a little more sprightly than expected. What's also commendable is that in spite of all these modifications, the motorcycle still hasn't lost its charm as a Royal Enfield.
Join our official telegram channel for free latest updates and follow us on Google News here.