The latest version of the Mahindra Scorpio has been unveiled through official teasers and we can't help but look at the timeline of the iconic SUV in our market.
This video showcases some interesting facts about the Mahindra Scorpio since its inception in India. Scorpio has been the segment leader in our market ever since its launch back in 2002. People have taken a liking to the SUV due to its rugged build, powerful engine, off-roading capabilities, and bold design, especially during its later years of existence. That is what the latest Scorpio N also signifies that will go on sale on June 27, 2022. It caters to young urban buyers who are looking for a comfortable SUV with the latest features which is why Mahindra has decided to sell the Scorpio Classic and new Scorpio N side-by-side.
You may also like: Australian Drives Mahindra Scorpio 3.2 Lakh Km in 18 Months – Shares Feedback
You may also like: Mahindra Scorpio N Getaway Illustration Looks Spot On!
11 Interesting Facts About Mahindra Scorpio
The idea was conceptualized in 1993 with a team of 120 engineers.
The first blueprint was prepared in 1997.
The production of the first-gen Mahindra Scorpio began in 2002 and was launched at Rs 6 lakh, ex-showroom.
The total expenses incurred for the development of the Scorpio were Rs 600 Crore.
It gained the prestigious Car of the Year Award in 2003.
First-gen Scorpio came with a 2.6-litre diesel and 2.0-litre petrol engines.
It had features like power windows, power steering, AC, car stereo, etc.
You may also like: Mahindra Scorpio N Interior LEAKED, Looks As Premium As Tata Harrier
In 2007, the pickup truck version of the Scorpio was launched which was called Scorpio Getaway to tackle the commercial market.
By 2014, Mahindra offered 3rd facelift for the Scorpio with features like projector headlamps, automatic headlights, wipers, touchscreen display, tyre pressure monitoring system, auto climate control and much more.
In 2017, Scorpio received a major facelift after which it was exported to international markets like Latin America, South Africa, and Australia where it became quite popular and established itself as a global player.
Mahindra has an in-house modification department that customizes its products according to the needs of the customers.
You may also like: What to Know Before June 27 Launch of Mahindra Scorpio N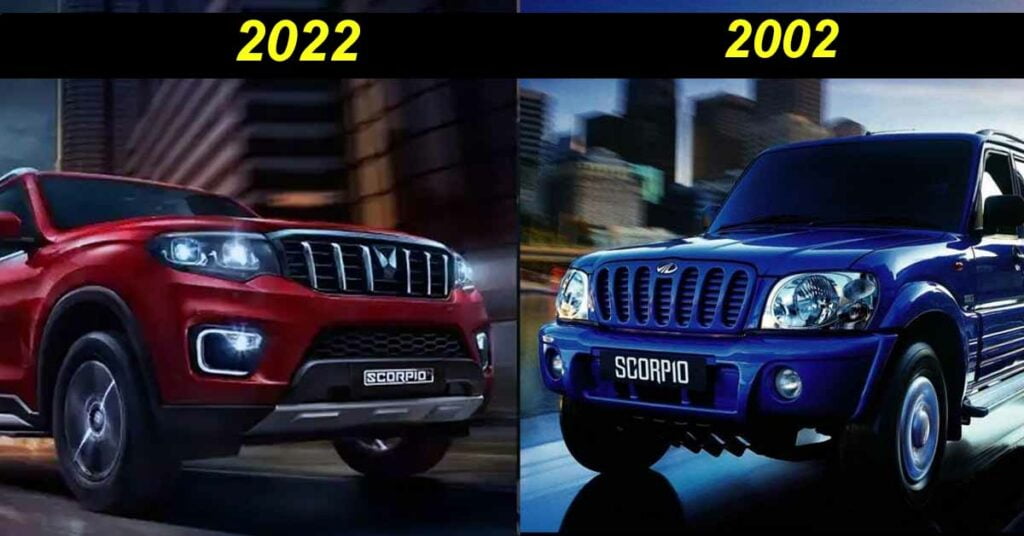 Specs
The exact specs of the 2022 Mahindra Scorpio will be revealed only at the time of the official debut but it looks like the new SUV will share its engines and transmissions with the Thar. The entry-level diesel engine variant will offer 130 PS with a 2WD format but the higher variants could offer 150 PS with an optional 4WD. The petrol variant will be sold with a 2.0-litre mStallion turbo-petrol engine that will produce 150 PS. In all likelihood, the petrol version will be available only in 2WD format. Transmission choices for both the engine variants will include a 6-speed manual and a 6-speed automatic unit. We had also reported that the base petrol model of the 2022 Scorpio N could start from Rs 14.50 lakh, ex-showroom.
Join our official telegram channel for free latest updates and follow us on Google News here.