Shanghai Motor Show 2013 is when the 2014 Skoda Super facelift is expected to be launched but tipsters do not really like to make the people wait. Today the pictures of the 2014 Skoda Superb facelift have skipped on to the interweb and the pictures looks like leaked press shots. The Skoda Superb's upcoming facelift will be the last update that the car will be getting before the next generation model comes in around 2015.
Updated on 9th July 2013
An Autocar India reader has spotted the 2014 Skoda Superb facelift testing in India. This is the first spy photo of the car being tested in the country. The 2014 Skoda Superb is one of the cars that the company will be launching in India this year. Check out the spy shot below.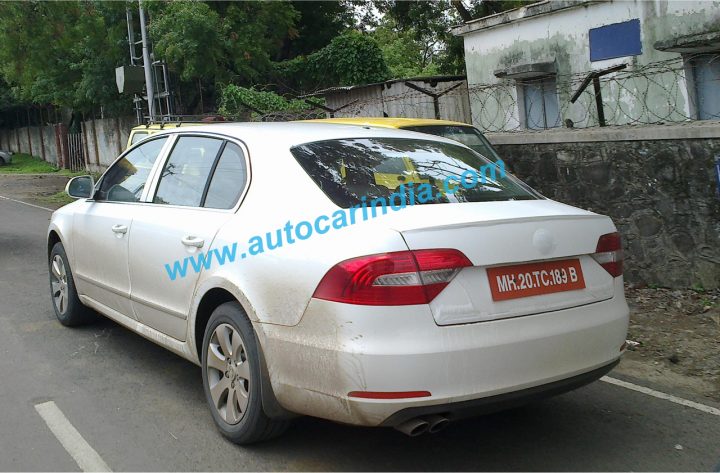 The Superb facelift is expected to be launched in India soon. Know about the new Superb below.
Updated on 4th April 2013
The 2014 Skoda Superb facelift will bring with it a newer front fascia and the car gets tweaked quite a lot in the front. The car will now come shod with bi-xenon headlamps which will be quite the class leading feature seeing that no other car in the segment its present in gets that. The car will now come with a newer bonnet and a tweaked grille as well. It will also come with the newer Skoda logo has Skoda revealed a while ago.
The fog lamps now get a newer housing and the design of the alloys gets redesigned as well. Once you move past the C pillar, the things seem quite interesting. The tail lamps look somewhat like an Audi car and the LED tail lamps with three stripes integrate into the boot in a constant flow. The facelift is not only at the exterior frontier but the changes are carried on to the interiors as well as the car will now come with a 3 and 4 spoke steering wheel, depending upon the model you buy.
The front passenger seat will now be adjustable from the rear electronically and it's a nice touch the chauffeur friendly car brings with itself. The car gets Automatic Parking Assist like its sibling, the Passat and also gets the start-stop system which gets coupled with brake energy regeneration. These features will make the car slightly more fuel efficient than the current generation and will be offered in 3 engine options.
There will be two petrol motors, 1.4 litre TSI and the other one will be a 1.8 litre TSI motor. There will be a 2.0 litre diesel motor on offer as well which will come in two states of tunes, a 140 BHP state and a slightly more powerful 170 BHP state. The car is expected to reach Indian shores around the festival season of Diwali/Dusshera or in early 2014.